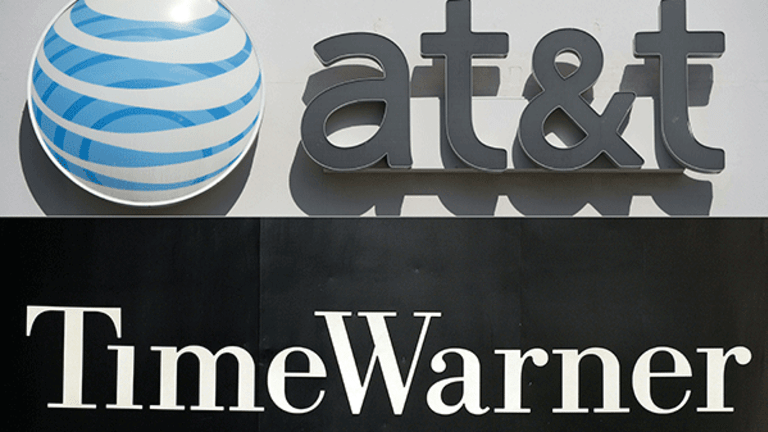 Updated from Oct. 24 with information from Sprint's quarterly earnings call.
AT&T's (T) - Get AT&T Inc. Report epic video binge is causing media, telecom and pay-TV companies and investors to reconsider the landscape.
After the telecom agreed to buyTime Warner (TWX) for $85.4 billion, or $108.7 billion including debt, shares of T-Mobile USA (TMUS) - Get T-Mobile US, Inc. Report and Sprint (S) - Get SENTINELONE, INC. Report spiked on Monday amid the increased potential for added consolidation in broadband, wireless and media. While mobile rival Verizon (VZ) - Get Verizon Communications Inc. Report , seems unlikely to follow AT&T's example, AT&T's big deal could cause Comcast (CMCSA) - Get Comcast Corporation Class A Report , Charter (CHTR) - Get Charter Communications, Inc. Class A Report and Dish (DISH) - Get DISH Network Corporation Class A Report to rethink their next moves. 
"It's clearly very exciting," T-Mobile USA CEO John Legere said Monday during the carrier's third-quarter earnings call. "The great news is that [AT&T is] going to be further defocused than they are now, and the upside opportunity to continue to acquire businesses in the space for us is tremendous."
Sprint CEO Marcelo Claure similarly suggested on his company's second-quarter earnings call on Tuesday that AT&T's acquisition will likely become a distraction to its core business.
"I applaud the move, I think it's bold," Claure said during call. "I don't see this as a competitive advantage for them."
T-Mobile and Sprint have steadily been taking subscribers from AT&T and Verizon, causing the top wireless carriers to look for new revenue streams. While AT&T has purchased DirecTV and now wants Time Warner, Verizon has favored companies such as AOL and Yahoo! (YHOO) that bring digital presence and advertising technology.
Comcast is a holding in Jim Cramer's Action Alerts PLUS Charitable Trust Portfolio. Want to be alerted before Cramer buys or sells CMCSA? Action Alerts PLUS Charitable Trust Portfolio
Comcast and Charter announced recently that they will become virtual mobile carriers by reselling Verizon's service. While they will be able to offer mobile services, they will not be full carriers. Legere suggested during T-Mobile's investor call that the cable operators might reconsider that approach.
"Customers are going to drive everybody's desire to have ubiquitous access on all devices including the phone, which I think is going to cause all sorts of consolidation between cable providers, broadband providers, wireless providers and content," Legere said.
The cable industry's interest in wireless has become the top question for investors in T-Mobile and Sprint, Wells Fargo Securities analyst Jennifer Fritzsche wrote in a Monday note."While we do believe [T-Mobile USA] is more of a seller than a buyer, we would point out that any party buying [T-Mobile USA] would be buying an asset with less spectrum, less subscribers (aka eyeballs) and less capital invested than what AT&T has in its wireless operations (and this comes from someone who likes [T-Mobile USA]!)," Fritzsche wrote.
T-Mobile is the "ideal candidate" for a cable operator, Barclays analyst Kannan Venkateshwar suggested in a Monday report, because of its growing market share, increased network quality and improved financials.
For its part, Sprint has been gaining post-paid subscribers but losing pre-paid ones.
The carrier's balance sheet could deter buyers, however. Sprint had nearly $32 billion in net debt at the close of the last quarter. However, Venkateshwar noted that the carrier also has about $20 billion in net operating losses that could be applied to future tax bills, which could appeal to some buyers.
There are a limited number of parties that can consolidate premiere broadband, mobile and media properties.
Within 5 to 7 years, Venkateshwar suggested, a group of 3 to 4 vertically integrated media and telecom conglomerates could emerge. "With Comcast getting into wireless and AT&T getting into content, Comcast's and AT&T's business models may become indistinguishable in the coming years, especially if 5G [mobile broadband technology] makes fixed wireless video delivery a real possibility," he wrote. "We believe Charter and Verizon are the other two companies that have the opportunity to reach this end state given their scales in wireline and wireless, respectively."
Verizon has preferred discounted legacy tech names to the old-media companies such as DirecTV and Time Warner that AT&T has targeted.
"There is no indication that Verizon will be baited into a large media transaction, opting instead to build and cobble together smaller media acquisitions and attempt to reduce its debt leverage since the $130 billion acquisition of Vodafone's stake in Verizon Wireless," BTIG analyst Walt Piecyk wrote in a report.
Verizon faces the same challenges as AT&T, however. The telecom reported its first lost of post-paid voice customers in the third quarter.
Piecyk suggested that Dish (DISH) - Get DISH Network Corporation Class A Report , which owns both a satellite-TV service and portfolio of wireless spectrum, could be a match for Verizon. Charlie Ergen's pay-TV outfit has long been seen as a deal partner for a wireless company.
"We continue to believe an acquisition of Dish for its spectrum would be a game changer for Verizon and the timing is right as AT&T and T-Mobile's ability to compete for an acquisition of Dish are low and will only improve over time," Piecyk wrote.
At an investor conference on Thursday, Verizon CFO Fran Shammo discussed the company's acquisitions in telematics and digital advertising and seemed to downplay the likelihood of major transactions. "The long and short of the answer is there is nothing large out there that we need to be successful with at this point in time," he said. The telecom declined to comment further on any potential media deals.
Wells Fargo's Fritzsche suggested that merger buzz will pick up after the election.
AT&T's purchase of Time Warner will provide an early test for the next administration's tolerance of media consolidation, though Donald Trump has already said he would block the deal.
T-Mobile's Legere, who fancies himself the Dark Knight of the wireless industry, joked during today's earnings call that the government's concerns should go beyond the typical antitrust and market competition criteria.
"I also would promote to Washington that they should significantly consider making AT&T divest Batman," he said.