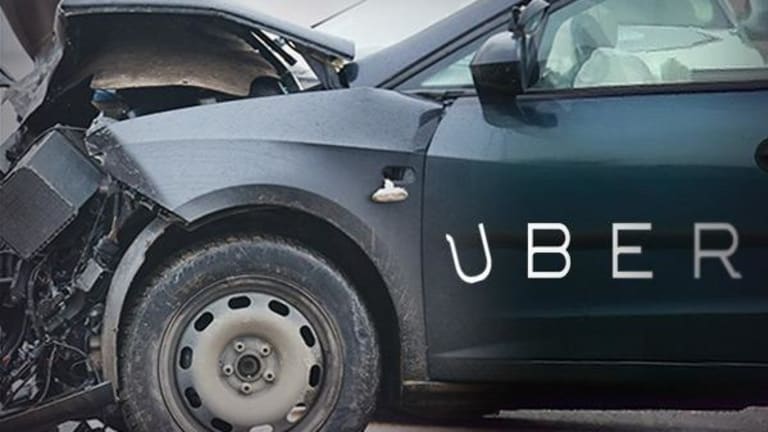 When Will Uber's Storm of Bad News Finally Start to Damage Its Business?
While ridership continues to grow rapidly, the stream of scandals could begin to affect its recruiting and partnership efforts.
Updated from June 9 with additional information.
As Uber continues to navigate a rip current of controversy, some have started to wonder what it all means for the ride-hailing startup's future. 
On Sunday, The Wall Street Journalreported that another round of executive shakeups could be on the way, as CEO Travis Kalanick may decide to take a leave of absence, while his closest aide, chief business officer Emil Michael could leave the company within days. The news came after Uber's board of directors met on Sunday and voted unanimously to adopt all the recommendations laid out in a report from former U.S. Attorney General Eric Holder and his law firm, Covington and Burling. The report, which focuses primarily on the company's broader issues with company culture, as well as spending, is expected to be released to Uber employees on Tuesday, according to Reuters. 
That's on top of a barrage of other recent news that Eric Alexander, president of Uber's Asia Pacific business, obtained the medical records of a rape victim in India and delivered them to CEO Travis Kalanick and Emil Michael, Uber's senior vice president of business, to determine whether or not the account was true. Uber told employees last Tuesday that more than 20 people had been fired as part of an investigation into harassment claims by law firm Perkins Coie LLP. 
The deluge of negative headlines have generated speculation about how much more controversy Uber's investors, employees, customers and partners can handle before it starts to jeopardize the company's future.
It's not completely clear whether privately held Uber has lost investors as a result of its various issues, but Uber has made its best efforts stave off any questions about its financial health. The company recently released its first quarter earnings, saying that revenue continues to surge, while losses are decreasing. This information is probably enough to appease investors who are solely focused on getting a return on their investment, said Brian Solis, principal analyst at research firm Altimeter.
Uber is currently valued at approximately $70 billion, making it the highest-valued private technology company in the U.S. The various scandals are rumored to have knocked about 15% off of Uber's private stock, according to the Information. 
Uber's "grow at all costs" business model has meant the company has made a lot of risky moves in order to scale and justify its huge valuation, Solis added. 
"There's a lot riding on this company from an investment standpoint," Solis explained. "These operational issues are disconcerting and as an investor I would want to have faith in my management to guide the organization to deliver against that return."
In effect, Uber has become its own worst enemy in holding on to its position at the forefront of the ride-sharing movement. Uber has been at the center of the "steroid era of startups," having raised $9 billion in equity and another $1.6 billion in debt over 15 rounds in a six year period, which is "unprecedented for a private company," said Simon Rothman, a partner at venture capital firm Greylock Partners, in a blog post. 

Uber CEO Travis Kalanick.
At the same time that it experienced astronomical growth, Uber became embroiled in more and more controversies. In 2014, Uber employees were found to have ordered more than 5,000 cars from competing ride-hailing services, then cancelling the rides just before the drivers arrived in an attempt to disrupt their service. Among other recent issues, Kalanick was captured on video berating an Uber driver; the company shut down several of its autonomous vehicle programs after one of the cars was involved in a crash; Alphabet's (GOOGL) - Get Report Waymo sued Uber claiming it stole trade secrets; a #deleteuber campaign caused more than 200,000 consumers to remove the Uber app from their phones and the DOJ is investigating Uber's use of a controversial technology called Greyball to hide from regulators in cities where it was banned or restricted.
Kalanick has admitted that he needs leadership help and Uber executives have been looking for a chief operating officer to assist their young CEO in the daily management of the company.
Despite all that, Uber says that ridership continues to skyrocket, with trips up 600% year-over-year in February, Uber's head of ride-hailing services, Rachel Holt, toldFortune. 
"Uber is in the enviable position of having riders who will keep using the service as long as it's affordable and convenient," said Jonathan Bernstein, president of Bernstein Crisis Management. "The average rider doesn't care about what they've done from a business perspective, or discrimination." 
Morale may not be so stable internally, however. Over the past several months, Uber has seen a stream of departures from high-profile executives at the company, though it did land two key hires this week from Apple (AAPL) - Get Report and the Harvard Business School. Experts say that more firings may be on the way, though, as more information is revealed about the breadth of harassment issues at the company. "When there's this much smoke, there could be more fire," Bernstein noted.
There seems to be a divide among employees at Uber's headquarters -- between those that are horrified and others that are "generally frustrated" that the news media has blown the issues out of control, Solis said. 
"They are very passionate about the work they do and are empowered in the same culture that people are chastising," he added. "So there is a desire from the inside and from the outside for Uber to succeed and get through this." 
Ultimately, where Uber may end up truly feeling the heat is with its existing and potential business partnerships. Uber is currently partnered with  Daimler AG (DDAIY) to develop self-driving cars, but as it looks to keep pace with Lyft -- its top competitor, which has landed deals with  Ford (F) - Get Report , Waymo and others -- Uber may be looking to add more partnerships to its roster. The company's ongoing controversies could eventually prove to get in the way of that, Bernstein said. 
"Corporations have a much higher level of sensitivity than riders do," Bernstein explained. "If a partner goes down, it takes your brand down with it."
Apple, Facebook and Alphabet are holdings in Jim Cramer's Action Alerts PLUS Charitable Trust Portfolio. Want to be alerted before Cramer buys or sells AAPL, FB or GOOGL? Learn more now.