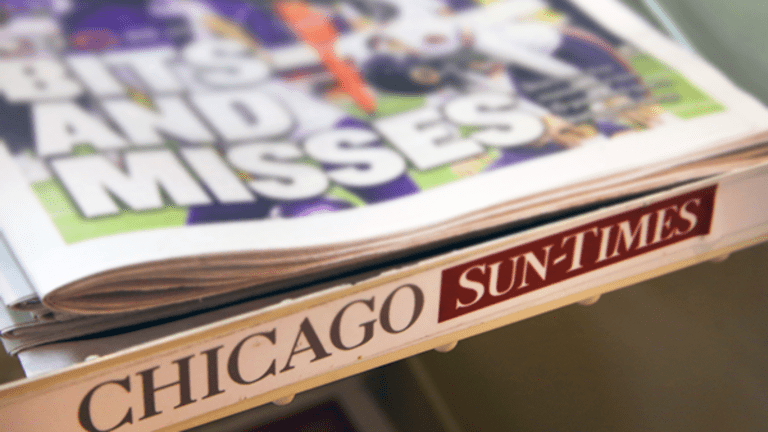 Will Tronc Get Squeezed Out of a Sun-Times Acquisition?
It looked like Michael Ferro was on the verge of owning both of Chicago's dailies. Now, with an earnest DOJ in the way, he may have hit a roadblock.
Credit the Cubbies.
The Chicago Sun-Times, long the struggling second newspaper of the city, managed to about break even in 2016, even as the fortunes of the overall newspaper business took a turn for the worse. Why? In strong part, the Chicago Cubs broke their curse, and with a heroic World Series comeback, won their first championship since 1908. The Sun-Times benefited, with papers, commemorative sections and advertising sold. 
As the strands of "Go, Cubs, Go" faded along with the once-in-a-lifetime revenue into last year, the Sun-Times owners faced bad numbers on the horizon. Their appraisal: the Sun-Times, down to 70 journalists from a height of more than 400 in its heyday, could expect to lose almost four million dollars a year in 2017 and 2018, informed sources tell me. The board of Wrapports LLC, the entity formed by a slice of the city's elite in 2011 to preserve a second voice to the stentorian Chicago Tribune, decided it was time to sell. Nursing the Sun-Times along was one thing; answering cash calls was another. The company began making the roads of would-be buyers, including Gannett Co. (GCI) - Get Gannett Co., Inc. Report , and Illinois- based Paddock Publishing and Shaw Publishing. None, knowing the financials, evinced interest.
Now, as the deadline for bids for Wrapports, including the Sun-Times and Chicago's once-legendary, now shriveled alternative weekly Chicago Reader, approaches at the end of business on Monday, the intrigue mounts.
Will the Sun-Times, one of the few surviving second dailies in the country, get another chance at survival? Will any new entry finalize a bid, plunking down new money and new energy? Will Michael Ferro, the prime mover behind Wrapports when it bought the paper, be allowed to add the Sun-Times to his Tronc Inc. (TRNC) portfolio, effectively making himself king of the Chicago newspapering hill, a goal he has long coveted?
At this writing, it looks like a new Chicago-based group, led by former alderman Edwin Eisendrath, and in part by the Chicago Federation of Labor (CFL), may have the edge at buying Wrapports. The CFL laid out its rationale for participation Thursday afternoon, saying, "Labor being involved in this doesn't mean it expects the Sun-Times ever giving it a pass, just like we wouldn't expect the Sun-Times or Tribune ever giving its corporate investors a pass." Three or four of CFL's 300 member unions participate, though CL spokesperson Bob Reiter won't name them.
Willing to commit somewhere between $8 million to 10 million to the enterprise, the group, involving at this point fewer than 10 wealthy individuals in addition to the unions, now finalizes its Monday bid. Eisendrath has been bringing would-be investors into the fold, tidying up the details and beginning to plan what it might do with the paper. Efforts to reach Eisendrath for comment were unsuccessful. In addition to his group, other would-be bidders, including the Bluhm family, have shown interest, but there's no clarity on whether they will proceed to bid. 
If successful, that a successful Eisendrath effort would leave the company's other known bidder -- Tronc, the U.S.'s third largest daily newspaper company in much turmoil for the last year, as Gannett mangled its own takeover attempt of the company last year -- on the sidelines. If that happens, the impact on Tronc's own finances may not be minimal.
At the heart of this deal -- for both Tronc and any other would-be buyer -- is Tronc's lucrative contract with the Wrapports. 
Tronc gains as much or more than $12 million a year in profits from its contract to print, produce and distribute the Sun-Times -- the largest profit contributor to its Chicago Tribune of any single contract. In fact, for full-year 2016, Tronc reported net income of $6.5 million; in the first quarter, it announced a $3 million loss. The Sun-Times contract is a meaningful one to Tronc overall.
Sources said the printing contract, renewed and expanded in 2014 when Tribune bought Wrapports' Chicago-area weekly properties, may expire within 18 months, and that new owners likely will seek lower-cost alternatives, considering that the approximate Tribune 50% profit margin too high a price to pay.  Clearly, then, the stakes for Tronc -- in buying what seems to be a small business bringing in annual revenues of about $60 million a year, sources say -- loom greater than initially meets the eye. 
One month ago, it looked like Tronc (the former Tribune Publishing, housed in the iconic Tribune Tower at 435 North Michigan Avenue) would take over the Sun-Times, furthering its buy-up-Wrapports-assets over time intertwining strategy, as detailed by long-time Chicago media critic Robert Feder.  Wrapports and Tronc both said they were moving forward on a non-binding letter of intent.
The intention: Tronc would buy Wrapports, combining business operations with the Chicago Tribune, and pledging to maintain a "separate news unit... an independent Sun-Times." Now, though, it appears Tronc may be stymied, much as it was the last moment as the company believed it had clinched the deal to buy the Orange County Register out of bankruptcy a last spring. It faces the same nemesis in Chicago: The Department of Justice's Antitrust Division. The feds' "scarlet letter" hadn't prevented a Tronc attempted buy in southern California, but its suit turned Tronc into a loser there.
In Chicago, Tronc, and its apparently willing partner Wrapports, heeded the L.A. experience and consulted DOJ earlier in the process. Yet, the result could well be the same. Sources tell me that an earnest Antitrust staff has been expending a fair amount of time, interviewing numerous parties in and around the papers, even including the Sun-Times' vendors. They want to get an accurate reading on the nature of the business, and its financial worth. Most importantly, given their mandate -- anti-trust -- they endeavor to see whether any other buyer than Tronc, a competitive buyer, will buy the Sun-Times.
For its part, Tronc refused to comment on the likelihood of its acquisition effort and didn't offer any additional detail ["Michael Ferro's Tronc Aims to Complete Chicago Domination With Sun-Times Purchase"] into what its commitment to an "independent Sun-Times" would mean. Would Tronc commit to maintaining the current staffing level of 70 in the newsroom? How long is its commitment good for? What would become of the Sun-Times editorial page, which at times has often clashed sharply with the Chicago Tribune's, though the Michael Ferro-backed endorsement of current Gov. Bruce Rauner (himself an early Wrapports investor who later divested that stake) has muddied those waters over the past several years? Most essentially: Would America's third largest city find itself with a consistent, strong and lasting second voice and reporting corps?
Who Will Decide?
While in Orange County, Tronc's attempted buy of the Register found itself enmeshed in bankruptcy court, the sale of Wrapports -- on paper -- belongs to the Wrapports board. Headed by John Canning, founder and chairman of Madison Dearborn Partners LLC, it's made up on a slice of Chicago's elite, including Blackhawks owner Rocky Wirtz, Morningstar Inc. Chairman Joe Mansueto, Grosvenor Capital Management LP's CEO Michael Sacks and Bradley Phillip Bell, president of Bell-Phillip Television Productions Inc. Chicago Magazine, itself now owned by Tronc, which owns much print-based media around the region, described Canning this way: "In Chicago, 'Canning' and power go together as surely as hot dogs and mustard."
Canning is perceived as Ferro-friendly, as are several other board members. As Ferro deftly maneuvered his takeover of Tribune Publishing early last year, insiders reported that Wrapports investors had mixed and bruised feelings about the man who had led them into that ownership. Yet, a number of them, well associated with Michael Ferro himself and his serial dealmaking, have  profited handsomely over the years.
Further, it's a Chicago thing. "They like to go up to Michael's lake house," offers one observer close to the owners. In Chicago, there's some talk that Michael is taking care of his buddies -- the Chicago way -- securing one final payout to them through an acquisition of Wrapports, using Tronc money. On Thursday, Tronc declined comment on anything about its bid other than what it first said when its offer was announced. Wrapports, contacted for comment, didn't respond. 
Wrapports own ownership stakes poses a puzzle. Last year, to avoid the conflict caused by his new Tribune/Tronc ownership, Ferro said he donated his stake, about 40% of the company, to the Los Angeles-based California Community Foundation (CCF). On Thursday, CCF confirmed that donation, telling me that it now owned the stake. The foundation, a major funder of health, housing, education and immigration programs in the region, also told me that it doesn't -- and it doesn't intend to -- vote its shares or claim a board seat, essentially recusing itself.  I asked CCF what's behind that decision, but did not receive a response to that question.                               
I'd think that given CCF pro-community principles, the foundation would like to see a free, competitive flow of information in any community. In this case, it could exercise real power in deciding who would control the Sun-Times. The point is worth raising, as I did in writing about Gatehouse Media's confusing management and ownership structure. There, it turns out, the pension funds held by newspaper unions have bought into a company that continues to excise numerous newspaper jobs. (The Newspaper Guild has recently been raising its voice about related issues, including some wins against management at a recent annual meeting.)
If the Wrapports board makes the formal decision to sell and to whom, or not, it's the man in black here who's the real power. The "DOJ doesn't have veto power per se," says one observer. "But it's the umpire." The Antitrust Department's power is to block, and it may well play that role if the Eisendrath bid passes its due diligence and smell test. 
Should Ferro's Tronc end up on the short end of this attempted acquisition, it would mark a third effort that fizzled. After failing to close on the Register acquisition, Tronc emerged as a finalist for Jann Wenner's US Weekly, which ended up going to American Media in March ["Us Weekly Gets New Suitor at Altar After Tronc Departure"].
What's The Sun-Times Worth?
Valuation of profitable newspaper properties now tip the scales at about 3.5 to 4 times annual Ebitda, as evidenced by many recent sales. So, what's a money-losing property, owning no hard assets like buildings like the Sun-Times worth? Figure a dollar. That's the proxy for who knows and of the intangible of the potential value of once-great, and still strong, newspaper brand.
Yet, the Department of Justice, in assessing the Sun-Times financials and agreements,seems determined to come with a more specific number, according to sources. DOJ wants to see the sellers paid off fairly and the buyers to prove they can cover two to three years of the Sun-Times' funding needs. 
So what kind of money is on the bidding table? Those close to the action believe Tronc may be offering an amount in the $10 million range. The acquisition would secure -- at least short-term -- that flow of printing and distribution profits. Further, since Tronc could consolidate the advertising sales staff with its Chicago Tribune staff, the major savings here, and find numerous synergies in other business-side functions as well, the deal pencils out decently for Tronc, again in the short term. 
If the Eisendrath group comes to the final table with capital of $8-10 million, or more if new investors sign on by 5 p.m. Monday, the question may be how that capital will be applied. Will the buyer pay the seller in cash for the properties, and, if so, how much? Or will it pledge to invest that capital in making up the Sun-Times operating deficit, and explore new strategic directions, offering the sellers some assurances of future payoffs, if success is achieved? That promise could come in the form of warrants.
Will its offer combine those two ideas? Let's recall that a number of the wealthy Wrapports investors got into the company originally after then-owner James Tyree suddenly passed away in 2011, with their intention to preserve another voice in Chicago. If Eisendrath's group were to negotiate with those owners, might be they be willing to forego cash payout to further their original notion of keeping a more independent medium alive? As the Tronc bid was announced, several Wrapports members publicly said that a Tronc takeover may be the only way to preserve the Sun-Times newsroom, but Eisendrath's group has picked up steam in the interim.
That's the valuation question, if not the value question here. 
What local newspapers, however struggling, mean to their communities offers that squishy, unquantifiable question of value. In Chicago, that question is now felt acutely. Sinclair Broadcast Group recently agreed to buy Chicago-based Tribune Media, the TV station group split out of the old Tribune company three years ago. With the local Chicago Tribune caught up in the drama of endless Tribune/Tronc ownership and management chaos for a decade now, and the Sun-Times' future again up in the air, basic questions of identity now raise their voices.
In AdWeek earlier this week, Robert Klara explored "Why the Disintegration of Chicago's Most Iconic Media Brand Is Such a Big Blow to the Windy City:" 
"If Tribune Media slips into the maw of Sinclair; if the Sun-Times becomes a unit of Tronc; if Tribune Tower becomes just another swank downtown shopping destination (possibly shedding the Tribune name altogether), it will mean that the once seemingly impervious Tribune Company will essentially disappear for good. And if that happens, some say, Chicago will lose more than just another corporate name. It will suffer a loss of pride, another psychological wound that the cities of the Rust Belt, unfortunately, are all too accustomed to nursing." Ouch, but Klara's right: that's the larger question looming in the winnowing of the American press. 
After A Sale
If the Eisendrath group, or another bidder, wins the Sun-Times, that's just the first step in the process of finding a future for the daily founded in 1948, out of postwar optimism. 
What will the new owners do with it? What can they do with it? They'd have the printing/distribution contract with Tronc squarely in their sites for renegotiation and competitive bidding, within whatever the contract allows. Sources say Wrapports' office lease may expire this fall, and be subject to a large increase in rent, given the tech-driven increases in central Chicago. They'd have to consider how comfortable they are with current management as well. 
Most importantly, they'd have to address the publishing world of 2017-2020, one moving profoundly digital. Across the country, as newspapers have been put for sale, we've seen wealthy individuals or small groups wanting to secure the local press they know is vital to local democracy. Yet, in many cases, their civic interest hasn't been matched up with aggressive, forward-looking, digital-tilting strategies.
Given that, it's easy to write off the chances of a "turnaround" at the Sun-Times, given its continuing financial descent. At a time when once-"monopoly" dailies themselves are having a hard time going forward, how can a "second" daily survive -- and prosper? While the odds may seem long, it's worth acknowledging two other city dailies that are plumbing a new way forward.
In Philadelphia, after five ownership changes in a decade, the Inquirer and the Daily News, Philly's second paper, have found at least a lifeboat as a new non-profit organization stabilizes the operations. In Salt Lake City, the Huntsman family continues to re-invest in the city's "second" daily, the Salt Lake Tribune, after buying it from Digital First Media last year. In these cases and others, what's needed is clear: financial capacity to stabilize and re-invest, a willingness to re-strategize digitally and an old-fashioned civic commitment to seeing a way to get a city the news it needs. 
Then, of course, this being a time when print newspapers' value can be calculated on the basis of printing contracts, there's the reefer angle. While eyes here are on the Sun-Times, the once-robust Chicago Reader itself could find a new owner out of deal-making. While whoever buys Wrapports would get the now-money-losing weekly, there's more than one other potential buyer who sees its future in green, marijuana green. As states have legalized pot, alternative weeklies report healthy sprouts of new dispensary-placed ad revenue.
"The effect of the legalization of pot on alt-weeklies in our experience has been huge," Mark Zusman, editor-publisher of Portland's Willamette Week alt-weekly tells me of the Oregon experience. "Both in terms of advertising, not just run-of-press, but also special publications and events ('We put on the only organic pot competition in America') and reader interest, it's a subject that is well suited." In Illinois, legislators are now talking about writing legalization legislation, and at least one potential buyer of the Reader sees that possibility as a potential reason to buy it, and inhale slowly, waiting for the payday.