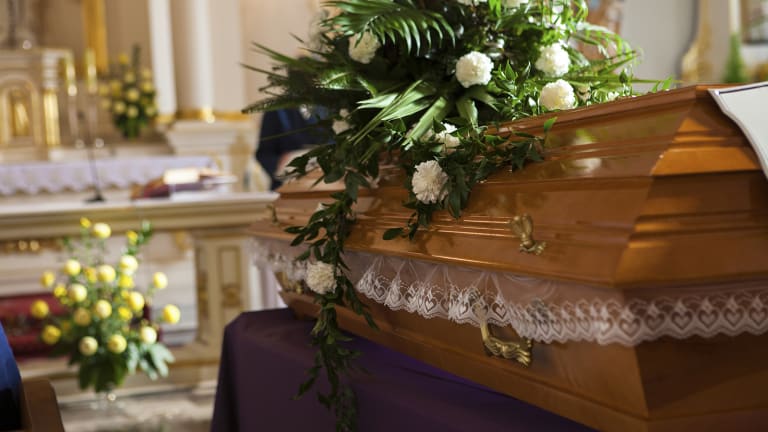 Will This Beaten-Down Funeral Services Company Come Back to Life?
Demographic trends seem to be headwinds for Service Corp., but the stock is actually a smart value play.
Lower death rates are generally a signal to rejoice, but for a company that offers services for the departed to grieving family and friends, fewer deaths may mean that the business is in trouble.
One such company is Service Corp.  (SCI) , whose stock has risen sharply over the past five years years, despite higher life expectancy in the U.S. and a lower death rate.
However, Service's stock price is down over the past year.
Is this enough to say that the trend of a lower death rate is finally affecting Service, or is this just a breather for the stock? Let's look at whether beaten-down Service is actually an under-appreciated bargain in an overbought market.
After rising last year, the death rate in the U.S. is back to regular levels, initial data from the Center for Disease Control and Prevention and the National Center for Health Statistics show.
Deaths from heart diseases show a general trend of decline each year. However, last year was an exception to that trend, with the rate remaining flat.
The first quarter saw the number of deaths from heart diseases decline once again, lowering the nation's overall mortality rate. Fewer deaths resulting from diabetes and lower respiratory diseases also contributed to the fall.
The decline in the death rate from heart ailments to 177.8 per 100,000 from 188.5 per 100,000 in the first quarter of 2015 helped lower the overall mortality rate to 772.3 deaths per 100,000 from 800.9 per 100,000 a year earlier.
Yet, the declining trend hasn't affected Service negatively, with the stock remaining mostly flat over the past month during which the data were released.
However, a disturbing trend that probably and sadly helped death service providers such as Carriage Services,StoneMor Partners and Service was the alarming rise in U.S. pregnancy-related deaths. The maternal death rate climbed 27% between 2000 and 2014.
In 2014, 24 women died during or soon after childbirth for every 100,000 live births, up from 19 per 100,000 in 2000. The cause was likely the greater complications arising from having babies later in life.
Data from the Cremation Association of North America showed that cremation rates almost doubled to 46.7% in 2014 from 24.8% in 1999, and the industry expects it to rise to 52.9% by 2019.
Service has the advantage of being the largest provider of death care services and products in North America. Apart from funeral services and cemeteries, the company also provides crematoria and related businesses.
Consequently, Service is well-positioned to expand offerings if cremations continue to gain preference over burial services. This strategic advantage puts the company in the sweet spot for growth.
Last year, cremations made up 51.6% of Service's services, up from 50.2% in 2013.
Meanwhile, one of the biggest positives on Service's balance sheet is its free cash flow, which was mostly in a range of $250 million to $270 million until 2013, declining to $173 million in 2014. However, last year, free cash flow spiked to $321 million, and, on a trailing-12-month basis, it stands at $246 million.
In terms of margins, Service is also a tad stronger than the industry as a whole. On a trailing-12-month basis, its operating margin stands at 16.7%, versus the industry average of 12.3%, and its net margin of 6.1% is also slightly higher than the industry's 5.5%, suggesting improved profitability.
Service is also poised to record superior earnings than the market over the next few years, according to analysts.
Over the next half a decade, analysts expect the company to record annual earnings growth of 12%, compared with the S&P 500's estimated growth rate of 8.85%.
Credit Suisse recently upgraded the stock to outperform from neutral, and Wells Fargo initiated coverage with a market perform rating. Analysts have a median price target of $32 on the stock, which would represent a 20% gain.
The death rate may fall or rise, but the occurrence itself is certain. Service seems ready to adapt to the ways that people wish to bid their loved ones adieu, which will be the biggest safeguard for its business.
---
A blistering financial storm is about to hit our shores. When it hits, weak companies and their investors will be washed away. You need to put yourself on solid ground. And that doesn't just mean changing your investment allocations or loading up on cash. I'll show you how to protect yourself and prosper when you click here.
This article is commentary by an independent contributor. At the time of publication, the author held no positions in the stocks mentioned.