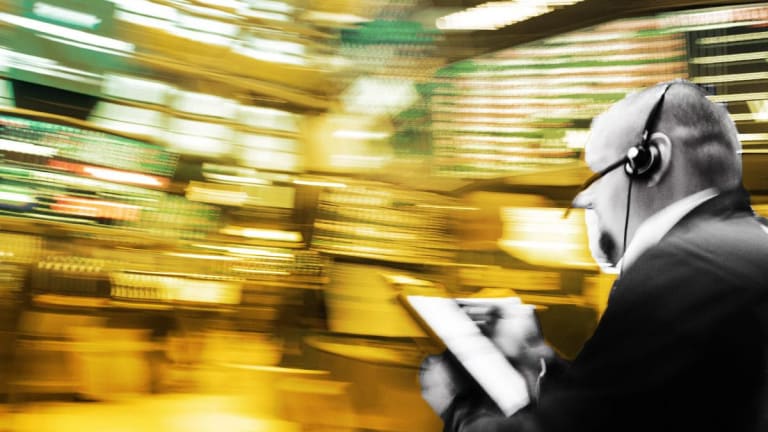 Will the Real P/E Ratio Please Stand Up?
Mark Hulbert explains why the Russell 2000's current price/earnings ratio is much different than you think, and why that's important heading into earnings season.
Ready for today's investment pop quiz?
What is the Russell 2000's current price/earnings ratio based on trailing 12-months' earnings:
Is it A) 17.1, or is it B) 75.3 ?
The right answer, believe it or not, is B -- as I will explain in a moment.
But don't be too hard on yourself if your answer was A. That's because almost everyone else answers A, too. Indeed, the 17.1 P/E comes from no less a venerable source as iShares, whose Russell 2000 ETF (IWM) - Get Report is the largest ETF benchmarked to this index (with $44 billion in net assets).
Getting the P/E right would be important at any time, but especially now as we are entering earnings season. If the Russell 2000 -- perhaps the most widely-used benchmark for the small-cap sector of the stock market -- has a comfortably modest P/E of just 17.1, then we need not worry about the sector being overvalued.
If its P/E is in fact more than four times higher, however, then a far different picture emerges: The small-cap sector would now be seen as already priced for perfection, leaving the sector vulnerable to any negative earnings surprises.
What is the source of the huge discrepancy between 17.1 and 75.3 for the Russell 2000's P/E ratio? The inclusion or exclusion of companies with negative earnings. The 17.1 ratio excludes such firms, while the 75.3 ratio includes them.
Can that one decision really have this big an impact? Yes. That's because no fewer than 671 of the 2,000 companies in the index have lost money over the past 12 months, according to Vincent Deluard, head of global macro strategy at INTL FCStone, a financial services firm. That's more than a third of them.
Nor is this a one-time problem. Deluard reports that 408 of the Russell 2000 companies -- a fifth of them -- have lost money in at least 16 of the past 20 quarters.
To be sure, it's relatively common on Wall Street to exclude negative earnings when calculating a P/E. That's because a company's P/E ratio is nonsensical when the denominator is negative. And in many cases it doesn't have a particularly big impact. Of the companies currently in the S&P 500, for example, just 5% lost money over the past 12 months, according to FactSet data -- compared to 34% for the Russell 2000.
In fact, though, there is an easy and straightforward way of calculating an index's P/E even with companies that are losing money. Rather than calculating each firm's P/E individually and then trying to average them, you instead divide the combined market cap of all constituent companies by their combined earnings. That's what Deluard did when calculating the Russell 2000's P/E to be 75.3.
For the record, I should stress that iShares makes no secret that its reported P/E excludes negative earnings. So they are not hiding anything.
But that doesn't make their reported P/E helpful. As Deluard asks: "Imagine the public response if the Centers of Disease Control and Prevention's statistics on lung cancer were computed omitting the 14% of adults who smoke cigarettes."
Winner Takes All Economy
It's also worth noting that excluding unprofitable companies from the P/E calculation will become an even bigger and bigger problem in coming years. That's because we are moving increasingly to a world in which the lion's share of corporate profits will be earned by fewer and fewer companies -- thereby pushing the vast majority of other firms into the loss category.
This shift to this so-called "Winner Takes All" economy is not only already happening, but accelerating. Consider the proportion of total income at publicly-traded U.S. corporations that comes from the top 100 firms. According to research from finance professors Kathleen Kahle of the University of Arizona and Rene Stulz of Ohio State, this proportion grew only modestly between 1975 and 1995: From 48.5% to 52.8%. But over the subsequent 20 years it skyrocketed to 84.2%. And it's likely to be higher still in the future.
No wonder the number of unprofitable companies has been mushrooming. The vast majority of them are fighting over a few crumbs that have fallen off the table where the top 100 companies are feasting.
The bottom line? Only act on P/E ratios that include unprofitable as well as profitable companies.
Introducing TheStreet Courses: Financial titans Jim Cramer and Robert Powell are bringing their market savvy and investing strategies to you. Learn how to create tax-efficient income, avoid top mistakes, reduce risk and more. With our courses, you will have the tools and knowledge needed to achieve your financial goals. Learn more about TheStreet Courses on investing and personal finance here.