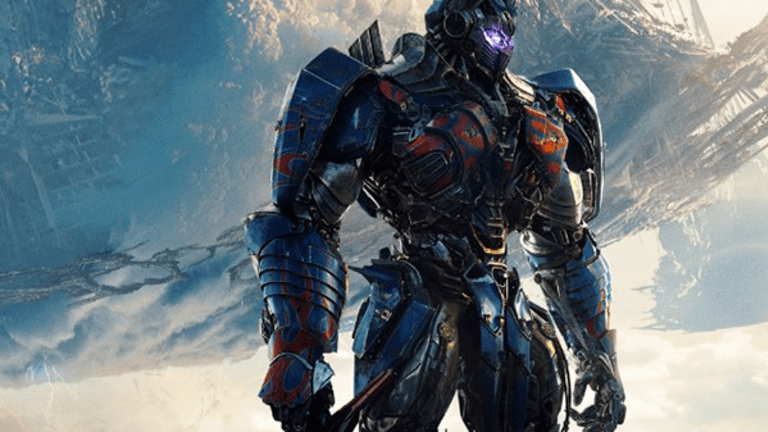 Paramount Hoping New 'Transformers' Movie Can Transform its Fortunes
Viacom is banking on a hit from its film studio's cornerstone franchise.
Viacom is banking on a hit from its film studio's cornerstone franchise.
Viacom  (VIAB) - Get Report  is counting on the sturdy "Transformers" franchise to carry the day for subsidiary Paramount Pictures.
The fifth installment in the enduringly popular robo-series, "Transformers: The Last Knight," debuts on Wednesday, June 21. The film arrives during a tumultuous time for Paramount Pictures. Every movie the studio has released so far this year has been a domestic flop or disappointment, as not one of their six 2017 releases so far has topped $60 million stateside. Juxtapose that with Disney  (DIS) - Get Report  or Time Warner's (TWX) Warner Bros., which have each released three films that have topped $150 million at the U.S. box office, and it becomes clear that Paramount is under pressure to perform.
A large part of the problem is that, unlike Disney or Warner Bros, Paramount does not have a large stable of franchise films to hang its hat upon. Gone are the days when the studio was distributing blockbusters from Marvel and Dreamworks -- Marvel is now a subsidiary of Disney, while Dreamworks is owned by Comcast  (CMCSA) - Get Report .
Last summer saw installments of both the "Teenage Mutant Ninja Turtles" and "Star Trek" franchises disappoint, and it currently looks as though Paramount has put both properties on the back burner. This year, would-be franchise starters such as "Ghost in the Shell" and "Baywatch" flopped at the box office, killing hope for new tentpoles.
The news hasn't been all bad. On top of "Transformers," Paramount has seen solid results out of its 20-year-old "Mission: Impossible" franchise in recent years, and has had one of its films named a "Best Picture" nominee at the Oscars for four years in a row. However, Tom Cruise's box office credibility just took a major ding with the lackluster performance of "The Mummy," and Oscar success doesn't add much to the bottom line.
All of this is to say that it's been a rocky few years for Paramount Pictures. Just a decade ago, the studio accounted for 40% of Viacom's bottom line -- now it only accounts for a bit over 20%. Although the strength of Viacom's Media Networks -- which includes cable stations Nickelodeon, BET and VH1 -- has been able to compensate somewhat, the corporation would like to see its film division carry a bit more weight.
That's presumably why Jimmy Gianopulos was hired to oversee film and television as CEO back in March. Gianopulos filled the same role at Fox  (FOX) - Get Report  for several years, where he developed a reputation as a seasoned pro and boosted 20th Century Fox from the sixth-place studio in domestic box office in 2013 to first place the next year.
Last year, Paramount ranked last among the Big Six studios in domestic box office share, a position it has retained through the first half of 2017. It is unlikely that Gianopulos will be able to pull off the type of reversal he achieved at Fox, considering Paramount's comparably shallow bench of franchise fare.
That being said, Paramount still claims one of the largest movie franchises in Hollywood. "Transformers" films tend to be monsters worldwide, as the last two have grossed over $1 billion globally. The robot films do especially well in China, where the last installment grossed $320 million -- a figure that exceeded the film's domestic total by $75 million. Paramount's ties to big Chinese companies such as Alibaba (BABA) - Get Report (which has invested in several of the studio's releases) and Wanda Group, which operates the world's largest chain of movie theaters, has set Paramount up for success there.
"Paramount, in particular, seems to have struck a lot of deals in China," notes Shawn Robbins, senior analyst for Boxoffice.com. "I think they're wise to use it to their advantage."
That's exactly what the studio is doing with their latest release. The Hollywood Reporter recently reported that Paramount has partnered with Wanda to market "Transformers: The Last Knight" in the territory, which should guarantee another blockbuster gross for the franchise. Wanda is known for its innovative promotional efforts.
Paramount must be careful not to rely too heavily on the "Transformers" films, however. Already, there is a spin-off scheduled for next summer and a direct sequel on the calendar for the summer after that. Director Michael Bay has said that there are 14 "Transformers" scripts ready to be sent into production, the result of a writer's room that Paramount organized for the franchise. If the studio starts leaning too heavily on these films, it could accelerate franchise fatigue and damage box office.
It looks as though audiences are already wearying of "Transformers" stateside. Indeed, the movie is tracking to only open in the $70 million range domestically over its first five days -- a disappointing result, considering that all of its predecessors were able to generate over $120 million in ticket sales over that same timespan. Huge international grosses will still give the latest installment a chance to pass $1 billion globally, but as the U.S. media tends to focus on domestic box office results, the new "Transformers" may not turn around the unfavorable coverage that has plagued the studio in recent times.
A new strategy, recently outlined by Viacom CFO Wade Davis, may prove more fruitful for Paramount domestically. Davis divulged to Gabelli & Company's 9th Annual Movie and Entertainment Conference that the company plans to let Viacom's TV network brands account for half of Paramount's slate going forward.
That means that audiences can expect to see a lot more Nickelodeon content over the next few years, as feature adaptations of the popular shows "Spongebob Squarepants" and "The Loud House" are in development.
Drawing from Viacom's TV well has been a successful strategy for Paramount in the past, and the new approach seems like a good strategy for the studio.
"Anything that's family-based, particularly Nickelodeon films, is a fairly safe bet," says Robbins. "Kids tend not to be too picky when it comes to movies."
If Paramount can strike a healthy balance between Nickelodeon films, franchise fare, and Oscar contenders, the studio may be set to become a reliable revenue generator for Viacom and improve its reputation in Hollywood. The studio may be close to its recipe for success, even if it isn't quite there yet.