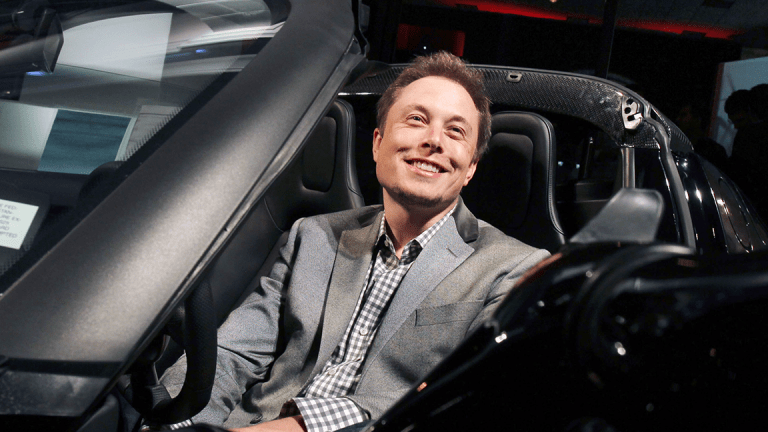 Will Tesla Hit Its Model 3 Production Target Next Week?
Can Tesla hit its production target for the Model 3 next week? CEO Elon Musk is certainly making it feel that way.
The tension leading up to the second half of 2018 is building and perhaps the stock with the most anticipation is -- surprise! -- Tesla Inc.  (TSLA) - Get Tesla Inc Report .
The automaker will release its Model 3 production numbers some time in early July as both bulls and bears are impatiently waiting to see the results. The expectation is for Tesla to be producing 5,000 Model 3 units per week by the end of the second quarter, which ends Saturday. In reality, the company has said its aim is to produce about 5,000 units a week by early July. So there's a little wiggle room in there. 
Some recent clues from CEO Elon Musk make it appear as if the automaker will hit its target, or at least get close to it. But before we go any further, know that I'm not a bull or a bear in Tesla and am simply an observer. The company is far from perfect, particularly regarding its financials, but has a unique product offering.
That said, what are these clues?
The first came when Musk began tweeting about the eventual Tesla pickup truck. Now granted, Musk is an active user of Twitter and perhaps this is reading into the situation a bit too much. But why would he put effort and thought into a vehicle that is behind the Model Y, Roaster and Semi and years off into the future, if Model 3 production weren't going well in the final days of the month?
The old Musk might just do that regardless of production. But he seems much more focused this year when it comes to delivering on his promises. During the annual shareholder meeting, he consistently deflected futuristic questions by replying that the company is all-in on producing the Model 3 right now. He also acknowledged his "issue with time," alluding to his tendency to over-promise and under-deliver.
Another hint? Goldman Sachs analysts -- who maintain a sell rating on the stock -- said they expect Tesla to produce just 22,000 Model 3s in the second quarter. That's vastly below some estimates calling for 28,000 units and suggests Tesla will miss its Q2 target.
To this, Musk wrote: "They're in for a rude awakening :)," in a company-wide email.
It's not the first time he's taunted the bears, either. Earlier this month, he responded to a question on Twitter regarding Tesla's "tent" production of the Model 3, saying the bears "have about three weeks before their short position explodes."
His two separate purchases of Tesla stock, once in May and another in June, also suggest Musk believes good things are coming for the company. Does that directly mean he's buying ahead of the production number release? No, not necessarily. But the company's brash leader is certainly boasting a lot of confidence ahead of what is arguably one of its biggest moments.
Can it or can it not produce 5,000 Model 3s a week?
Without being too passive aggressive, it does and does not matter. Coming up wildly short -- say 3,500 Model 3s a week -- will certainly matter. It will also matter if Tesla comes in wildly ahead of expectations, say running at 5,500 units a week. But if it's 4,850 Model 3s, I don't think it will matter. That will be good enough for bulls, in my mind.
Bears will shoot against it no matter what the number is. If it's low, they're revel in Tesla's shortcomings. If it's high, they'll argue that the production rate is unsustainable and was only a result of a last-minute push to meet expectations. But if it's an acceptable figure to bulls -- and Musk's demeanor is looking more and more promising for that camp -- then it could continue to squeeze shares of Tesla even higher.
Note: Here's the updated chart of Tesla for those that are trading it.
This article is commentary by an independent contributor. At the time of publication, the author had no positions in the stocks mentioned.