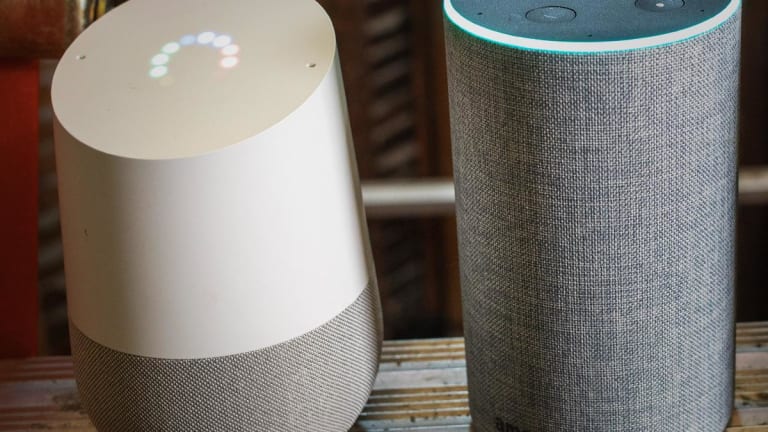 Will Privacy Concern Slow Progress of Amazon's Alexa and Other Voice Assistants?
Amazon recently added an option for Alexa users to opt out of having voice recordings reviewed by a human.
Amazon (AMZN) - Get Free Report is opening up more options for Alexa users to dictate how their data is used.
Last week, Amazon enabled a new policy that lets customers opt out of having their voice recordings analyzed by humans. In April, Bloomberg reported that Amazon had thousands of workers worldwide tasked with listening to and annotating voice queries with the purpose of improving the software, and that those reviewers also had access to certain personal details.
In addition to Amazon, both Alphabet (GOOGL) - Get Free Report and Apple (AAPL) - Get Free Report have added similar opt-out functionality for their voice assistants.
Generally speaking, most people don't bother leveraging privacy controls, according to Aaron Weller of data compliance advisory Sentinel CSG.
"When changing the setting to restrict manual review of voice recordings [in Alexa], a pop-up provides a warning that the functionality of the service may suffer -- which may make users think twice about clicking," he said. "The use of manual review of some messages to improve the service would seem to be key to rapid improvement -- there's only so much that machine learning can do independently. That said, the reason that many consumers are pushing back is on the lack of transparency about how much information is being collected and how it is being used to improve the service."
In addition to the new opt-out feature, Amazon also recently added the ability to delete recordings with your voice -- for example, by saying "Alexa, delete everything I said today" -- along with more detail in the Alexa app on how recordings are used. Amazon days that only an "extremely small fraction" of voice recordings are manually reviewed.
Doug Robinson, CEO of Fresh Digital Group, said that it's unlikely that the opt-out feature would hamper development of voice technology in any meaningful way.
"How the tech continues to grow is less reliant on some of that," he said. "If you look at how its ability to understand your speech has improved, how much it understands your voice and accents...I think we're over that hump."
Robinson echoed Weller's reasoning that many Alexa users won't care about the manual review of voice recordings. But, the recording issue could serve to highlight that there's some proportion of population that, due to vigilance about privacy or other reasons, may not want a voice assistant in their home at all.
"A lot of Alexa users aren't going to care that much because they've resigned themselves to the idea that they're not doing anything wrong, so why would they be concerned," Robinson added. "I don't know too many lawyers that have it, for example; people in certain professions."
Amazon shares closed 3.2% lower on Monday amid a broader market selloff and are up 19% so far this year.
Amazon, Alphabet and Apple are holdings in Jim Cramer'sAction Alerts PLUS Charitable Trust Portfolio. Want to be alerted before Cramer buys or sells AMZN? Learn more now.