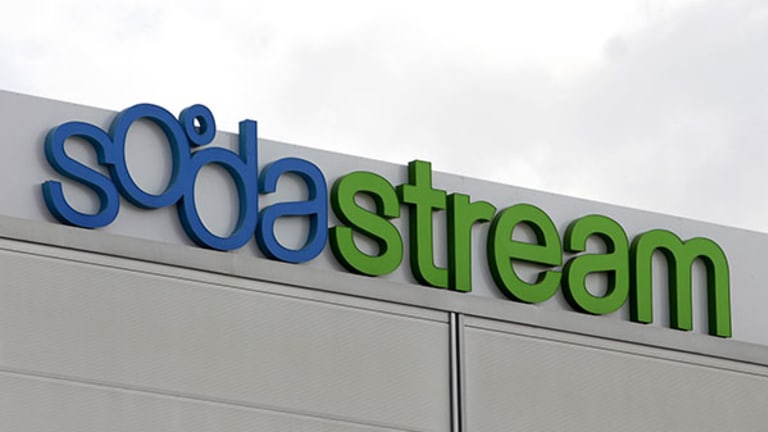 Will Pepsi Buy SodaStream? Markets Think So (Update 1)
SodaStream shares popped on Thursday on market speculation that it could be acquired by Pepsi.
This story has been updated from 11:10am EST to include a decline to comment from Pepsi and stock price change.
NEW YORK (TheStreet) - SodaStream (SODA) - Get SodaStream International Ltd. Report shares were surging 13.1% to $40.49 on Thursday, recovering all of the losses and then some from the night before on market speculation that it could be acquired by PepsiCo (PEP) - Get PepsiCo, Inc. Report.
SodaStream's share spike and speculation comes after news broke last night that Coca-Cola (KO) - Get Coca-Cola Company Report is taking a 10% stake in Green Mountain Coffee (GMCR) and the two will be exclusive partners when the coffee make releases its Keurig for cold beverages in 2015.
With SodaStream having a stronghold on the at-home carbonated beverage making industry (much more so internationally than in the U.S.), that temporarily put the Israeli company's stock in an "ut-oh moment" in post-markets trading. However, SodaStream shares quickly rebounded and then some on investor's hopes that the Coca-Cola/Green Mountain Coffee news would fuel Pepsi to acquire the company.
According to Citron Research, short interest in SodaStream shares is near a 52-week-high. As of Jan. 15, it was 8.7 million shares, or 42% of the outstanding -- that's 54% of the float.
Read: Insurance Kickbacks Highlight Big-Bank Idiocy
"After a year which promised hyper-growth, but delivered somewhat less than spectacular earning,s SodaStream ended trading yesterday at a 52-week-low -- but now everything has changed," a Citron note on Thursday said.
"It is an understatement to say that Coke vs. Pepsi is a pre-eminent corporate rivalry. Now Coke has made their move into the at-home beverage market. What are the chances Pepsi won't respond?" the note added. "Unless they believe that Coke is DEAD WRONG. They have no choice: Hello SodaStream!"
"Pepsi has no place else to turn," the note said, referring to SodaStream's leading position and known brand in the make-it-at-home cold and carbonated beverages area with a substantial global footprint (the non-North America market is more than 50% of their revenues) and it has already build and earned a distribution network.
Read: Apple's Tortured Relationship With the Enterprise
"They are a substantial force in that business, and they built it on their own, a significant achievement. If Pepsi were to invest in SodaStream or buy it outright, they are not just buying a concept."
This is not the first time a hook up between Pepsi and SodaStream has been speculated about. Last June, reports surfaced that both Pepsi and Coca-Cola were considering bids for the soda-machine maker. Pepsi and Coca-Cola had denied the rumors at the time.
Pepsi declined to comment to TheStreet on Thursday.

KeyBanc Capital Markets analysts Akshay Jagdale and Lubi Kutua had to scramble to reverse course after they wrote in their Jan. 8 initiation note on SodaStream that it was unlikely that Coca-Cola or Pepsi would announce a partnerships to enter the home carbonation segment. At the time, they also said SodaStream was "the best way to play the on-trend home carbonation category for at least the next couple of years given our view that competing cold beverage platforms were still relatively far away from commercialization."
The KeyBanc analysts downgraded SodaStream to "hold" from "buy" on Thursday.
"With yesterday's announcement between KO and GMCR, both of the aforementioned views have been challenged," the KeyBanc note said Thursday. "We believe KO's decision to partner with GMCR on its cold beverage platform validates the home carbonation category (i.e., significantly mitigates fears of 'fad' risk), but, more importantly, signals who KO believes the leader in the category is likely to be."
Read: Dunkin' Brands Sizzling Earnings Surprise Wall Street
Still, the analysts don't seem to think that Pepsi is on its way to acquire SodaStream as investors were jumping on.
"We believe investors are likely to view GMCR as the emerging leader in home carbonation, and we, therefore, expect that the recent negative sentiment on SODA's stock is likely to deteriorate further. As such, we believe current developments in the home carbonation category warrant a more cautious view on SODA's stock, and we are therefore downgrading our rating to a HOLD (from a BUY) until we see a more compelling reason to own the name."
--Written by Laurie Kulikowski in New York.
Disclosure: TheStreet's editorial policy prohibits staff editors, reporters and analysts from holding positions in any individual stocks.