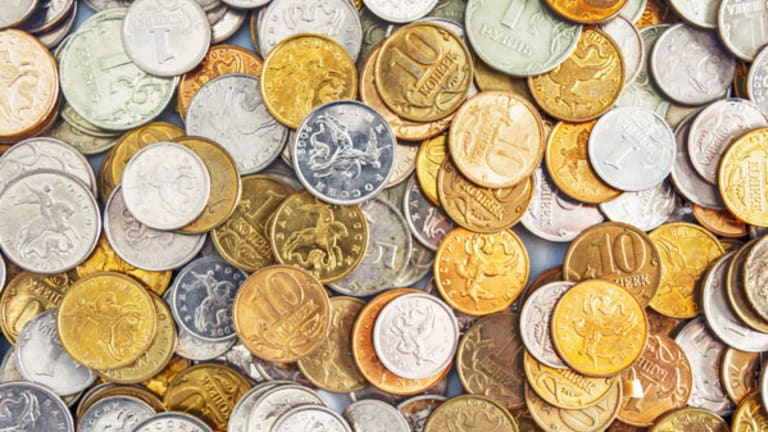 Will NovaGold Take a Buyout Offer?
NovaGold CEO Rick Van Nieuwenhuyse talks about the company's recent successes and challenges and if he would consider a buyout offer.
NEW YORK (
) -
have rallied more than 20% for the year, which has ignited a flurry of mergers and acquisitions in the gold mining sector. The trend prompted investors to speculate on the next takeover target and they have set their sights on
NovaGold
(NG) - Get Novagold Resources Inc. Report
.
NovaGold is a small Canadian miner with two of the largest gold and copper deposits in the world, Donlin Creek and Galore Creek, where it partners 50/50 with
Barrick Gold
(ABX)
and
Teck Resources
(TCK)
, respectively. Production is expected in 2015 at the earliest.
NovaGold's Biggest Risk
In 2011, NovaGold is expected to complete a pre-feasibility study for Galore as well as a revised feasibility study for Donlin. The company's net interest in the two projects is a staggering 30 million ounces of gold, 157 million ounces of silver and 9.1 billion pounds of copper.
Investors are wondering if this company, with big resources like these, can snag a big premium takeout offer akin to the ones
Red Back
and
Andean Resources
received from
Kinross Gold
(KGC) - Get Kinross Gold Corporation Report
and
Goldcorp
(GG)
, respectively.
The more gold a company produces the more gold it has to find to replenish supply. According to the
World Gold Council
gold demand trend report, mine supply grew 3% in the third quarter from a year earlier while gold demand rose 12%. Although the difference between supply and demand was largely made up for by an increasing recycled gold supply, as prices sustain high f-digit levels the pressure is on to find new deposits.
As previously reported, shares of NovaGold have surged since the end of August as investors followed
and J
into the stock in hopes that large gold companies would also find this company attractive.
I recently sat down with CEO Rick Van Nieuwenhuyse to get his long-term exit strategy for NovaGold.
What do you say to the widely accepted thesis among NovaGold investors that it is going to be a takeover target
?
Van Nieuwenhuyse
: Well, certainly with our two big core assets, Donlin and Galore, and the total net ounces attributable to the company, and the fact that you've got the byproduct copper and silver, basically we are close to a million ounces of production between the two projects, our share between the two projects. You've got a very, very low cost gold producer with a silver and gold byproduct credit so naturally that would fit nicely into any major companies portfolio. We're obviously aware that that's a possibility.
What would you think about the possibility
?
Well, I mean if I looked at the more recent takeover transactions Kinross and Red Back and Goldcorp and Andean, they're paying $1,000 an ounce for 2 PMI, proven and probable measured indicated ounces, so for us, with Galore going into that same category,
we're looking at 27 million ounces times $1,000. I could probably deal with that.
Last time your share price was at $16, Barrick made a bid for you guys. Now with gold at $1,300 - $1,400 are you hoping that would happen again
?
We want to maximize shareholder value and if you use those metrics that would certainly be one way to do it. I mean we're valued today at one-tenth that value. We're a little over $100 an ounce so that's adding a huge amount of shareholder value and we're certainly all interested in that. I'm a significant shareholder of the company. I wish I were more. It's certainly a big part of my personal wealth and that's not a bad way to realize it. Having said that, our game plan is to continue to advance these projects towards production. We're very bullish on the copper price and we're very bullish on the gold price and so are our major shareholders.
So why hasn't it happened yet? You mentioned Kinross and Red Back; part of Red Back's mines were accretive to Kinross' earnings pretty much right away but for you guys it's going to take at least five-six years. Can you attribute that to one of the reasons as to why a takeover hasn't happened for you
?
I mean I think if I put myself in Barrick or
Newmont Mining's
(NEM) - Get Newmont Corporation Report
or somebody else, because I don't think it would be just Barrick who would be considering this I think there are lots of possibilities, but yeah, there's a time factor.
These projects are going to take some time to permit. I think three years is probably a reasonable amount of time to assume for Donlin Creek. It's got to go through a full EPA
Environmental Protection Agency process, a full blown EIS
environmental impact statement, so there is a lot of work to do.
We're beefing up our team ... senior engineering types, senior environmental types, and we are perfectly prepared to do that
work.
We're well-financed now, we've got $170 million available to us plus $75 million in warrants that are deeply in the money. So we're well-financed for what we need to do for the next two years but obviously we will need to raise significant capital for these two big capital projects if we are going to stay at 50/50. That's what we are planning
for and what we're preparing ourselves to do because we think that's the best thing to do for our shareholders.
Now is selling Ambler and Rock Creek part of the financing strategy or are you dressing yourself up to look even better for a buyer
?
It's probably two-pronged ... we've established that they are noncore
assets. I think Rock Creek is something that we think we can attract some value out in the short term whereas I think Ambler is something we believe can be worth a lot more in a separate vehicle so we're undertaking plans to make it a subco so it's off by itself and then can be privately financed and/or IPOed ... I think we can realize half a billion dollars of value out of Ambler over the next two years given that we are good explorers, we know how to tell that story and we know we can be successful doing it and copper is in huge demand and Ambler is an 8% copper equivalent story so it's a very high quality unique asset on the world stage. If we can successfully do that there is half a billion dollars capital that we can put towards building Galore for example.
Now when you mentioned before about talking to Barrick or Newmont and if they would be interested in buying you, you didn't mentioned Teck, why
?
Fundamentally our business strategy is to spend tens of millions of dollars to define resources
and bring in big partners to spend hundreds of millions of dollars to get them to feasibility stage. There's a lot of heavy lifting that needs to be done and Teck certainly is a great partner in doing that specifically in British Columbia.
They're a great partner, they have their own strategy in terms of filling out their additional copper production and Galore figures highly in that strategy. They've divested themselves of their gold assets so they're not really in the gold space.
And Barrick has been talking more excitedly about Donlin right
?
Sure, and I think it's a little further ahead ... we're working on a pre-feasibility at Galore and a feasibility at Donlin. Although I will point out that British Columbia is the quicker place to do permitting than the United States. We've already been through the permitting process in British Columbia and providing that you can have your first nation issues addressed, the permitting process can be quite quick in British Columbia.
So you think that the mine might come on earlier than five-six years
?
Well, I think Galore is ahead of Donlin Creek despite the fact that we're working on pre-feasbilility there and a feasibility at Donlin. The timeline that we're projecting for Galore would be pre-feasibility next year then work on feasibility, permitting, and road construction over the next two years and then start building the mine once its permitted and we think that that will be a three-four year process so 2015-2016.
When is NovaGold going to have to start kicking in money to Galore
?
Middle of next year. Rough numbers: Teck has about $18 million left to spend and based on our current projected plan with projected spending it will be in the middle of the year.
Your expenses for Donlin in your last report were about $7.6 million so that puts you in good financing stead until 2012
?
Yeah, just counting rough numbers basically two years. We're projecting a roughly $40 million budget for Donlin so half of that would be ours -- $20 million -- whereas we are expecting a $60 million net budget after Teck earns
its half next year so roughly $30 million.
Then thinking about selling Ambler and Rock Creek as a way to finance and then what are you going to have to do? Tap the debt market
?
Take Galore first since we think it will be the first one up. Rough numbers, obviously these will be dependent on getting the pre-feasibility and the final feasibility for what the exact numbers will be, but this will cost roughly $4 billion; $2 billion will be our share.
I think we can comfortably project finance 50% of it ... take $1 billion. Now I've got to raise $1 billion. Well we have nearly a $4 billion market cap on a fully diluted basis. So if we had to go to the equity markets I think we could. I don't think we would have to, we have Ambler. I've got a silver stream, which is the third metal at Galore that I'm sure the silver royalty companies would be very keen to talk to us about. This is a mine that will produce on the order of 4-5 million ounces of silver over the next 25 years.
Have you talked to the gold royalty companies as well
?
We don't really want to sell forward our gold. Our fundamental game plan is to give our shareholders as much exposure and leverage to gold as we can. So it's not the first choice, but push come to shove if we needed to raise a billion dollars to finance our half, again assuming you do 50% debt
for Donlin, I think we would look at potentially selling a very modest gold stream as a way of potentially financing it.
Just using some general numbers -- First five years of production you're producing 800,000 ounces of gold a year based on the feasibility study at Donlin at roughly $400 cash cost. If you sold 7% of that, it's roughly 50,000 ounces so rather than producing 800,000 ounces being our share we'd produce 750,000 -- not so bad. You'd be doing that for a long time and I think a royalty company would be very keen to talk to us about that. We've had preliminary discussions and there's certainly a keen interest.
For long mining assets, those kind of financing options are available to you. If you only have a five-year mine life, they're not going to talk to you.
Also now that Paulson owns 9% of the company is that going to factor into the strategy here? Because I feel like when we spoke earlier one to two years ago, it was very much a go-it-alone kind of strategy
.
We've always had partnerships. I don't think we've ever had the go-it-alone mentality, it's just that two years ago it was a very difference space for the company. 2008 was not a kind year to us or to the whole sector ... we certainly lost a lot of shareholder value. We've been working hard to regain that and I think we're making good strides.
In attracting shareholders like the Soros and Paulson groups that certainly broadens out the perspective and brought out a lot of other interest: "well Paulson and Soros are interested in NovaGold so should I be looking
at it" ... that certainly has generated a lot of meetings ... and introduced us to a lot of new people, so yeah it's been a very good year for getting the whole story out and meeting a whole new group of potential investors.
You mentioned a few times about NovaGold being a low-cost producer, how are you going to be a low-cost producer and what does that actually mean
?
Donlin, based on the feasibility study that Barrick completed to earn its 50% interest in the project, first five years a little over $400 cash costs just by itself so that already is in a lower quartile so you fit the description of a low-cost gold producer ... More than likely because we know there is a lot more gold at Donlin, it's a big district ... what you're going to do once that operation is up and running
is you're going to double throughput ... that's going to further lower your operating cost and increase the total level of gold production. So ... you're probably producing 2.5 million ounces of gold but lowering unit cash costs. So those are the kinds of things that big operations will do, we don't have a specific plan to do that but that's what I would expect that ourselves and Barrick would want to do ... once it's up and running.
The cash costs aren't counting your new natural gas pipeline so what kind of difference would that make when you redo the study next year
?
Yes, and that's what the updated feasibility study will capture. Gas is a more efficient fuel to burn on a kilowatt-hour basis. Based on this work we've done we think the costs to produce alternative power with gas is going be about half as much as diesel.
So what would that do to the cash cost
?
Energy makes up about 25% of our cash costs so if everything stayed the same -- nothing does -- but if did based on the $400 cash cost for the first five years it would lower it by $50 an ounce.
So we'll be a low-cost producer at Donlin and we're very positive on the gas line but let's wait and see what the capital is and the operating costs are going to be.
Over at Galore, the thing about Galore is it's a three-metal mine. It is fundamentally a copper mine, 65% of the value is in copper, roughly 25% in gold and 10% in silver. You take the copper and silver as byproducts and you take the revenue that you gain by selling those and you net that against the cost of producing an ounce of gold and it becomes a ridiculously negative cash cost.
We won't use spot pricing in our pre-feasibility study we'll probably use something conservative like $2
for copper .... and $17, $18
for silver ... But whatever it is: if it'ss $2 copper, or $3.75 copper it makes it even sillier negative cash costs. So when you then combine the two: our share of Galore roughly might be 200,000 ounces of gold a year at a negative cash cost and 800,000 ounces of gold
at Donlin at a $400 cash cost it's going to net out very well.
What's the quality of the gold grade
?
That's the other unique thing about Donlin, it's a 40 million an ounce gold deposit averaging 2.2 grams. If you look out there at the other big plus 5 plus 10 million ounces that are being developed ... they're a gram or less, so this is two or three times the average grade.
So when do you think that your share price is finally going to equal what you're worth ... Because when I was talking to analysts about NovaGold one of the problems that they come up against is that they don't know how to value your stock
.
Well, then they haven't done a very good job.
Is that one of the biggest risks you think that NovaGold is facing? Shareholder confidence
?
Well, I think with Barrick talking about the project finally and having it as a part of their presentation rather than just a dot on the map; having heard
CEO Aaron Regent refer to Donlin Creek as the "next generation of mines;" I think that's what's helped bring a lot of confidence ... There's a bit of a validation that has taken place this year and that's I think brought a lot of attention to the stock.
What other trends do you see in the gold mining community. We've talked a lot of about consolidation
.
Let's take Barrick, they're producing 7.5 million ounces of gold, Aaron Regent wants to take it to 9
million ounces -- that's a tall order. That's a lot of ounces to find every year to replenish the ounces that you're producing.
If you're producing 9 million ounces of gold, just work with me on the math here, you've got to find twice as many ounces of resource because typically resources to reserves is about 60%, you get about 90% recovery so that's a big tall order. That's one giant new discovery every year.
What does $1,300-$1,400 gold mean to NovaGold
?
Our story is about two things -- it's about leverage and value. The value part of the equation that is $100 an ounce ... and the discounting that takes place because we're not a producer ... The closer we get to production the higher that value will go so that's one piece of it.
The other piece is leverage. If you want to have exposure to the gold space, what can you do? You can buy physical gold then you have to pay someone to protect it. You can go buy the ETF you're leverage there is less than 1:1 somebody's got to manage the thing. You can buy a Barrick or Newmont and you're paying two times NAV for those assets ... In terms of getting leverage to the gold price ... you buy $1 worth of NovaGold stock you're getting exposure to $12 of gold and $12 of copper and silver.
How high will the gold price be in 2011
?
I'm confident that we will see $1,500 gold. I think $1,500-$1,800 gold that range is very comfortable based on the amount of quantitative easing that is going to get priced into the system. We still have high unemployment, I mean the real unemployment rate in the U.S. is probably closer to 17% than 10% ... unfortunately, that's good for gold.
--
undefined by Alix Steel in
New York.
>To contact the writer of this article, click here:
Alix Steel
.
>To follow the writer on Twitter, go to
.
>To submit a news tip, send an email to:
.
Disclosure: TheStreet's editorial policy prohibits staff editors and reporters from holding positions in any individual stocks.