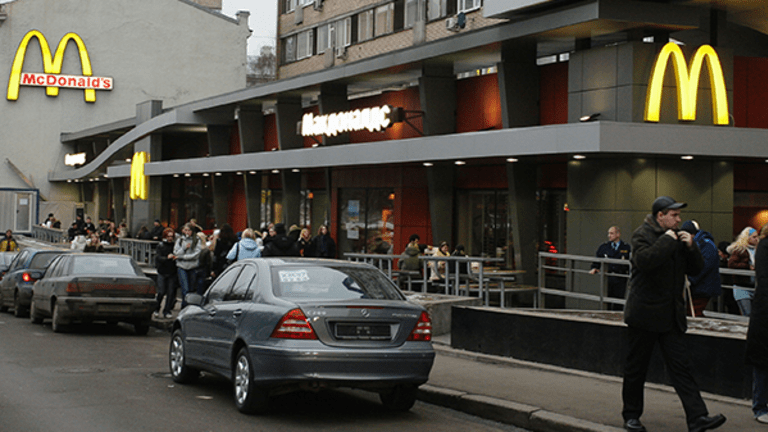 Russia Could Blast America's Very Own McDonald's, Again - Here's How They Would Do It
Three years ago, a Russian agency shut down four McDonald' in Moscow, just as the U.S. criticized Russia for its Ukraine invasion.
Three years ago, a Russian agency shut down four McDonald' in Moscow, just as the U.S. criticized Russia for its Ukraine invasion.
Will American fast-food chains in Russia lose sales because of geopolitical tension between the U.S. and Russia over Thursday's airstrikes on Syria?
"Any time you have geopolitical tension, you can typically have some backlash," said Jack Russo, an analyst at Edward Jones. "As I think back upon instances when this has happened, you have a short-term consequence in that consumers stay away from Western brands. If there's good brand equity, the customers will flock back."
In spite of harsh words between Washington and Moscow, Russo said that the conflict may be lost on some Russian consumers, especially younger ones, that are unaware that some fast-food players are American companies. And other customers, he added, especially the younger ones don't really care about differences between the two countries and dine out where they choose.
McDonald's (MDM)  is strongly identified as American, Russo added. And among all American fast-food companies, it by far has the strongest presence in Russia—601 stores at the end of 2016, about double the number from 2011.
However, Russia has taken action against McDonald's in recent years. Three years ago, just as the U.S. criticized Russia for its Ukraine invasion, a Russian agency shut down four McDonald's in Moscow citing health violations. 
McDonald's did not respond to a request for comment.
Dave Henkes, an industry analyst for Technomic, said it was "too early to tell" whether Russia will use punitive actions against American companies operating there. Similar to what Russo said, Henkes believes that the average Russian citizen doesn't care enough about the airstrikes to boycott American businesses. Plus, he added, many of the Russian outlets of American stores are owned or run or both by Russians. "It [a ban or shutdown] ends up hurting local people," he said.
Russia has a history of taking retaliatory measures against countries and regions that disagree with its politics. It has restricted the importation of wine from Georgia and dairy products from Belarus after those countries began warming up to the West. And in 2014, President Vladimir Putin ordered an embargo, responding to economic sanctions against Russia over the Ukraine crisis, of meat, poultry, fish, dairy and produce from the U.S., Canada, Australia, Norway and the European Union.
Other America-based restaurant chains with stores in Russia are: Starbucks (SBUX) - Get Report , Dunkin' Brands (DNKN) - Get Report , Wendy's (WEN) - Get Report   and Yum! Brands (YUM) - Get Report , which owns KFC, Taco Bell and Pizza Hut. None of those companies, except for Dunkin' Brands, responded to a request for comment.
Henkes said that he believes the American companies and their crisis teams are aware of the potential for problems and monitoring the situation to be ready should they be targeted by the government or protesters.
"We've neither seen nor heard of any issues," a spokesman for Domino's Pizza (DPZ) - Get Report wrote in an email to TheStreet on Friday. "Events around the world generally don't have any short-term impact on our business. The stores in Russia are owned by local operators and are not necessarily seen as an American brand."
Dominos opened its first store in Russia in 1999 and currently has 78 there—63 of which debuted in the last five years. All are owned by local franchisees.
Dunkin' Brands' Dunkin' Donuts entered Russia in 2010, and its Baskin-Robbins, in 1988. The company has 38 Dunkin' Donuts restaurants and 266 Baskin-Robbins shops in Russia, which are owned and operated by its local licensees. 
Starbucks is a holding in Jim Cramer's Action Alerts PLUS Charitable Trust Portfolio. Want to be alerted before Cramer buys or sells SBUX? Learn more now.