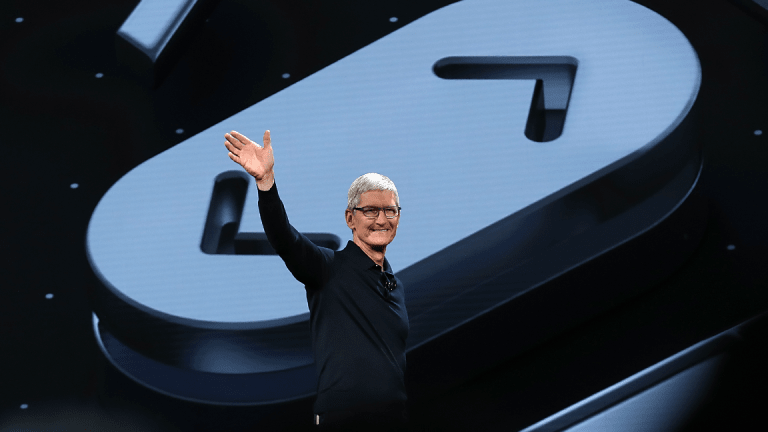 Will Apple's New iOS 12 Really Help Prevent Smartphone Addiction?
Some say the new features from both Apple and Google are steps in the right direction, but also wonder whether the tech giants are doing enough.
Some say the new features from both Apple and Google are steps in the right direction, but also wonder whether the tech giants are doing enough.
Apple and Google want you to use your phone less, but will that be enough?
Apple Inc.  (AAPL) - Get Report  is the latest tech giant to address concerns about smartphone addiction with the release of its new software upgrade that mirrors many of Alphabet's (GOOGL) - Get Report  recently-announced features for Android -- moves that some experts say is a step in the right direction for the tech giants.
Apple announced its latest mobile operating system update, iOS 12, during its Worldwide Developer Conference on Monday, revealing enhancements to features such as Do Not Disturb and Notifications, as well as a tool to monitor overall time spent on the phone and various apps. The updates show the company's interest in user's "digital health" and closely resemble new  Android features announced at Google's I/O developers conference in early May.
Jean Twenge, a psychologist and author focusing on generational differences including technology use, said that a key area of improvement in Apple's features is the expansion of Do Not Disturb, which hides notifications and mutes calls.
"It is crucial that phones don't disturb sleep," Twenge said. "If we're going to start somewhere, lack of sleep is a huge risk factor for mental health issues." Twenge said.
In January, Twenge and other experts teamed up with activist hedge fund Jana Partners and public pension fund California State Teachers' Retirement System to send Apple a letter asking the company to take action surrounding children's overuse of iPhones. The letter contained data and statistics surrounding the impact of smartphones on children's sleep and mental health. 
Twenge told TheStreet she believes consumers want to see these kinds of controls and tools in their technology.
"I don't think of it in terms of [the company's] responsibility [to customers]," Twenge said. "I think customers want more information."
However, the updates that Apple, Google and Facebook are making may not mean that digital health will become a core focus for the companies, said Georgie Powell, CEO and co-founder of Phone Life Balance, a company that created Space, a smartphone app aimed at breaking phone addiction.
"After five years supporting users with digital health, we know that analytics plus 'locking the candy in the cupboard' is not enough to change habits," Wells said in an email. "This happens with positive encouragement, reciprocity, rewards and a full set of information about the implications of their habits."
Powell and others created a group called the Digital Wellness Warriors and started a petition asking Apple to allow developers to "help iPhone users with mental wellbeing" with an open API.
Apple shares rose 0.7% to $193.31 on Tuesday and have increased 14% since the beginning of this year to close to an all-time high. Meanwhile, Alphabet shares fell 0.2% to $1,151.02 on Tuesday, and its stock has risen 9.3% since the start of the year.
Apple and Alphabet are holdings in Jim Cramer's Action Alerts PLUS member club. Want to be alerted before Jim Cramer buys or sells AAPL or GOOGL?Learn more now.