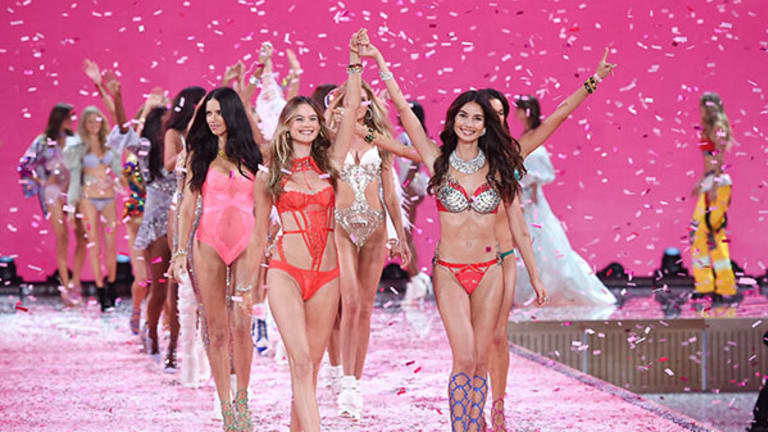 Amazon Wants to Sell $10 Bras in the U.S., but Doing So Won't Be Easy
Amazon will have to overcome significant issues if it plans on selling lingerie online.
Amazon (AMZN) - Get Amazon.com, Inc. Report is said to be working on bringing its line of women's intimate apparel to the U.S., and while the concern has been focused on what impact this might have on L Brands (LB) - Get L Brands, Inc. (LB) Report Victoria's Secret sales, Target (TGT) - Get Target Corporation Report and Walmart (WMT) - Get Walmart Inc. Report  may be more at risk.
Amazon is planning on selling its line of women's undergarments, which recently started marketing bras for under $10 in Europe under the label Iris & Lilly, in the U.S. That would mark the entrance of the e-commerce giant, who is seen as largely responsible for the decline of brick-and-mortar retail, into the lingerie space, sources told TheWall Street Journal.
Amazon did not return a request for comment.
Shares of L Brands, which sells bras for roughly $40, fell slightly to $58.89 in Friday's afternoon trading on the news. But it appears that Amazon is going to be targeting an entirely different consumer, one focused on bargain hunting, rather than those who buy the high-quality products at Victoria's Secret.
"Victoria's Secret has tremendous market share...55% of the dollar being spent on bras are being spent at a premium price point," Stifel analyst Richard Jaffe told TheStreet. "We know you can buy your underwear at Walmart but most women don't want to."
Jaffe said it's not a choice between Amazon and Victoria's Secret but a choice between Amazon and other discount retailers.
Still, Amazon needs to work out the kinks in its plan before launching it.
"I think undergarments is one of the more defensive categories to the Amazon threat," Morningstar analyst Bridget Weishaar said, explaining that lingerie is "one of the few categories where consumers show brand loyalty and value comfort and fit over price. They want to be able to try on sizes for fit and feel the fabrics."
Some of the ways Amazon could overcome this issue is by offering surveys to customers, allowing women to choose their specific size and fit online, Melissa Gonzalez, CEO and founder of experiential retail pop-up shop agency The Lion'esque Group, said in an interview.
"They have the advantage of learning so much...they have so much data on how we shop," Gonzalez said, but still, even with a survey, the results may not be perfect.
While it is still too early to tell how Amazon will handle online lingerie sales in the U.S., Natalie Kotlyar, National Leader of BDO USA's consumer business practice, told TheStreet that the company "is a powerhouse and they consider their ventures and new lines of business very carefully" so it is unlikely they will take a dive into something that will hurt profits.
"Amazon has clearly had success disrupting many industries and has been pushing into private label apparel for some time," Baird analyst Mark Altschwager said in an email to TheStreet.
Altschwager said he thinks "all retailers and fashion brands have been put on notice" and, although Victoria's Secret does not target cash-strapped consumers, "if Amazon were to be successful, it could drive further price deflation in the category."