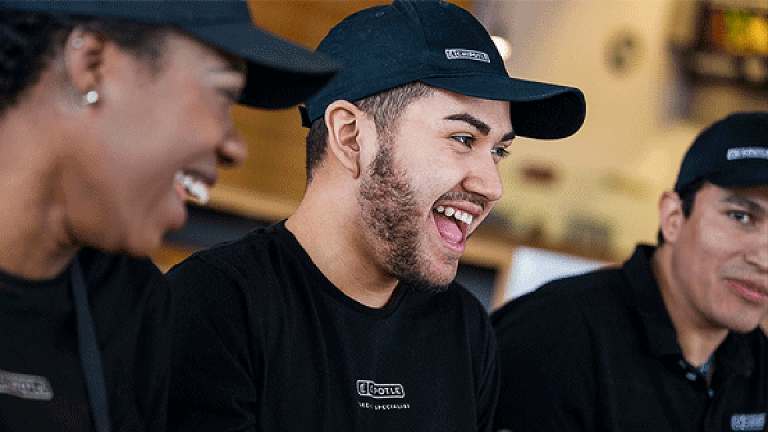 Will a New CEO Save Chipotle or, With Ells Still in Charge, Be More of the Same?
It's time for new blood at Chipotle, but is true change afoot?
Call it the Steve Jobs syndrome, with essence of Howard Schultz.
In the former, the Apple Inc. (AAPL) - Get Apple Inc. Report co-founder is ousted from his "baby," the company he founded, and eventually comes back stronger than ever. In the latter, the Starbucks Corp.   (SBUX) - Get Starbucks Corporation Report CEO steps down, but never quite steps away.
Steve Ells is on the way out as CEO of Chipotle Mexican Grill Inc. (CMG) - Get Chipotle Mexican Grill, Inc. Report , announced Wednesday, Nov. 29, but he's remaining as executive director at the company, meaning he'll be the boss of the new CEO. Ells, in fact, is on the committee to find his replacement.
That's leading analysts to doubt whether there will really be a change.
"You wonder how much is for public perception and how much is real change," restaurant industry consultant Aaron Allen, chief strategist of Aaron Allen & Associates, told TheStreet on Wednesday.
In a July posting, the firm predicted Ells' fall, and eventual return. "Like Howard Schultz and Steve Jobs before him, Ells is probably the right man to lead his company in the long-term (incidentally, we believe he is), but he may not be the right man for the moment," wrote Allen.
Allen said a new CEO could breath life into the stock, increase the market capitalization and boost confidence if the leader could truly move past the chain's food safety issues that have plagued it in recent years.
Ells' continued involvement could also be a benefit for the company, according to Stephens analyst Will Slabaugh, "because the Chipotle culture is so strong." 
"I'm thinking of a few people in the quick service restaurant space, from a couple of tech savvy companies like Starbucks and Panera [Bread Company]," said R.J. Hottovy, an analyst at Morningstar Equity Research. "I wouldn't be surprised if Chipotle went after execs in that group."
Yet any new CEO may be hamstrung by Ells, said Allen. "The bad news for the incoming CEO is you still have the previous CEO who is very outspoken, some would say authoritative, in his positions," said Allen. "That's a bit different when the board decides to take a passive path."
"The CEO will be given a lot of rein to change things, but the fact that Steve will be involved [means] that there always will be potential for conflict," said Hottovy. He and other industry sources pointed to the possible conflict of interest that Ells would raise as executive chairman after ceding power.
What Chipotle needs now is a leader who has successfully dealt with a crisis, whether he or she has operated inside the food industry, Allen said. While he did not offer up names, he said that because both Yum! Brands Inc.  (YUM) - Get Yum! Brands, Inc. Report and McDonald's Corp.   (MCD) - Get McDonald's Corporation Report   overcame food safety issues in China, it may benefit the company to scout in that pool of executives. 
"I'm thinking of a few people in the quick service restaurant space, from a couple of tech savvy companies like Starbucks and Panera [Bread Company]," said Hottovy. "I wouldn't be surprised if Chipotle went after execs in that group."
In line with industry practices, Allen predicted that a new CEO would last at Chipotle about 18 months.
The Chipotle announcement comes about a year after activist Bill Ackman, who runs Pershing Square Capital Management, settled with Chipotle in a move that added four new directors to the company's board, including Ali Namvar, a member of Ackman's investing team. Following Ackman's settlement, the restaurant chain ended its costly co-CEO arrangement after co-CEO Monty Moran left. For Ackman, the investment has been mostly negative.
Ells built the Chipotle empire from the ground up in the early 1990s. In 1998, his 15 eateries piqued the interest of McDonald's, whose investment allowed Ells to aggressively expand. The company went public on Jan. 26, 2006. The stock doubled in value the very next day. By 2016, Ells was operating more than 2,000 locations. At that point, the company fell into public relations turmoil after more than 100 people reported E. coli and norovirus food poisoning across the country. Since then, Chipotle has overhauled its food-safety system, launched a rewards program and released new menu items, including a queso dip that flopped among consumers. Before its food safety troubles came along in 2015, Chipotle's average unit volume was over $2 million, among the highest in the industry. Returning to this rate of success is still possible, analysts say, but will take time.
A strong new CEO is in order, as long as her or she is allowed to lead.
--Cathaleen Chen contributed reporting to this story.
Apple Inc. and Starbucks Corp. are holdings in Jim Cramer's Action Alerts PLUS Charitable Trust Portfolio. Want to be alerted before Cramer buys or sells AAPL and SBUX? Learn more now.
More of What's Trending on TheStreet: