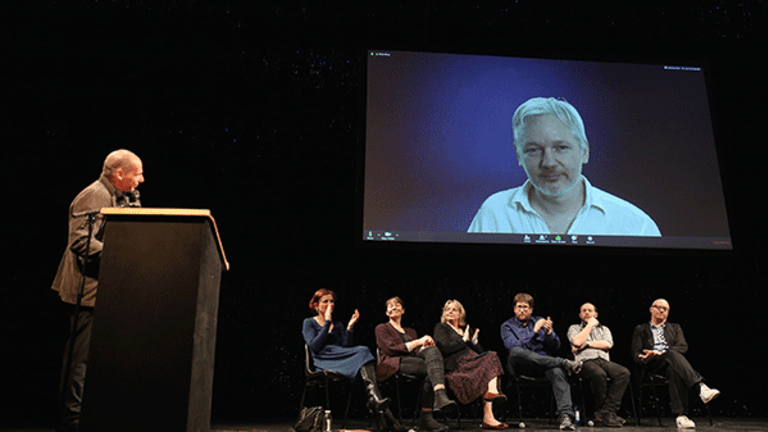 WikiLeaks Generates Tailwinds for Small-Cap, Tech Stock Qualys
This week's release of U.S. spy secrets by WikiLeaks is yet another indication that cyber security firms will enjoy a bonanza of business. This small-cap is especially appealing.
Julian Assange's WikiLeaks made another well-time data dump this week, revealing the pervasive, covert surveillance of American citizens by U.S. spy agencies.
By distracting media coverage away from President Trump's growing Russia scandal, WikiLeaks once again appeared to serve as a de facto arm of Vladimir Putin's cyber warfare against the United States.
It's no secret that Trump ally Putin is running disruption operations against the U.S. and on behalf of the American president, a paradoxical and troubling state of affairs.
Welcome to the strange realities of Cold War II. As geopolitical tensions rise over intensifying cyber attacks in the public and private sectors, the technology companies that make anti-hacking software stand to reap long-term profits.
The leaders in the field, such as Cisco Systems and Oracle, are solid investments but their stocks have become pricey.
If you're looking for outsized gains that often elude the Silicon Valley mega-caps, consider this small-cap cyber security play: Qualys (QLYS) - Get Qualys, Inc. Report .
Based in Redwood Shores, Calif., Qualys provides cloud-based security in the U.S. and overseas for small and medium-sized businesses and large corporations. Qualys boasts over 7,700 customers in many industries in more than 100 countries. The company also has strategic partnerships with such companies as IBM and Verizon.
The QualysGuard product line is well ensconced and trusted, but it's Qualys' laser-like focus on cloud technology that differentiates the company from its peers and attracts a growing roster of clients. The company's Cloud Suite line offers vulnerability management as well as continuous monitoring.
With a market cap of $1.25 billion, Qualys is a good bet for market-beating growth, especially in a year when small caps are expected to outperform.
The average analyst expectation is that Qualys will rack up year-over-year earnings growth next year of 22.4%, and 15% over the next five years on an annualized basis.
And yet the stock's valuation isn't out of whack with its peers. Qualys shares sport a price-to-sales ratio (P/S) of 6.7, compared to the industry's P/S of 5.3. In light of this small-cap rocket's growth potential, the modest premium is worth it.
As WikiLeaks proved yet again this week, the tailwinds for cyber security providers will only get stronger under a Trump regime.
---
It's Not the "Next Big Thing." It's the ONLY Thing.
Forget Facebook and the one billion people who log in to their accounts every day... Forget Netflix and the 10 billion hours of video users stream every quarter... And forget Amazon and the one trillion files customers have stored in its "cloud"... These corporate giants (and thousands like them) depend on ONE company to survive. And even though you've probably never heard its name, it may be the most exciting - and profitable - tech investment in decades. Click here for the full story.
John Persinos is an investment analyst at Investing Daily. At the time of publication, he owned stock in Cisco, Oracle and Verizon. Persinos appears as a regular commentator on the financial television show "Small Cap Nation." Follow him on Twitter.