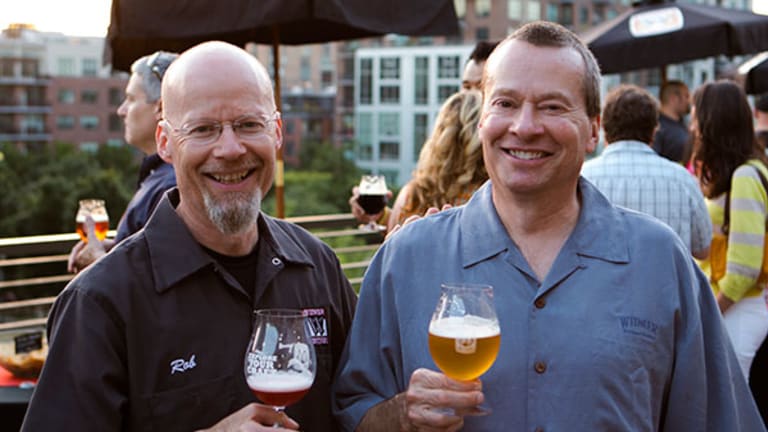 Widmer Brothers Marks 30 Years Of Craft Beer -- Yes, Craft Beer
Kurt and Rob Widmer built a craft brewery from a space the size of a bank branch to a coast-to-coast beer power. Critics have tried to cast them out of craft beer for it, but they just keep pouring.
PORTLAND, Ore. (TheStreet) -- Heading off of Interstate 5 onto Russell Street in North Portland, the first landmark a traveler sees before hitting the Portland TrailBlazers' home arena, the bridges across the Willamette River or Downtown Portland itself is the Widmer Brothers brewing facility and Gasthaus.
It isn't the oldest brewery in a city filled with dozens of them, but it's been a landmark here since brothers Rob and Kurt Widmer brewed their first batch at a much smaller location in 1984. In the three decades that followed, the brothers helped brewpubs become an Oregon staple, revived small German brewing on the West Coast in an era of mass-produced light lager and nearly lost everything in the process.
Today, the Gasthaus sits newly renovated as tractor-trailers filled with Widmer Brothers beer wind their way up Russell Street to I-5. A selection of beers that consisted only of dark Altbier and a golden, wheaty Weizenbier in the brewery's earliest years has expanded to a broad portfolio that fills dozens of taps in the brothers' home base.
In the brewpub store just behind those taps hangs a photo of the fresh-faced brothers -- Kurt in his early 30s and Rob in his late 20s -- working at their first brewing facility that's since been converted into a bank branch. Since then, Kurt, 62, and Rob, 57, have made their brewery part of the more than 600,000-barrel Craft Brew Alliance that includes Hawaii's Kona Brewing and Washington neighbor Redhook, as well as breweries in Washington, Hawaii, Portland and Portsmouth, N.H.
That decision gave them a big hand with distribution, courtesy of a 32% stake in the company owned by Anheuser-Busch InBev, but also saw the Widmer Brothers kicked out of the Brewers Association craft beer trade group in 2007 by colleagues who weren't in business when the brothers brewed their first batch. As a result, there are corners of the beer community that refuse to consider Widmer Brothers a craft brewer.
Other industry observers -- and the brothers' large slate of offerings that only expands with its 30 Beers For 30 Years anniversary event this year -- allude to the contrary. The brewery has already released versions of its 1984 Altbier, its 1985 Weizenbier and its 1986 Hefeweizen to mark the occasion and continues to collaborate with brewers including Tampa, Fla.-based Cigar City and Bend, Ore.-base Boneyard on limited releases. The brothers, meanwhile, can still be found leading the supporters of Major League Soccer's Portland Timbers in a pregame toast, hanging their banner in the Timbers' home stadium, filling tap handles in local pubs and spreading their expanding array of styles from coast to coast.
As one of the few craft brewers with their family name attached to their brewery, the Widmer Brothers continue to take their brewing, their business and their public image personally. They pride themselves on being the Craft Brew Alliance's experimental, inventive creative engine and being able to more than hold their own on a coast saturated with bold craft brewers. Beer snobs, backstabbing colleagues and near-bankruptcy haven't rid the industry of the Widmer Brothers in three decades, and it doesn't look as if they're going anywhere as long as they draw breath.
Though we had the chance to speak with Rob Widmer at length a few years ago, we were able to get time with both Kurt and Rob to talk about their history, their 30-beer party plans and how it feels to spend three decades brewing craft beer only to have certain craft beer comrades only acknowledge 23 years of that history:

When you've celebrated milestones every five years and one year doesn't seem much more important than the next, what made you decide to pull out all the stops for your brewery's 30th anniversary?:
Rob: If it was Kurt and I, we would have had a little party in-house and had a little toast or something and that would have been it. Our family has never been really big on big anniversary celebrations or making a big deal out of things like that, but our crew was like "We've got to blow it out."
With 30 for 30, I can't believe we've gotten this far without the wheels flying off. It's a lot of beers and a lot of people, but it's been awesome going around and pitching it to 30 independent designers. By the end of the day, I was so enthusiastic about it that it was a big deal.
You both led a toast with the Portland Timbers' supporters group, the Timbers Army, as part of the celebration and have your brewery's logo hanging on a huge banner in Providence Park as the team's official craft beer sponsor. After seeing Budweiser, Coors and Miller signage in other stadiums, did you ever think that your brewery would have this kind of tie to a team?:
Kurt: No. Honestly, where we are is ... we couldn't begin to fathom how far we've come, and we had pretty limited ambitions back then. Being a major sponsor for a Major League Soccer team was not part of the original vision 30 years ago, I can tell you that much.
I have to wonder what was the motivation 30 years ago. That was before there was any kind of craft beer or microbrew template. It seems that everything -- from putting the family name on the brewery to the beers you were creating -- was such a tough decision. It seems like a scary, frightening proposition.
Kurt: It was scary.
I went through a book called Oregon Names that we got at the library with geographic places, Indian names, locations and different things. I spent days with that and narrowed it down to my Top 50. [To Rob] Were you part of that?
Rob: Yeah.
Kurt: And then we would go a couple of days trying a name. "How about this... Ilwaca?" We'd go and go and go until one of our friends told us to look around the world and see that most of the breweries with 100 years of heritage or more had family names on them. We just happened to have a Germanic-sounding name, but that came way late in the process.
I'll tell you our original business plan, to put it in perspective. Having a retail portion of the business was the plan from Day 1, so we were always going to have a brewpub and we were part of the enabling legislation to do that. I thought if we had the pub and 10 on-premise accounts -- and we were draft only -- then we would have a viable business. That was it.
Our first building was a total of 4,000 square feet and the pub was going to take up half of it. It's now a Key Bank at 14th and Lovejoy. When I signed the least on that, it was the scariest day of my life. I thought it was a lot more space than we actually needed, but it turned out to be way less space than we actually needed. The pub never got built at that location.
Just for perspective's sake, what's the square footage on just your current brewery facility addition alone just across Mississippi Avenue?
Kurt: If you add up multiple floors and everything, I think we're at 120,000 square feet.
Rob: All I know is that the footprint of this building we're sitting in is 11,000.
Kurt: But that's multiple floors, because we use every level, so across that street and across the other street, it's about 120,000 square feet.

But that kind of growth rarely happens in a direct line. There's a temptation to look at where you started and where your business stands now and view it as just increasing the entire time.Over 30 years, especially knowing what smaller brewers have gone through during that time, where were the valleys? Where were the moments when it wasn't looking so great?
Rob: Mid-'90s. Right around the time we commissioned the addition.
We had decided to kind of go for it. At that time, we had a brewery adjacent to the Gasthaus -- a 30-barrel brewery that's gone, that we sold to Free State Brewing. We talked about staying draft-only and letting that define how big we got, but we decided to go for it big and bottle with state-of-the-art brewing.
That was right about the time, the moment we commissioned it, that the industry went errrt. The brakes came on, so it was pretty scary.
Kurt: In '96, we opened that expansion for the first time and year-over-year, from '95 to '96, our sales were 76% coming off of a pretty good base. In 1997, for the first time ever, we went backwards 2%, and that scared the [expletive] out of us.
We almost went out of business. We had taken on some pretty substantial debt. Rob and I were personally guaranteeing every loan for the brewery, so we put our house in my wife's name. It was terrifying.
The bank was patient and fortunately, in 12 months, sales started to pick up again. We had one more episode like that in the early 2000s. Can't remember how we screwed that one up, but we have a technique: If you want to predict industry trends, if you see us highly leverage the company, you'll know that there's about to be a major downturn. It's pretty much guaranteed. They go hand-in-glove. Just watch what the brothers are doing for guidance.
If you see us take on $1 billion in debt, you know the industry is going to tank overnight.
How do you weather something like that?
Kurt: When we first started, no bank would loan to us.
I don't blame them for that. We had no experience and who ever heard of a brewery opening? Why would they give us money? We started without debt and we managed to grow the business out of cash. We didn't pay ourselves anything, we had our dad working with us for free. Then we got to a size where we could start paying ourselves.
As a publicly traded company, your numbers are out there now, but the breakouts don't say a whole lot about Widmer specifically. How are you guys doing now relative to your history?
Kurt: The Widmer brand is the poorest performer in the portfolio, quite frankly.
It's not that I'm delighted with that, but it's OK because the rest of the portfolio is doing very well. We're confident that we're going to get the Widmer part of the portfolio clicking.
Rob: It's mainly Hefeweizen. We were so eggs-in-one-basket about it, but we're going to get it straightened out.
Kurt: We were so strongly, for so long, identified with one beer, that when the big guys came out with their wheat beers, the Widmer brand took quite a whack. The Hefeweizen was about 80% of the Widmer portfolio and now it's like 30%. We're doing a whole lot of other beers right now and we've always done other beers, but they're probably the best-kept secret of the brewing business. That's part of what 30 Years and 30 Beers is about: Making the world aware that we've always done other beers.
After you joined the Craft Brew Alliance in 2007, the Brewers Association craft beer industry group reached the decision that Widmer Brothers was no longer a craft brewer because the 32% of the Alliance owned by Anheuser-Busch InBev exceeds their 25% threshold for a big brewery's ownership stake. Does it sting a bit that because of a business decision you made, people you've worked with for decades -- people you probably still see on a regular basis -- hold this opinion of your brewery?
Kurt: It was a political decision.
At the time, it shocked me and stung. I know who was on the board and I know exactly how they voted. It was not public, but having good friends on the board, they told me "this is how it went down."
I can hold a grudge longer than anyone in the history of mankind. Even though I can be on a friendly basis with the people who voted against us, it always taints the relationship. Also, it's been positive for the people who voted on our behalf.
We've kind of gotten over that, but we've made it pretty clear that even if they changed the definition, we wouldn't want to be a part of that organization because it's a political organization, and that's not why we got into this.
Rob: Plus, as most people point out, it's a trade organization. They do good things for beer, but their No. 1 purpose is the protection of small businesses -- that just happen to be brewers. Large brewers.
Kurt: From my standpoint, it may be somewhat best that we are distanced from that organization. We just came back from the Craft Brewers' Conference and it's a continuation of a bad direction in which they purport to be promoting harmony, beer, good times and positive things, but then there are examples like creating dissent in the ranks by throwing us out. There were members who were not in support of that, but that was a board decision. While they're saying one thing, they're doing the opposite, and I'm not sure it's great for Craft Brew Alliance to be affiliated with an organization that does that.
There's no point in provoking the large breweries, which they do; there's no point in provoking wholesalers unnecessarily, which they do.
However, there are plenty of people who monitor the industry and track the numbers who consider Widmer Brothers a craft brewery and state emphatically that they can't understand how Kurt and Rob Widmer can't be considered craft brewers.
Kurt: The folks at Modern Breweries, the folks at Beer Marketer's Insights, all those guys -- the Beer Institute...
Rob: As time goes on, the folks who are at the BA under the level of the board wish that they didn't have to deal with that. Every once in a while we get someone at the BA who contacts us about participating in something and we have to remind them that we're not members. Their reactions indicate they wish that they weren't in that position. And the board changes ...
Kurt: The initiative was Jim Koch. This was all his idea. He had his own explanations that were politically motivated and there was a sufficient majority of the board that went along with him.
Jim is a very intelligent man and you can't knock his success -- he's the most successful craft brewer -- but it was always a fascination that he started as a virtual brewer and we started as bricks and mortar from Day 1. He contorted the definition so that a bricks-and-mortar brewer doesn't exist, but a virtual brewer does. We were fascinated that enough people went along with that, but one of the membership stood up on our behalf and asked to put it to a popular vote. The board said they weren't going to do that, but they would have lost. I guarantee that.
Does the focus on barrel numbers and ownership stakes kind of get away from why you both went into this in the first place?
Rob: I don't think we ever were focused on that. People would ask us how big we wanted to get and I think as long as people want our beer, we want to share it with them. We'd put those marks out there as bonuses or whatever, but that was never the driver.
Kurt: I don't think we aspired to be the biggest, but we aspire to be the best. That hasn't changed. That's who we are.
How does being in the Craft Brew Alliance help you get through tougher years and get the message about about beers such as Hefeweizen when the market turns toward unfiltered wheat beer?
Rob: One nice thing is that Kona's on fire, Redhook's doing great and Omission is smoking.
That helps a lot just financially.
I realize that Widmer is positioned as the experimental, craft brand in the Craft Brew Alliance portfolio, but does it use that position to help out any of the other brands.
Rob: I'm on tasting panels for everything that comes through. When they want an opinion on a beer, they'll call in a taste panel to help them out.
Kurt: I think that one of the advantages of being in the Alliance is that some breweries get stuck trying to be all things to everyone. With the Alliance, we're not. Widmer Brothers can do exactly what it does: Experimental, geeky, extreme beers. Kona has its "Liquid Aloha," Redhook has its fun persona and Omission is gluten-free, so we don't have one brand trying to be all things. That's a huge advantage for Widmer Brothers, because it lets us make more interesting beers.
You have a large IPA portfolio that once included the quarterly Rotator IPA series, but now includes a year-round IPA in Upheaval and a low-alcohol session IPA in Double MAC. Will drinkers be seeing more of the latter in the near future?
Kurt: It does seem to be a logical direction.
Rob: It still kills me that we couldn't make Rotator work and we'd like to resurrect that. But any time we have something at the pub and people are responding to it, we can't ignore it.
Kurt: We've been delighted with the response to Upheaval. I was just out in New York City with it last week and it was very well-received.
The hottest beer in the United States is what's new. It doesn't matter where I go. All craft drinkers are very promiscuous right now. The second most popular style is IPA, so we thought if we combined those two things with rotator, it would be magic. I'd have people come up with me and say "I really like the Rotator," and we'd ask which one and they'd get a panicked look on their face.
"Rotator's not the name."
Kurt: That's a valid concern, that was real feedback. They thought that they were being kind of knowledgeable and then they'd be like "There's more than one?"
Just to wrap up, are you in this for the long haul? Are they going to have to carry the two of you out of the brewery?
Kurt: That's not going to happen.
Rob: Our dad was still on the bottling line two months before he passed away at 88. He said it was the brewery that kept him alive. Not dying on the bottling line, but still hanging out would be a pretty good thing.
Kurt: I don't want to be the guy that they carry out, and one of the nice things about our growth is that it's allowed us to take time off. We didn't take a day off for the first 10 years and now we take pretty nice vacations. That's a nice thing, and growth allows you to do that. I marvel at people who are in the startup phase who plan vacations. How can you even think about a vacation?
-- Written by Jason Notte in Portland, Ore.
>To contact the writer of this article, click here: Jason Notte.
>To follow the writer on Twitter, go to http://twitter.com/notteham.
>To submit a news tip, send an email to: tips@thestreet.com.
RELATED STORIES:
>>How The Pfriems Built A Real Family Brewery
>>How Yuengling and Schell's Became Craft Beer
>>How Consistency Kept BridgePort Brewing Afloat
Jason Notte is a reporter for TheStreet. His writing has appeared in The New York Times, The Huffington Post, Esquire.com, Time Out New York, the Boston Herald, the Boston Phoenix, the Metro newspaper and the Colorado Springs Independent. He previously served as the political and global affairs editor for Metro U.S., layout editor for Boston Now, assistant news editor for the Herald News of West Paterson, N.J., editor of Go Out! Magazine in Hoboken, N.J., and copy editor and lifestyle editor at the Jersey Journal in Jersey City, N.J.