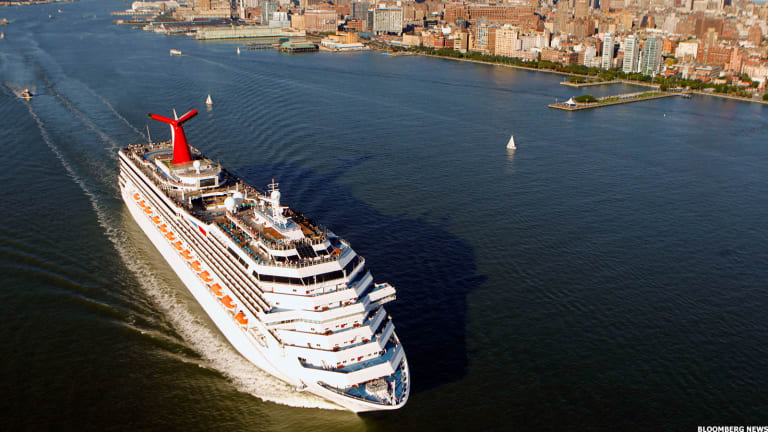 Why You Should Own These 4 Incredible Consumer Brand Stocks at a Discount Now
Consumer-focused stocks have outperformed the market for 2 decades
Most investors understand the $18 trillion U.S. economy is driven by consumption and the consumer. The stats are very clear: Roughly 70% of GDP comes from consumption. If consumption drives our economy shouldn't consumption, that is, the consumer, drive your investment portfolio?
Ironically if you ask most advisers or do-it-yourself investors if consumer stocks drive their portfolio, they will look at you like you have a horn coming out of your forehead. As a portfolio manager running a suite of equity strategies using a proprietary 200-stock universe of the most powerful and relevant brands, I've made it my mission to help investors connect the dots between the importance of consumption and the viability of owning a basket of the leading iconic brands as the strategy to exploit that phenomenon. 
First let me prove how important it is to have a core allocation to consumer stocks. Since December 1998 when the two most popular consumer stock ETFs, Consumer Discretionary SPDR (XLY) - Get Report  and Consumer Staples Select SPDR (XLP) - Get Report , were launched, they have trounced the S&P 500. Should you be surprised? Probably not. Remember, the consumer drives this bus. Here's the proof:
As we begin the fourth quarter, the market is trying to decide if it wants to go lower or to new highs. Regardless, there's always some interesting set-ups for investors and traders. And right now, consumer discretionary stocks are the cheapest on a PEG basis of any sector. This is one of those rare times when you can buy top consumer brands on sale.
Note: Watching the business cycle matters and GDP has already peaked, cyclicals have already peaked and the consumption cycle tends to peak after the other two. Wages are breaking out of a 15-year downtrend. Household debt as a percent of disposable income is at an all-time low and consumer confidence is high. The consumer is the healthiest part of the growth story these days.
1. Amazon (AMZN) - Get Report
I've written about this top brand a number of times and the stock continues to be a monster. It will likely never be cheap on traditional metrics. Lets hold this one, buy every dip and watch for it to go parabolic. Only when the stock goes parabolic will I consider it time to sell and watch from the sidelines. Amazon continues to crush traditional retail and with same-day delivery coming, that trend does not look to end any time soon. MACD pointing straight up:
2. Expedia (EXPE) - Get Report
Expedia is one of the largest online travel companies in the world. It owns a handful of highly recognized online travel properties: Expedia, Trivago, Hotwire, HomeAway, Hotels.com, Orbitz, Travelocity, CarRentals.com. The second quarter year-over-year growth was impressive: 33% revenue growth, 25% bookings growth, 20% growth in room bookings. And the best part looks to be the stock chart. Expedia appears to have just broken out of a trading range so there seems to be a lot of room higher from here as new investors and traders get interested.
3. Williams-Sonoma (WSM) - Get Report
This one is a bit controversial even with me but I think there's sufficient negativity to consider this consumer favorite. The brand is highly recognizable and owns a number of other popular brands: Pottery Barn, Pottery Barn kids, Pottery Barn Teens, West Elm, Rejuvenation, and Mark & Graham.  
Lately there have been rumors swirling around regarding either a merger or acquisition by Restoration Hardware (RH) - Get Report . I have written a few times about RH and continue to love the company, their products, and the stock for the long-term. Williams-Sonoma has a 2.9% dividend yield and an attractive free-cash-flow yield of 7%, so the dividend is very safe and the firm has ample room to increase the dividend should it want to. I'll vote for more research and development spend and innovation. West Elm is getting into the boutique hotel design business, an interesting expansion out of traditional retail.
The stock is down 40% since the peak in August of last year and the technicals show some positive divergences on RSI and MACD, making it an interesting speculation heading into the holiday season. There's a clear risk/reward here. Your stop is the triple-bottom level at $47.5 and a break-out occurs over $53.3. 
4. Carnival (CCL) - Get Report
The world is aging. Generally speaking, older people have more assets, savings, and time for recreation. I don't know about you but when I'm retired, it won't mean sitting on a couch and watching TV if I have anything to say about it. When we have disposable income, time, and our health, we tend to want to travel and explore the country and the world. It's no surprise Priceline (PCLN) (another favorite top brand in my index) is doing so well.
I'm 48 and, candidly, the cruise concept isn't very interesting to me yet, but I'm sure it will be when I'm older. Cruises and cruise vacations are a secular play on the aging of the global consumer. And after a few high-profile problems and the ongoing Zika virus scares, the cruise stocks are on sale. Carnival recently reported a better than expected quarter, raised guidance and cited they are comfortable with current trends and Zika issues. The charts of both Carnival and competitor Royal Caribbean (RCL) - Get Report look the same: Higher.
The herd is leaning too bearish, in my opinion. ICI Domestic Equity Fund outflows (mutual funds and ETFs) are now at 30 consecutive weeks, a new record going back to 2007. If this is the top of the market, it will be the most telegraphed top in history.
The fourth quarter tends be the best quarter for returns and October has been the best performing month over the last 20 years, per LPL Research. I typically avoid politics but I'll just say that after debate No. 1, I'm not very worried about Donald Trump being our next President and that's a good thing for the market -- a major point of uncertainty has now been removed. Additionally, there won't be a rate hike before the election, so unless earnings and guidance are horrific, the market seems to want to go higher. Who are we to fight the trend?
This article is commentary by an independent contributor. At the time of publication, the author held no positions in the stocks mentioned.