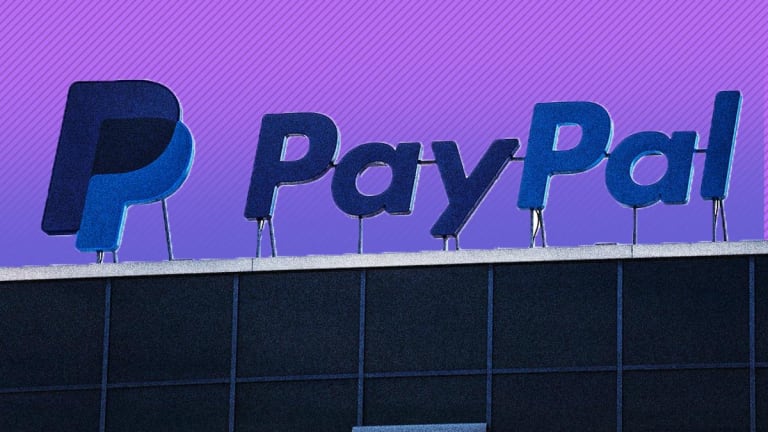 Why You Should Buy PayPal and Mastercard Here
The payment-processing companies are two of the best ways to play the coming fintech revolution, Lisa Ellis of MoffettNathanson says.
PayPal (PYPL) and Mastercard (MA) are two of the best stocks to own right now in the emerging fintech industry, a top analyst says.
Lisa Ellis of MoffettNathanson told TheStreet during our recent Webinar How to Invest in the Coming Fintech Revolutionthat she likes PYPL because the firm "is in the process of finally fully separating itself from eBay (EBAY) within the next 12 months. As they're doing that, they're now free to strike partnerships with all of these other big e-commerce players."
For instance, PYPL has cut deals in recent months with:
Ellis said PayPal "sits there as an agnostic platform player in the great position to [team up with multiple companies] So as much as that stock has had a great run, we think it's actually poised for another inflection point."
As for Mastercard, Ellis said that "the reality is that MasterCard and Visa (V) were the original fintechs and they continue to be so. They're wildly innovative and very cash-rich companies. They have huge amount of cash that they pour into investments.
"I wouldn't think of [Mastercard and Visa] as your traditional credit-card companies," she said. "They actually have a very broad range of products ... and they sit right at the hub of the digitization [of payments]."
Watch Our Entire Fintech Roundtable
You can watch a complete replay of TheStreet's How to Invest in the Coming Fintech Revolution Webinar for free by clicking here.
Save 76% with our Summer Break Sale. Subscribe to Real Money to become a smarter investor! Click here to sign up!
Employees of TheStreet are restricted from trading individual securities.