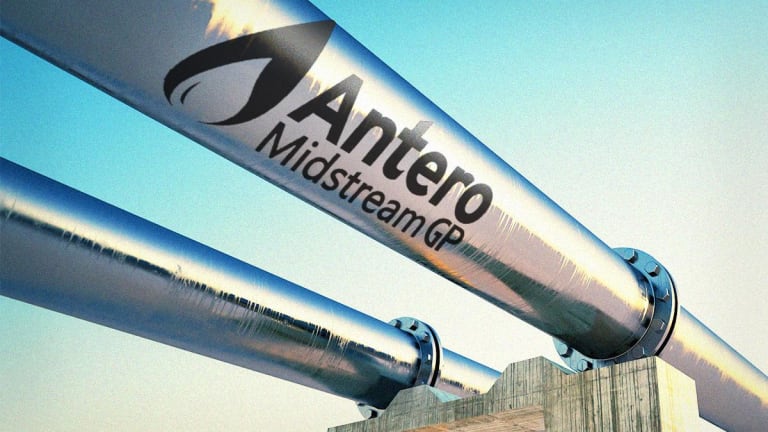 Why You Should Buy Pipeline Stock Antero Midstream
The stock is woefully undervalued and offers solid dividends with potential for growth.
Antero Midstream (AM) - Get Antero Midstream Corp. Report is a victim of guilt by association, and investors should consider taking advantage.
The stock of the natural-gas-pipeline and energy-storage company is woefully undervalued, offers solid dividends and has growth potential. 
Even with just its current book of business, the shares are worth 50% more than the recent price.
"This a very high-quality company," says Adam Johnson, a former professional oil trader and founder of the Bullseye Brief financial newsletter.
Yet Antero's stock price has halved over the past six months versus gains of around 4.7% for the S&P 500. Neither figure includes dividends. 
Guilt by Association
Energy prices haven't exactly been robust and pipelines are getting slammed simply for being in the same business. 
Concern about the global economy has pushed down natural-gas prices around 18% to $2.12 per million BTUs recently from $2.58 in February, according to Bloomberg data. 
"Energy equities always trade lower when economic growth is uncertain and/or prices are low," states a recent Bullseye Brief report.
But Antero's profitability will not likely get hurt by the recent slide in natural-gas prices. That's because Antero's profit depends on energy volume, not energy prices.
The Denver company makes money by moving and storing energy, as well as moving the water used in hydraulic fracturing. 
In other words, whether the price of natural gas falls or rises almost doesn't matter. Antero makes money moving energy around and storing it -- just so long as people need energy.
Problems arise when natural gas becomes so expensive that consumers cut their use of it, which would crimp volumes. At $2.12 per miillion BTUs, however, the price is far from a problematic level.
Cheap
Antero stock is cheap by a variety of measures. 
It trades at 7.4 times forward earnings, down from a multiple of 8.2 last year, according to Morningstar. 
The stock also sells for less than book value. Broadly speaking that means its retained earnings exceed the share price.
No surprise, then, that Morningstar says the stock is worth $10.52, about half again its recent price of $7.05. (It rose 2.4% on Tuesday.) The consensus target price compiled by FactSet is $13.62. And Johnson sees it hitting $18.
Growing Earnings, Dividends 
Meanwhile, earnings are growing rapidly. In the most recent 12 months, Antero earned 40 cents a share, versus 33 cents a year earlier, and 3 cents in 2017, data collated by Morningstar show.
Johnson's Bullseye Brief says growth was powered by increased "throughput volumes," which have enabled dividend payouts to jump more than tenfold since 2017.
The stock is yielding 17%. You read that correctly.
In a recent Bullseye Brief Johnson wrote that he saw earnings heading up 25% annually through 2021 "as new projects come online and the company captures additional synergies from its streamlined structure." 
Stock Buyback
One more positive: Earlier this month Antero management said it would execute a $300 milllion share repurchase program. That's hefty for a company with a market cap of $3.6 billion: At current prices the company will be buying a twelfth of the shares outstanding.
Add that buying power to the hefty double-digit dividend and you have a stock that looks set to bounce.
Constable owns none of the securities listed in this story.