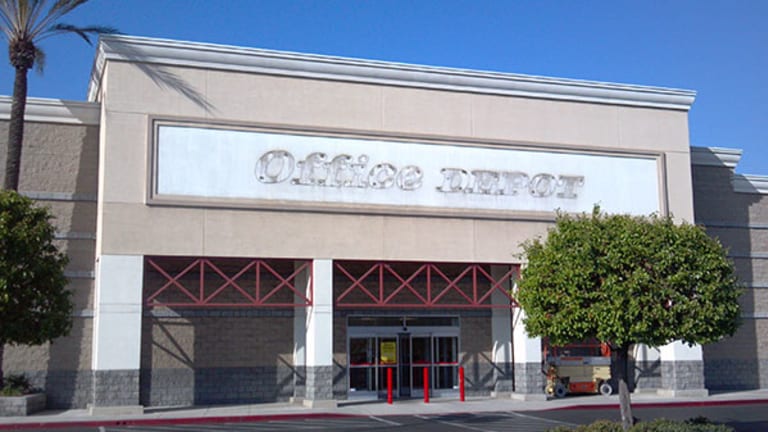 Why You Should Avoid Office Depot Stock
The paper and office supplies store has recouped some of its gains since falling off a cliff in May. However, it's still a troubled stock.
Office Depot (ODP) - Get Free Report shares rallied in November and the first half of December, but the long-term prognosis for this stock is gloomy, and investors would be wise to avoid it. 
Despite that rally late last year, the office supply retailer's shares lost 20% of their value in 2016.
In May, a federal judge nixed the company's bid to purchase struggling rival Staples (SPLS) in a deal originally valued at $6.3 billion. Both companies had been seeing shrinking sales thanks in part to e-commerce efforts led by Amazon.com. A merger seemed to make sense.
Unfortunately, Office Depot apparently put all its eggs in one basket. The company's stock lost nearly more than 40% in the days after the merger was called off.
The situation looked less dire, however, for Office Depot following the company's third-quarter earnings announcement in early November, and the stock rallied. The company's CEO, Roland Smith, gave himself a pat on the back for the efforts he had made as part of a projected three-year turnaround plan.
"We are recovering quickly from the disruption caused by the protracted Staples acquisition attempt, and I'm very pleased with both our progress and financial results," Smith said in a statement.
But those results weren't so great. Total sales declined 7% year over year. Even on an adjusted basis, revenue declined 4%.
The company is making efforts to reduce costs and streamline its business. At the beginning of January, Office Depot completed the sale of its European retail business to the Aurelius Group. The company also plans to close 300 of its U.S. locations over the next three years.
Although these cost-cutting measures can help the company save money, they're not going to help where it counts: boosting revenue. Until Office Depot can bring more customers into its stores and successfully encourage them to buy more, its business will continue to weaken.
Office Depot was once one of the most popular big-box stores around. But ever since e-commerce moved into the retail space, bricks-and-mortar based companies have faced increasing headwinds. Office Depot has attempted to build an online sales presence, but as with many retailers, it's been a matter of "too little too late."
Don't expect much in the way of stock gains from Office Depot in 2017. So far this year, it's gained only 3 cents. The company's uncertain future is also troublesome. CEO Smith has already said he intends to retire during this calendar year. Without a clear picture of where this company is headed, expect additional volatility.
---
Savvy investors should continue to be wary of Office Depot. But it's not the only troubled stock. A blistering financial storm is about to hit our shores. When it hits, weak companies -- and their investors -- will be washed away. You need to put yourself on solid ground. And that doesn't just mean changing your investment allocations or loading up on cash. I'll show you how to protect yourself -- and prosper -- when you click here.
This article is commentary by an independent contributor. At the time of publication, the author held no positions in the stocks mentioned.