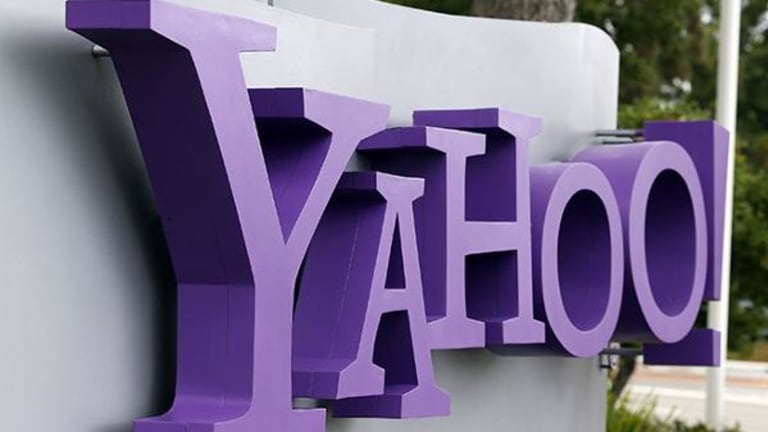 Why Yahoo!'s Massive Data Breach Isn't Likely to Scuttle Its Deal With Verizon
Analysts suggest the massive hacking attack won't trigger a "material adverse effect" clause that would threaten the acquisition.
Analysts suggest the massive hacking attack won't trigger a "material adverse effect" clause that would threaten the acquisition.
Shares of Yahoo! (YHOO) dropped as investors sifted through information about a massive security breach amid the sale of its operating business to Verizon (VZ) - Get Report for $4.8 billion in cash, or $5.9 billion including the purchase of restricted stock units.
And while the impact on Yahoo! and Verizon is not yet clear, cyber security firms gained Friday following the news of the attack and increased M&A speculation in the sector.
Despite the size of the incursion, which involved 500 million accounts, Robert Peck of SunTrust wrote Thursday that the deal would not likely trip the "material adverse effect" clause in the Verizon transaction, a customary provision that outlines when a buyer can back out of a deal.
"The sale agreement does not discuss price adjustments upon change in business outlook," Peck wrote, noting that the clause would not be triggered by "any failure by Yahoo! to meet its internal or published projections, budgets, plans, or forecasts of its revenues, earnings, or other financial performance or results of operations."
Even counting for the defection of users because of the hack, Peck estimated that Yahoo! would only be worth about 2% less.
Another analyst agreed that the breach would not likely trigger the material adverse effect clause because the ultimate financial impact would not be great. Yahoo! might ultimately face a $30 million to $40 million settlement with users, the person suggested, a small number compared to Verizon's payout.
Yahoo! shares were down 72 cents, or about 2.5%, to $43.06 on Friday afternoon. The news didn't phase Verizon investors, though. The New York telecom gained 31 cents, or 0.6%, to $52.66 on Friday.
Verizon declined to comment on whether it could exercise the adverse effect clause. The company previously said it learned of the incident earlier this week.
"We understand that Yahoo is conducting an active investigation of this matter, but we otherwise have limited information and understanding of the impact," the company said in a statement.
While the attack may not dissuade the buyer, Yahoo!'s user base is a big part of its appeal to Tim Armstrong, who runs the telecom's AOL unit.
"If you talk about success [in this] landscape, I would say it's monthly active users, like how many monthly active users do we have engaged on these platforms overall," Armstrong told investors at a Bank of America Merrill Lynch conference in mid-September, putting the combined user base of Yahoo! and AOL at more than 1 billion.
Whatever impact the breach has or does not have on Verizon, the attack is massive. Wells Fargo analyst Gray Powell wrote that the incident sets a record. "With 500 million+ account credentials stolen, this would make the largest compromise of all time, topping the MySpace breach involving 427 million user accounts," Powell wrote.
The fallout could be even greater, if re-used passwords and security question information allows hackers to access other web sites.
The attack and renewed speculation about a takeout of cyber security company Imperva (IMPV) - Get Report drove stocks in the sector higher Friday. Imperva, which has acknowledged hiring Qatalyst to review its options, gained $9.51, or 22%, to $52.90. CyberArk (CYBR) - Get Report gained 2.7% to $52.08, while FireEye (FEYE) - Get Report rose 1.8% to $14.75.