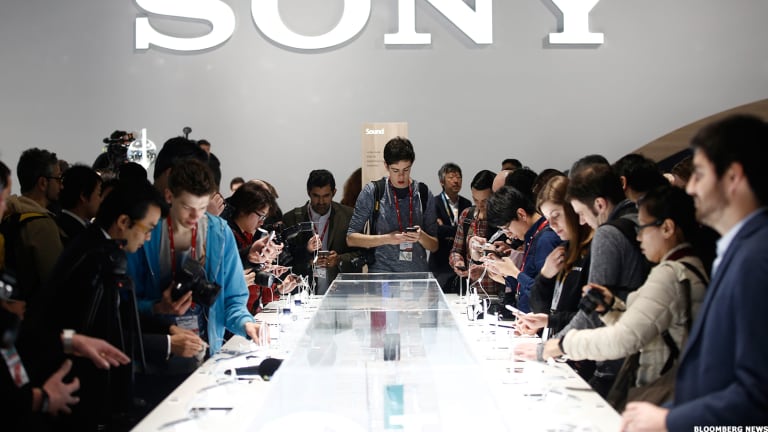 Sony Reportedly May Merge Its Gaming and Film Units
The Tokyo electronics giant hopes to tuck its Sony Pictures Entertainment arm into its more fruitful gaming unit, according to reports.
Sony (SNE) - Get Sony Corp. Reportis considering restructuring its U.S. operations, according to reports.
The Tokyo electronics conglomerate may merge its Sony Pictures Entertainment unit with its gaming division, Sony Interactive Entertainment, sources told the New York Post. The film studio is dragging on the company, while the gaming unit is rapidly becoming Sony's crown jewel.
Sony Pictures Entertainment is part of Sony Entertainment, which also owns Sony Music Group and music publisher Sony/ATV, which could be merged and stand alone if the film arm and Sony Interactive Entertainment combine, sources told the Post.
The potential move would place Sony Pictures Entertainment underneath the watchful eye of Sony Interactive Entertainment's CEO, Andrew House, the sources noted, although it's unlikely House would take over the day-to-day operations of the studio. The company will make a final decision on the merger by the end of its fiscal year in March, sources added.
Sony American Depositary Receipts were down 1% to $29.10 on Monday afternoon, but shares have risen about 18% year-to-date.
A Sony spokesman said no such merger is planned.
The move, however, could help the company as its smaller film unit struggles.
For the second quarter of fiscal 2016, ended Sept. 30, Sony Pictures Entertainment generated only $32 million in operating income on $1.9 billion in revenue. Sony noted that it saw higher revenue year over year from films released in the second quarter, such as Ghostbusters ($128.4 million in domestic box office through Monday, according to Box Office Mojo), Sausage Party ($97.7 million) and Don't Breathe ($89.2 million).
For the full fiscal year, though, the company recently lowered its revenue outlook for Sony Pictures Entertainment by 1.1% to about $7.9 billion.
Sony Pictures Entertainment stands at No. 5 in Box Office Mojo's ranking of the top distributors of 2016, holding 8.2% market share in the competitive movie segment. Sony CEO Kazuo Hirai told The Hollywood Reporter in June that it could take a few years for the studio to begin producing results.
Putting House at the helm of the struggling movie division, however, could help the company spur growth more quickly.
Sony Interactive Entertainment pulled in $188 million in operating income on $3.2 billion in revenue for the second quarter. Revenue was negatively affected in the September quarter by lower prices for PlayStation 4 hardware, but offset in part by more PS4 software sales.
For the full year, Sony anticipated roughly $13.8 billion in revenue for Sony Interactive Entertainment, up from prior estimates of about $13.4 billion.
Sony's gaming line, the PlayStation, is also set for a banner holiday season.
This year's Black Friday weekend was the "best ever" for the PlayStation 4, the company said in a statement last week. By Dec. 6, Sony had sold a cumulative 50 million units of the device since the PS4 was first launched three years ago, boosted by Black Friday sales. House said that the PS4 community is "flourishing."
Additionally, market research firm NPD said recently that Sony's PlayStation 4 beat out Microsoft's (MSFT) - Get Microsoft Corporation Report Xbox One device in U.S. sales in November for the first monthly victory since July. Sony launched its PlayStation 4 Pro in November, following the release of the Slim PS4 in September and the PlayStation VR in October. Despite PlayStation developing new versions in recent months, the Xbox bested the PS4 in U.S. sales since July due to the release of the Xbox One S.
That all changed in November. NPD will release its full report on Thursday.
Sony's PlayStation 2, which launched in 2000, still reigns as the best-selling system in history with more than 150 million units sold, according to VentureBeat.
A merger between the film and game units also could indicate that Sony Entertainment and Sony Pictures Entertainment CEO Michael Lynton has plans to leave the company to pursue a career in academia or an executive position elsewhere, sources told the Post.
A Sony representative, however, told TheStreet Lynton has no plans to leave the company.