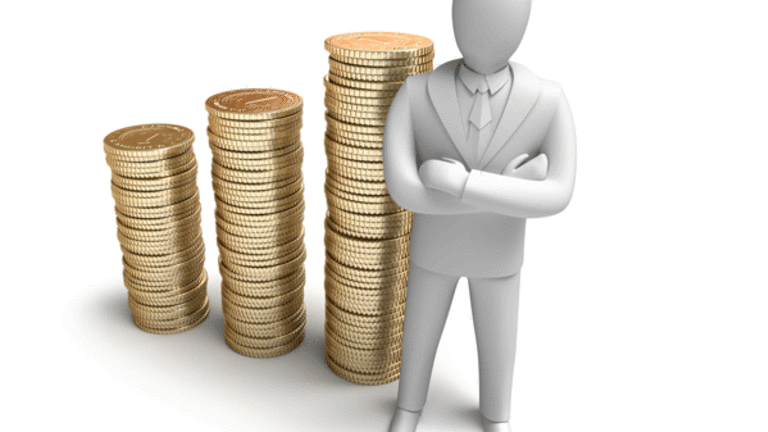 Why Would Any Investor Avoid China?
After all, the country offers the best risk-reward profile in the world.
NEW YORK (TheStreet) -- The China bears, who include Jim Chanos and Hugh Hendry, have been wrong for two and a half years. Which is puzzling because if you are looking for a part of the world to invest in during the next five to 10 years, how could one ignore China?
If you want exposure to growth, you are going to be hard-pressed to find another place that offers as attractive a risk-reward scenario. Sure, there are other emerging markets to consider, like Brazil and India, but they aren't any more attractive than China, and they're certainly not as big a market.
Would you rather invest only in the U.S. or Europe? Sure, they are less volatile but they have also had a huge run in retracing their financial-crisis losses. I would argue that neither of those mature markets is going to be a more compelling buy than China when looking at potential risk and potential return.
The China bears' arguments have fallen flat so far. Remember when it was conventional wisdom that the Chinese property market was a bubble along the lines of "Dubai times 1,000"? Well, put a few policies into place to reduce speculation by boosting down payments and loan availability and -- guess what? -- the high-end market in coastal cities has appreciably cooled for the past six months.
Remember, more recently, when we heard China was going to have runaway inflation because the government was appreciating the yuan fast enough to the U.S. dollar? Well, the Chinese government has been hiking reserve requirements and interest rates feverishly for the past few months now. On Friday, George Chan of CLSA speculated that the next move from the Chinese government might be the last for a while. PMI numbers have shown that inflation is slowing.
I often hear American investors say: "I don't trust Chinese companies and their numbers (or their government's numbers)." The recent rash of Chinese reverse-merger frauds has demonstrated that there is a pervasive problem in that class of companies. There are major problems that persist to this day, and I have called on the Securities and Exchange Commission and the U.S. listing exchanges to clean up this mess. But for any investor who says he won't invest in China because of high-profile problems such as
RINO
(RINO)
,
China MediaExpress
( CCME),
Fuqi
( FUQI) and
China Agritech
( CAGC), I have a simple recommendation: avoid Chinese reverse-merger companies.
There are other large Chinese companies that have been taken public by the likes of
Goldman Sachs
(GS) - Get Goldman Sachs Group, Inc. (GS) Report
,
Morgan Stanley
(MS) - Get Morgan Stanley (MS) Report
and
Credit Suisse
(CS) - Get Credit Suisse Group AG Sponsored ADR Report
. Last week,
Qihoo 360
(QIHU)
closed 135% above its IPO offer price on its first day. The company was underwritten by
UBS
(UBS) - Get UBS Group AG Report
and
Citigroup
(C) - Get Citigroup Inc. Report
.
I have been more drawn to China's technology and Web companies. Only about a third of Chinese people are online today, compared with almost all Americans. The Chinese are also seeing their incomes rise substantially, and there is a growing shift of advertising dollars from TV to the Web over the next five years.
We only think of China's headline GDP growing 10% annually. However, in certain industries, such as tech and the Web, growth rates are much higher. Credit Suisse recently predicted that China's e-commerce market would grow 500% in the next five years.
If you listened to the China bears, you missed out on
Sina
(SINA) - Get SINA Corp. Report
growing 62% in the first quarter, thanks to the torrid growth of Weibo. You also missed out on a 44% gain in the quarter for
Baidu
(BIDU) - Get Baidu, Inc. Sponsored ADR Class A Report
and a 43% bump in big Chinese portal
Sohu
(SOHU) - Get Sohu.com Limited Sponsored ADR Report
, which saw its online advertising soar.
It's not always shooting fish in a barrel. The two big December IPOs had mixed returns in the first quarter.
Dangdang
(DANG)
fell 25%.
Youku
(YOKU)
, on the other hand, was up 41%. (I'm currently short on the company because it's gotten way ahead of itself.)
And do you remember
Sky Mobi Limited
(MOBI)
? This smaller-cap company did an IPO right after Dangdang and Youku in December. The stock price fell rapidly, prompting many to point to it as an example of a broken IPO and how you have to be careful buying Chinese companies. Well, Sky Mobi's first-quarter return was 141%.
A growing China also helps a lot of U.S. companies.
Yum Brands
(YUM) - Get Yum! Brands, Inc. (YUM) Report
has made KFC the biggest foreign restaurant in China today.
Apple
(AAPL) - Get Apple Inc. (AAPL) Report
is going to announce blowout earnings from China in the next two years, as the maker of the iPad expands from four to 25 stores in that country. And, even
Yahoo
(YHOO)
will be along for a fabulous ride when its 40% stakes in Taobao and Alipay are realized. Those companies likely will be the biggest IPOs from China in the past 10 years (although neither company has announced plans yet).
There are problems and challenges in the Chinese economy. The risk of food inflation sparking social instability is the biggest one at the moment. Not surprisingly, it's the one getting a lot of attention from the Chinese government. But the risks, in my view, are far outweighed by the numerous opportunities and the undeniable macro forces working in favor of a number of tech, mobile and Web companies.
Let the China bears wring their hands, while others move forward and make money.
(At the time of publication, Jackson was long SINA, AAPL, YHOO, and short YOKU.)
Readers Also Like:
5 Best Dow Dividend Stocks of 2011
Top 10 'Buy'-Rated Stocks Under $5
Eric Jackson is founder and managing member of Ironfire Capital and the general partner and investment manager of Ironfire Capital US Fund LP and Ironfire Capital International Fund, Ltd. In January 2007, Jackson started the world's first Internet-based campaign to increase shareholder value at Yahoo!, leading to a change in CEOs in 2007. He also spoke out in favor of Yahoo!'s accepting Microsoft's buyout offer in 2008. Global Proxy Watch named Jackson as one of its 10 "Stars" who positively influenced international corporate governance and shareowner value in 2007.
Prior to founding Ironfire Capital, Jackson was President and CEO of Jackson Leadership Systems, Inc., a leadership, strategy, and governance consulting firm. He completed his Ph.D. in the Management Department at the Columbia University Graduate School of Business in New York, with a specialization in Strategic Management and Corporate Governance, and holds a B.A. from McGill University.
He was previously Vice President of Strategy and Business Development at VoiceGenie Technologies, a software firm now owned by Alcatel-Lucent. In 2004, Jackson founded the Young Patrons' Circle at the Royal Ontario Museum in Toronto, which is now the second-largest social and philanthropic group of its kind in North America, raising $500,000 annually for the museum. You can follow Jackson on Twitter at www.twitter.com/ericjackson or @ericjackson.
You can contact Eric by emailing him at eric.jackson@thestreet.com.