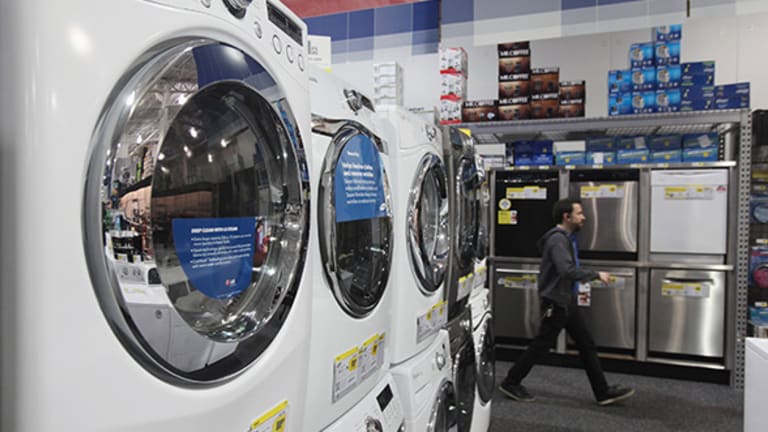 Why Whirlpool Could Have More Upside
Whirlpool has risen from the $160s to more than $180. Can it run more?
In October, when Whirlpool (WHR) - Get Whirlpool Corporation (WHR) Report stock was stuck in the $160s, I thought it could get to $180. Now that it's there, now what?
Whirlpool was never a revenue growth story. The real story was margin expansion. Gross margins are expected to rise from 18.8% in 2016 to 19.1% in 2017, compared to 17.7% in 2015, due to improved productivity, a richer product mix and a rebound in shipments. Operating margins should increase from 7.5% in 2015 to 8.4% in 2016 and could get as high as 9.2% in 2017.
On Oct. 25, Whirlpool reported third-quarter fiscal 2016 earnings of $3.66, 19 cents worse than the consensus estimate. Revenue fell 0.5% to $5.25 billion. Management lowered 2016 guidance. For the year, the company expects earnings between $14 and $14.25, vs. the consensus estimate of $14.65. Whirlpool also lowered unit shipments. Previously, management expected shipments to grow by 5% to 6%; now the company is looking to end the year with shipment growth of just 3% to 4%.
Management blamed the weakness on the election. The company believes demand will pick up after the election and an improvement in sentiment will help consumer confidence into the New Year.
There may be some truth to that. Just two weeks ago, The Association of Home Appliance Manufacturers  said November sales volume increased 14.7% to 3.9 million units, compared to 7% in October. Whirlpool forecast just 3% to 4%. Laundry was up 21% and dishwashers were up 12.6%. In 2016, appliance shipments were up 4.8%. Appliance volume is still under the record volume the industry had during the previous housing boom.
On Dec. 9, the U.S. Department of Commerce announced it had determined that Samsung (SSNLF) and LG had engaged in ongoing dumping of clothes washers from China into the U.S.
On Jan. 10, the U.S. International Trade Commission is expected to vote on whether the dumping caused injury to the U.S. clothes-washing industry.
Whirlpool has approximately 40% of the U.S. appliance market, and laundry accounts for approximately 30% of revenue.
A favorable ruling on Jan. 10 could put the spotlight on American manufacturing and the problems of Chinese dumping goods into our markets. It could also act as a catalyst for tweets from the president-elect on how American companies are already bigly winning before he is in office.
I think the stock can get over $200 per share as the company begins to (finally) grow revenue. Revenue should grow about 1% in 2017 and possibly as high as 3.5% in 2018. Despite the anemic revenue growth, Whirlpool is still a margin expansion story. Operating margin is projected to grow from 7.4% in fiscal 2014 to 9.2% next year. The margin expansion and share buybacks (and possibly a lower tax rate) are driving earnings-per-share growth. Earnings could grow in the mid-teens next year to $16.60 from $14.35 this year.
At the current quote, Whirlpool is only trading at 11 times estimates of $16.60. With an improvement in investor sentiment and the possibility of some market share gains at the expense of its competitors, I don't see why Whirlpool can't get a higher multiple.
This article is commentary by an independent contributor. At the time of publication, the author held no positions in the stocks mentioned.