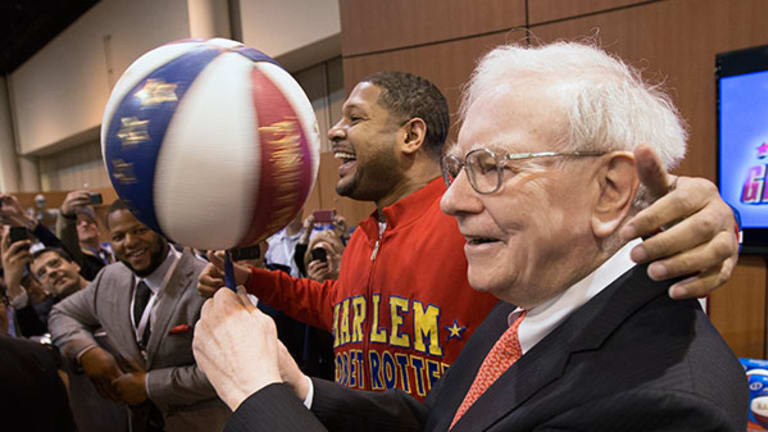 Why Warren Buffett Is Still So Important to Investors Today
The more complex the investing world gets, the more appealing Berkshire Hathaway's chairman becomes.
NEW YORK (TheStreet) -- The more complex the investing world gets, the more appealing Berkshire Hathaway (BRK.A) Chairman Warren Buffett becomes.
The cherry Coke-swilling 84-year old billionaire has been an inspiration to countless investors, from hotshot hedge fund managers to Toronto high school kids. He himself drew inspiration from Benjamin Graham, the father of value investing, who was Buffett's professor at Columbia University Business School and later his boss.
Berkshire Hathaway investment Wells Fargo is also in Jim Cramer's Action Alerts PLUS charitable trust. Read Cramer's thoughts on that and all of Buffett's letter on Real Money here.
The value investing philosophy of Buffett, inherited from Graham, is that daily or even annual share price fluctuations are often out of sync with the underlying fundamentals of the businesses those shares represent. Keeping one's eye squarely on the latter, while paying little heed to the former, is Buffett's formula for success.
"We would not care in the least if several years went by in which there was no trading, or quotation of prices, in the stocks of those companies," Buffett wrote in the company's "owner's manual," referring to Berkshire's ownership of shares of Coca-Cola (KO) and American Express (AXP) . "If we have good long-term expectations, short-term price changes are meaningless for us except to the extent they offer us an opportunity to increase our ownership at an attractive price."
Buffett's investing record is the foundation of his identity and the reason the billionaire is followed so widely.
 Berkshire Hathaway shares have returned nearly 20% annually since 1965, compared with less than 10% for the Standard & Poor's 500 Index. An investment of $100 in Berkshire Hathaway shares in 1964 would be worth roughly $700,000 today, while the same investment in the S&P 500, including dividends, would be worth about $10,000.
Buffett reaffirmed his relevance during the 2008 financial crisis, when even the mighty Goldman Sachs (GS) , despite betting correctly on the bursting of the subprime mortgage bubble, was forced to turn to an investment from Buffett to ensure its survival.
Buffett's investing aphorisms are widely repeated and never go out of fashion. "Be fearful when others are greedy, and be greedy when others are fearful," and "it takes 20 years to build a reputation and five minutes to ruin it," are probably the most famous.
Buffett's description of derivatives as "financial weapons of mass destruction" in his 2002 shareholder letter would prove prescient in 2008, when they played a central role in bringing about the financial crisis.
Indeed, because much of Buffett's thinking is captured in his annual letter to shareholders, its release on a Saturday in late February or early March each year is a big event.
Buffett's dedication to philanthropy has few rivals. He has pledged to give 99% of his wealth to charity during his lifetime or upon his death, teaming up with Microsoft (MSFT) co-founder Bill Gates to convince many other notable billionaires to give away at least half of their fortunes.
The annual meeting of Berkshire Hathaway shareholders is often referred to as the Woodstock of Capitalism, a reference both to the kookiness of the event and the devotion of its attendees. It draws thousands of shareholders annually to Buffett's hometown of Omaha, Neb., so many that instructions to attendees warn that "hotels fill up fast, especially in the Downtown area."