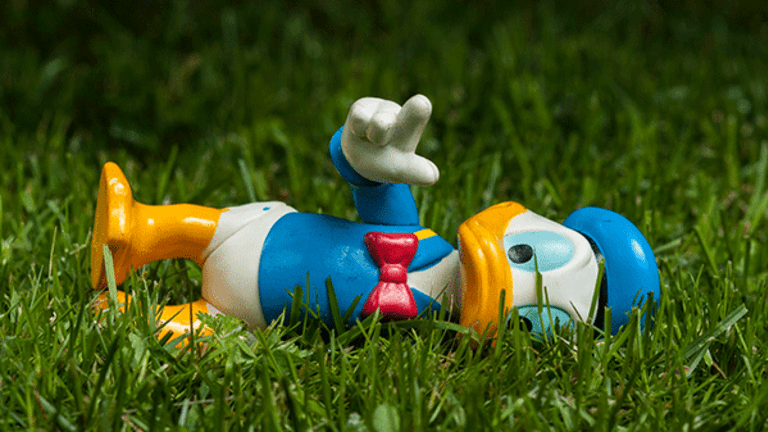 Why Walt Disney Stock Is Flat for the Year Despite Box-Office Hits
This media giant can't seem to catch a break with investors. We think that's shortsighted and that the stock is a smart buy now.
Walt Disney's (DIS) - Get Report spectacular run at the box-office doesn't begin with the recently released  Rogue One: A Star Wars Story. Three of its films --  Finding Dory, Captain America: Civil War, and Zootopia -- shot past the $1 billion mark globally this year, making Disney the first studio to clock more than $7 billion in annual box-office receipts.
It's true that Walt Disney shares have gained ground in the past couple of months, but even so, they're down slightly (0.8%) year to date. One would think they would have performed better given the company's box office successes. In fact, they're on track for their worst performance in five years. 
The stock has been under pressure because of uncertainty about one Disney business: ESPN. We consider Disney a superb long-term growth investment, however.
On paper, Disney's film studio division is on a roll, delivering one success after another. Meanwhile, analysts are calling the stock a smart investment. Merrill Lynch reiterated its buy rating and added the stock to its "U.S. 1" list, with a $125 price target, suggesting 20% upside from current levels. That would be healthy capital appreciation in this overvalued market. Loop Capital recently reiterated its buy rating with a $113 price target, and Piper Jaffray recently issued a price target of $115.
The stock, which has moved between $86 to $108 over the past year, seems unable to breach $109. Pundits blame the performance of ESPN, of which Disney owns 80%. The sports network is headed toward a second year of sliding profits. ESPN is losing subscribers as consumers engage in so-called cord-cutting, ending multichannel cable subscriptions and watching more programming over the internet. This is clearly a liability, which Disney must address at the earliest, and now some prominent observers, including Liberty Media Chairman John Malone, are suggesting that Disney divest ESPN.
Looking ahead, 2017 and 2018 could be more positive for Disney. We think the stock will embark on an upward trajectory.
On average, analysts expect adjusted earnings per share will grow more than 12% next year, up from growth of 3.8% this year. Revenue should grow 3.5% in the fiscal year ending in September 2017.
CEO Bob Iger has tried to downplay the effect of ESPN's decline, and because ESPN produces about one-quarter of the company's operating profit, it's important for Disney to grow its other businesses fast. Theme parks, consumer products and movies could help fill the growth gap if and when ESPN is finally laid to rest.
Disney's strategy to get closer to Hulu (where it's a co-owner) is a smart move that should propel growth. Unless Disney is planning to buy Netflix (NFLX) - Get Report , Hulu is a great bet for content owners such as Disney to use to compete in the streaming business.
At only 5.1% away from analysts' 12-month median price targets, Disney must deliver an out-of-the-box solution in order to consolidate investor interest in 2017. We think it will.
---
Worried about a bear market? We've found a genius trader who makes this bold promise: "If I don't deliver 24 triple-digit winners in the next year...I'll give up $1,950." His top-tier trading service reeled off twenty-four triple-digit winners in less than a year, along with more than thirty double-digit winners thrown in for good measure. And he racks up these profits in up or down markets. Get the details here.
The author is an independent contributor who at the time of publication owned none of the stocks mentioned.