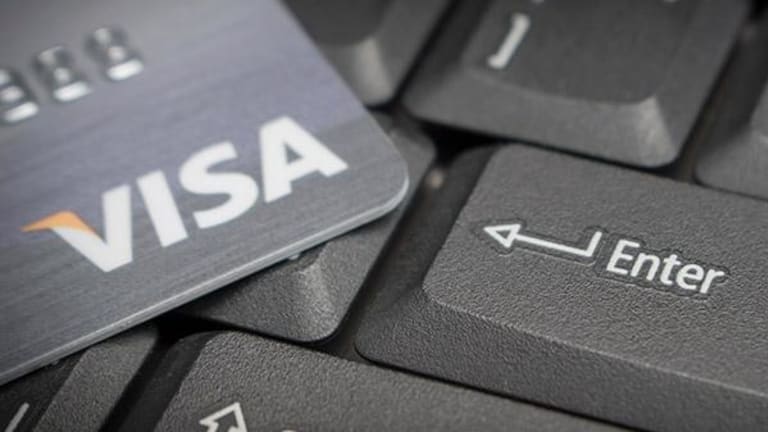 Why Visa, MasterCard Are More Attractive, Plus Jim Cramer's Take
Credit card use is getting a big boost from technology and the world is going cashless, which will boost shares of these two major credit card rivals.
The credit card payment business is looking very promising over the short, long and very long haul. Credit card debt is widely expected to set a new record high in the U.S. by the first quarter, the worldwide spread of smartphones has proved to be a boost to credit card use and the cashless society has never looked more inevitable.
It's all especially good news for Visa (V) - Get Reportand MasterCard (MA) - Get Report . They dominate the industry with about 50% and 30% of the business globally, respectively. They also present investors one of the best buying opportunities in perhaps a year. Although their shares swamped the S&P 500 index since Visa became the second of the two to go public in 2008, they both have trailed the Index in 2016.
Still, investors need to be wary. Jim Cramer, whose Action Alerts PLUS portfolio holds Visa, warned in a recent note that the portfolio has trimmed its position by more than half. Cramer, and co-portfolio manager Jack Mohr, wrote that while Visa has several "growth levers to pull," they are concerned by a number of risks and "are inclined to trim should shares move toward our $84 target and would likely not be buyers unless shares fell into the lower $70s, where we would re-evaluate the opportunity."
Visa shares are currently around $78 while MasterCard's are around $104.50.
What are the risks? Too much credit card debt can be a problem. The record is a shade over $1 trillion compared to the current level of $981 billion, according to the latest Federal Reserve data. That figure to beat was set in 2008, on the eve of the Great Recession; after it hit the stocks of both companies were hammered severely.
There's also competition to consider. Shares of American Express (AXP) - Get Report , Discover Financial (DFS) - Get Report and PayPal (PYPL) - Get Report have all outperformed Visa and MasterCard this year.
Still, shares of Visa and MasterCard have beaten the competition the past nine years they both have been publicly traded, and it's hard not to favor the leaders in the future. The high level of debt appears less threatening this time around. For example, whereas the delinquency rate was over 6% during the Great Recession it has remained close to 2% for the past two years even as credit card debt has climbed steadily.
Both Visa and MasterCard have led the charge for a cashless society and it is virtually at hand. One difference between now and the past is technology. Visa, for example, reported a 50% increase in transactions for the third quarter of this year in no small measure due to consumers using mobile devices to make payments here and abroad.
Sweden is already virtually a cashless society. Only 2% of transactions involve cash. The rest of Scandinavia is not far behind and India is virtually being pushed in that direction overnight, as the government last month withdrew its 500 rupee and 1,000 rupee notes, which comprise 85% of the currency, out of circulation.
Where investors may struggle is choosing either Visa or MasterCard. The latter may appeal to bargain shoppers because its price to earnings ratio is by most measures considerably lower than the ratio for Visa.
Still, investors who think you get what you pay for may prefer Visa. Its stock has narrowly beat out MasterCard since its debut and it's a more profitable company (i.e. higher net profit and operating margins).
Analysts appear to agree. While both stocks rate a strong buy from analysts surveyed by Zacks Investment Research, a higher percentage of analysts -- 71% vs. 52% -- give Visa shares that rating than they do MasterCard. A consensus of analysts also think Visa will earn more over the next five years, with an average annual increase of 16.4% vs 15.5%.
However, whichever investors may buy or perhaps both, they would have a good shot at excellent returns for years to come.
This article is commentary by an independent contributor. At the time of publication, the author held a position in V.