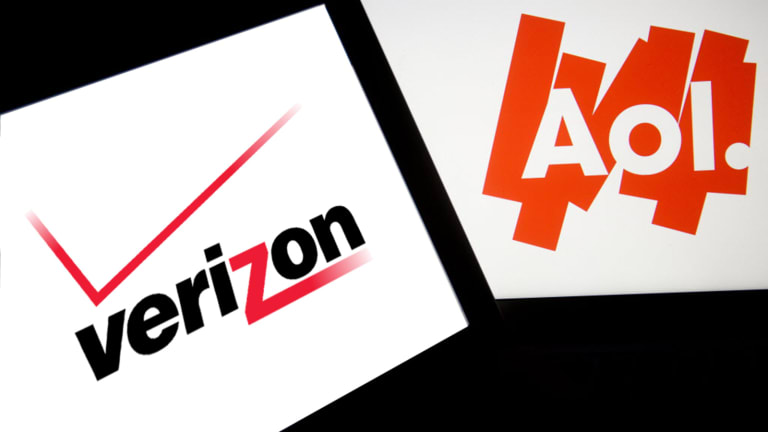 Why Verizon Is Buying AOL, and Why AOL Is Happy to Sell
Verizon on Tuesday said it will acquire AOL as it seeks to add Internet content and advertising to go along with its national broadband network.
Verizon on Tuesday said it will acquire AOL as it seeks to add Internet content and advertising to go along with its national broadband network.
NEW YORK ( TheStreet) -- Verizon (VZ) - Get Report on Tuesday said it will acquire  AOL (AOL)  in a $4.4 billion deal that will combine the country's largest broadband network with an Internet-content company that is developing one of the world's top automated advertising platforms.
If regulators approve the deal, Verizon would be taking its most significant step yet to leverage its broadband network apart from selling pay-TV and telephone services. In effect, it will become more like its chief rival, cable giant Comcast (CMCSA) - Get Report, which owns NBC/Universal. 
Shares of New York-based AOL were surging 19% to $50.65 while Verizon was slipping 0.4% to $49.58.
The deal comes four months after Verizon CEO Lowell McAdam discounted a Bloomberg News report about a possible deal  between the two companies.
Verizon stands to gain from AOL's ad-technology platform, which enables buying and selling video and banner headline advertising in real time across hundreds, if not thousands, of Web sites. The platform, known as ONE by AOL, is rivaled by only Google (GOOG) - Get Report, Barry Lowenthal, president of the Media Kitchen, a New York media agency owned by Kirshenbaum Bond Senecal + Partners, said in January.
For AOL, the deal is a crowning achievement for CEO Tim Armstrong who took over the company in 2009 after AOL was spun off from Time Warner (TWX) . Expectations have been high, and Armstrong has had his stumbles, most notably the failed effort to create a hyper-local news site called Patch and then sell advertising on it.
As a former Google executive, Armstrong vowed to combine content with advertising, acquiring Huffington Post in 2011 for $315 million, while developing video channels for AOL.com and expanding the technology sites TechCrunch and Engadget.
Under Armstrong, AOL used Advertising.com to acquire Adap.TV, an online video-technology service, for $405 million in cash. Last month, AOL added Vidible for about $50 million, to gain a service that allows Web sites to add relevant videos from other publishers, and earlier this month, Armstrong gave the go-ahead to spend $101 million to acquire Convertro, which helps marketers evaluate ad purchases.
By combining with Verizon, AOL can more fully develop its programmatic-advertising platform in an effort to better compete with Google, the world's largest media company, according to a study by ZenithOptimedia.
Armstrong's decision to spend more than $750 million during the past three years on automated, or so-called programmatic, advertising is also beginning to bear fruit. Sales related to AOL's programmatic platform jumped 80% in the first quarter, accounting for 45% of the company's overall brand advertising revenue. 
Revenue at AOL platforms, including programmatic advertising, surged 21% in the quarter ended March 31 to $279.8 million. Advertising sales from properties that include The Huffington Post and TechCrunch rose 12% to $483.5 million, beating estimates.
For Verizon, the deal offers the New York-based company the opportunity to use the enormous amount of data that it owns on consumer habits to sell advertising. To fully monetize all that data, it needed access to the kind of automated advertising systems that AOL has developed. 
Digital advertising purchased through programmatic platforms is expected to grow by 27% annually through 2018, reaching $53 billion, according to Magna Global, the ad buying and research division of IPG Mediabrands.