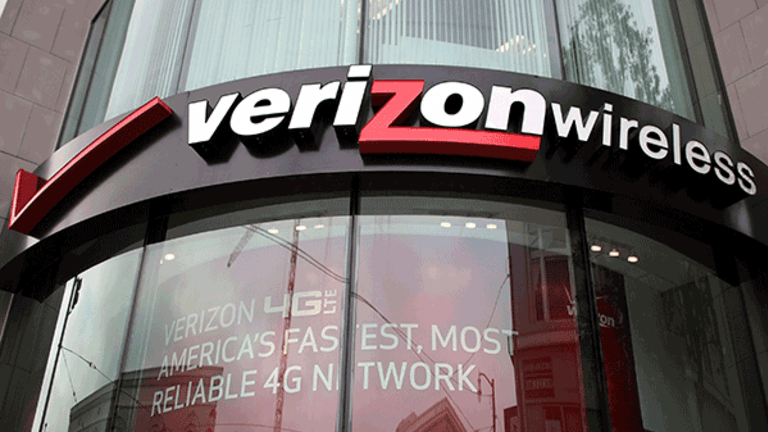 Why Verizon Caved and Is Finally Offering an Unlimited Data Plan Again
In an increasingly competitive wireless industry, Verizon had to adjust tactics and may have to explore M&A more aggressively, too.
After holding out against unlimited plans, Verizon (VZ) - Get Free Report has finally relented. 
Verizon joins Sprint (S) - Get Free Report , T-Mobile USA (TMUS) - Get Free Report and AT&T (T) - Get Free Report on Monday in offering unlimited data packages, a strategy that the carrier has consistently resisted. The shift recognizes the growing demand for data in today's market, and could also cause Verizon to acquire more operations that can spur its growth.
"While Verizon has rationalized this volte-face as a function of its superior network quality, it is clearly a response to a more competitive environment," Nomura analyst Jeffrey Kvaal wrote.
Sprint lowered the price of its unlimited data plan to $50 per month on Friday, while AT&T  launched its  unlimited plan $100 per month in January. T-Mobile shook up the industry when it launched its $70 per month unlimited plan last August. 
Under its new plan, Verizon charges $80 per month for one line or $180 for four lines (or $45 per line), not including taxes and fees. The package includes high-definition video, which Sprint and T-Mobile do not include in their cheapest unlimited data plans.
Sprint and T-Mobile USA have been aggressively poaching subscribers from leaders Verizon and AT&T.
Verizon's decision to offer an unlimited plan for the first time since 2011 is "completely defensive," said Jim Cramer, TheStreet's founder.
The superiority of Verizon's network has allowed the carrier to charge a premium, Nomura's Kvaal noted. But that appears to be changing, which will make it harder for Verizon to boost revenues.
Verizon's wireless service revenues won't grow again untilthe middle of next year, Kvaal wrote, which could cause the telecom to pursue M&A more aggressively. "While AT&T is counting on the marriage of distribution and content with DTV and Time Warner, Verizon is focusing on [Internet of Things] and digital media growth for now," he wrote. "However, flattish 2017 guidance suggests Verizon may have to look at inorganic options."
BTIG analyst Walt Piecyk suggests that the unlimited data launch was a rush job, and that with a little more preparation Verizon could have played up the new plan with a Super Bowl LI ad. "The launch of unlimited seemed rushed, coming a week after the exposure they could have secured with a Super Bowl advertisement," Piecyk wrote. "The ad run [Sunday] night during the Grammy's did not appear to have taken much to produce."
Expect more commentary on Tuesday morning before the open, when T-Mobile USA reports its fourth-quarter numbers.
Not surprisingly, T-Mobile USA CEO John Legere was quick to offer his feedback on Verizon's plans via Twitter (TWTR) - Get Free Report .