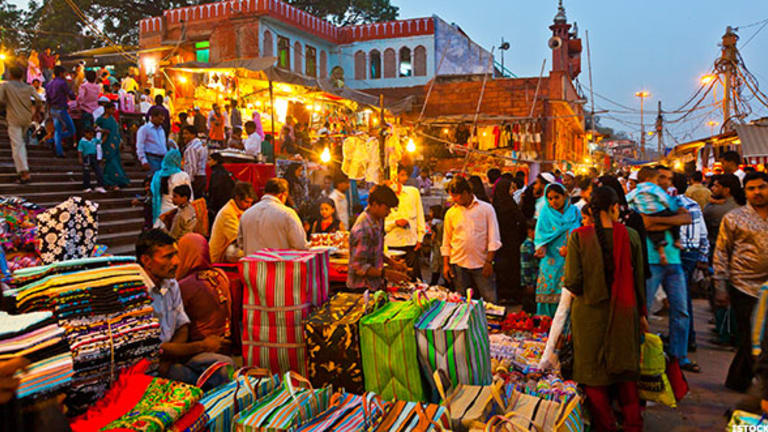 Why United Is the Only U.S. Airline That Flies to India
American and Delta have both dropped routes to India, leaving United as the only U.S. carrier in the market, where the Gulf carriers have tightened their grip on the market.
NEW YORK ( TheStreet) -- Between the second- and third-largest countries in the world -- India and the United States -- U.S. airlines can manage to operate only two daily flights: United (UAL) - Get United Airlines Holdings, Inc. Report flies from Newark, N.J., to Mumbai and New Delhi.
The paucity of U.S. service in what would seem to be a desirable market is a key element of the argument by the big three U.S. carriers and their unions that heavily subsidized Gulf carriers are able to poach traffic that would be carried by U.S. airlines and their alliance partners.
Growth in the Gulf carriers' U.S. service "has been most heavily concentrated to date in the Indian subcontinent, which currently accounts for 22% of all U.S.-Asia bookings," the big three carriers said in a recent report on the massive government subsidies provided to Emirates, Etihad Airways and Qatar Airways.
Yet the Indian market is a complex one, characterized by low yields and a lack of business traffic, said aviation consultant Bob Mann. "The aggregate market size is huge, but unit revenues are very low," Mann said.
In general, he said, U.S. carriers would continue to serve most markets in India through partnerships, with or without the Gulf airlines, although the increasing number of Boeing (BA) - Get Boeing Company Report 787s in the U.S. fleet could open more markets. By contrast, Gulf carriers led by Etihad are heavily involved in India.
Currently, United uses Boeing 777s on its two India routes, served from the best East Coast hub, where the carrier can aggregate passengers not only from the New York area but also from the 85 domestic destinations it serves from Newark.
Delta (DAL) - Get Delta Air Lines, Inc. Report has tried Mumbai service three times. JFK-Mumbai lasted two years, ending in 2008. Atlanta-Mumbai lasted one year, ending in 2009, while an Amsterdam-Mumbai flight will end this month. American (AAL) - Get American Airlines Group, Inc. Report, meanwhile, cancelled Chicago-Delhi in March 2012, three months after filing for Chapter 11 bankruptcy protection.
As for Indian carriers, Air India, a Star Alliance member, flies Delhi-JFK, Delhi-Chicago and Mumbai-Newark.
The governments of Qatar, the United Arab Emirates, and Abu Dhabi and Dubai, the two largest emirates, have provided about $39 billion in subsidies to the airlines -- Qatar, the flag carrier of Qatar; and Etihad and Emirates, flag carriers of the UAE -- according to an extensively researched report compiled over two years for American, Delta and United.
"The subsidized Gulf carriers are already displacing U.S. carriers on international routes, even before the massive increase in subsidized capacity still to come," the report said.
"From 2008 to 2014, annualized bookings by Gulf carriers from the U.S. to this region increased by nearly 2.5 million," while Gulf carriers' share of the U.S.-Indian subcontinent bookings more than tripled, from 12% to 40%, the report said. As a result, U.S. carriers and their joint venture partners lost nearly 800 bookings per day.
Similar trends exist on routes to Vietnam, Thailand, Indonesia, Malaysia and the Philippines. 
United "flies nonstop to Delhi and Mumbai from Newark and charges a pretty penny, both in coach and business class," Brancatelli said. Gulf carriers "can cut the price on the connection, but that only brings the most cost-sensitive, low-margin customer."
In fact, however, most passengers to and from India are cost-sensitive, low-margin tourists and visiting friends and relatives, rather than business travelers, Mann said. "The Indian market is not the sort of a retail market that network carriers know how to deal with," he said. "It's not responsive to revenue management, it's consolidator driven, and the distribution system is anachronistic."
While U.S. carriers could conceivably serve a few large markets, they will never serve the smaller markets, Mann said. By contrast, Gulf carriers are heavily focused on India, where the market includes contract laborers traveling to and from the Gulf.
In 2013, Etihad invested $379 million to buy 24% of the Indian carrier Jet Airways. Since then, not only has Etihad boosted service to India, but also Jet is adding service to Abu Dhabi. Flights from Goa and Lucknow have already started; flights from Ahmedabad, Pune and Mangalore will begin March 29.
By May, Etihad and Jet will offer 224 weekly flights to Abu Dhabi from 15 destinations in India, the most of any Gulf carrier.
 "We made a pledge to support the growth of tourism, aviation, and commerce in India by working alongside Jet Airways to bring business and leisure travellers into cities across India," said Etihad CEO James Hogan, in a prepared statement issued in February. "We are fulfilling that pledge."
This article is commentary by an independent contributor. At the time of publication, the author held no positions in the stocks mentioned.