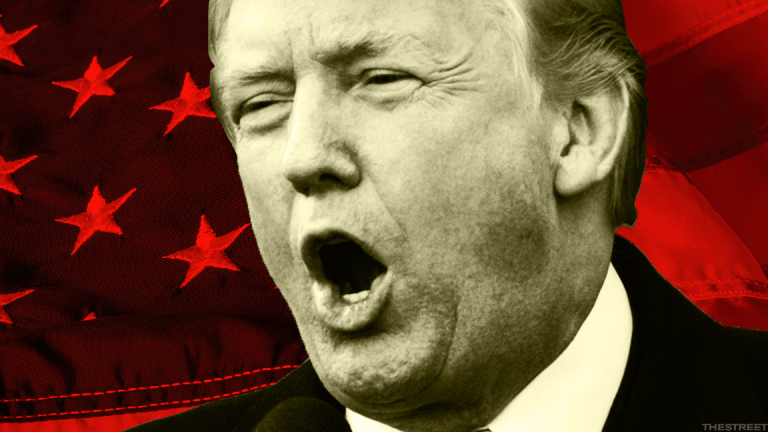 Why Trump's Trade War Will Keep Sending Stocks Lower, Perhaps Sharply
Trade war fears continue to weigh on stocks. Shares of chip player Nvidia have been creamed this week on those fears. Time to buy? Meanwhile, Conagra's acquisition of Pinnacle Foods could be a sign of more food deals.
Trade war fears continue to weigh on stocks. Shares of chip player Nvidia have been creamed this week on those fears. Time to buy? Meanwhile, Conagra's acquisition of Pinnacle Foods could be a sign of more food deals.
The bull market is dying.
The not-so-secret recipe of the Trump presidency's bull market has been this: Tax cut stimulus for businesses and consumers trump's (pardon the pun) all the ridiculousness coming from the White House and various Twitter feeds. So long as companies can use their new, lower tax rates to buy back stock and see orders rising following the stimulus their stock prices warrant higher levels. Again, simple stuff here.
But with the daily drumbeat of trade war fears that Donald Trump is stoking, the secret sauce behind the bull run in stocks is starting to spoil. Why would a CEO sign off on a massive new stock buyback (or execute on one already in place) or reiterate profit guidance when faced with uncertainty on his company's operations abroad? Again, simple stuff.
So long as these trade war fears stay elevated -- such as on Wednesday with futures sharply lower on tough words from Canada -- the market will choose to adjust accordingly. July 6 will mark a key day for the market as that's when tariffs on Chinese goods will go into effect. By then, the Dow Jones Industrial Average I:DJI could be another 500 points lower. If they kick in with no olive branch from either side, then look out below.   
Stock of the Day
Hands down, chip king Nvidia (NVDA) - Get Report is the stock of the day. The Action Alerts PLUS holding has shed an astounding $13 billion in market cap over the past five sessions on trade war fears. With a momentum name such as Nvidia, any slight change in the trading setup around the stock -- as is now the case -- will lead to a violent downdraft.
While the selloff has some logic behind it, folks focused on longer-term investing should stay with Nvidia or look at it for the first time on the pullback. Consider this nugget from JPMorgan analyst Harlan Slur after his sit-down with management. "Nvidia continues to see strong gaming growth trends led by eSports, blockbuster game releases and mobile that are expected to remain secular growth drivers for the foreseeable future. Nvidia believes it has 100 millon GPUs (chips) of installed base currently and the team expects further growth in the installed base as well as users moving up the stack to higher end gaming cards."
With Goldman Sachs predicting this week that eSports will reach 300 million viewers by 2022 (on par with NFL viewership this year), the ability for Nvidia to grow its installed base of people using its chips is enormous. That's in addition to current Nvidia chip users likely upgrading to more expensive chips from the company. Keep in mind that Nvidia also has its hands in other growth areas, particularly the connected car. There's my pitch. Go forth and conquer.     
Welcome Back Food Deals
Pay attention to the clues coming out of the packaged food industry and bet accordingly. At otherwise depressed valuations and concerns for their future growth rates, the deal-makers with the biggest appetite for risk are starting to circle.
Earlier in the week, someone tipped the New York Post that Kraft Heinz (KHC) - Get Report was interested in the struggling Campbell Soup (CPB) - Get Report . Kraft Heinz CEO Bernardo Hees told me several months ago he was on the hunt for the company's next deal, and isn't afraid to do something big. That was the takeaway from my chat last week with Tyson Foods (TSN) - Get Report CEO Tom Hayes, who has pulled off several food deals this year. Hain Celestial (HAIN) - Get Report founder and CEO Irwin Simon stepped aside this week, sending yet another strong signal to the market the organic company is there for the taking. And on Wednesday, Conagra (CAG) - Get Report plunked down $10.9 billion for Pinnacle Foods (PF) as a play on the resurgent frozen food aisle (thank you time-starved millennials).
Consolidation in the packaged goods sector (which includes household products) must happen in a world of rising inflation (as is being witnessed), digital shopping, slower supermarket store openings and evolving consumer shopping patterns. By doing deals, companies can consolidate their operations and be more aggressive on pricing. Conagra, for example, expects to see $215 million in cost savings by 2022 from this deal likely through workforce and plant consolidation efforts. If pushed, I'd say Hain Celestial is among the next names to be sold. Time for PepsiCo (PEP) - Get Report or Coca-Cola (KO) - Get Report to make a splash.