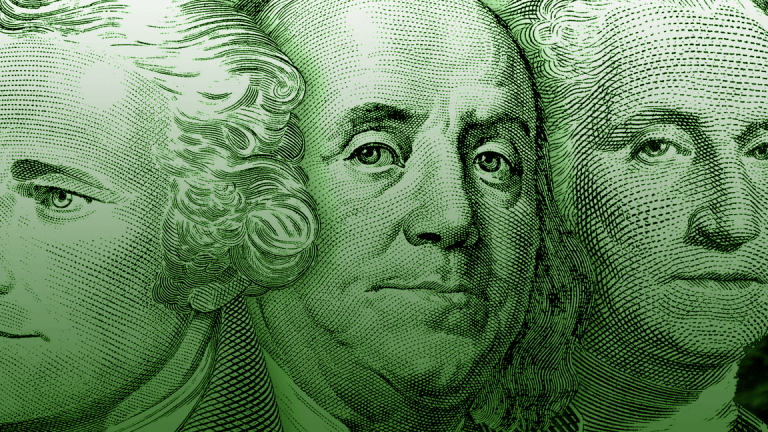 Why the Trade War Makes Cash Look Like a Stellar Investment Right Now
The market ignores the trade war. Merger Monday is alive and kicking with Sirius spending big-time to buy Pandora.
What Trade War via @JacobSonenshine: The stock market in 2018 hasn't been defined by volatility, although it certainly has had short busts of it. Over the weekend, China said it was canceling trade talks with the U.S. on account of the latest round of tariffs issued by the White House. The market has been held back by tariffs and subsequent retaliations (though it's really hard to tell), with the Dow Jones Industrial Average I:DJI  up 7.73%, and the S&P 500 I:GSPC up 9.09%, compared to 2017's broad gains of more than 20%. On days in which the market pulls back on news of tariffs, and on days when it gains because of positive trade developments, investors need to remember a few things. First, some asset managers and strategists have told me there could be volatility to come because of the trade situation. Secondly, regardless of volatility, a trade war will not propel equities forward. Stock investors have a few options for their cash while they wait and observe. With the mid-term elections coming up, it'll soon become very clear in which direction the trade talks will go based on which political party has control. In the meantime, bond yields are rising as the economy chugs along, and the Federal Reserve remains on track to raise rates, meaning investors shouldn't be - and aren't - buying up existing Treasuries in droves. Don't come after me with an axe for saying this, but cash and savings aren't terrible moves for the short-term while you wait and watch the elections. Then if stocks look gloomy, there will be stocks to short, and some stocks that will do well in a tough environment. And when the Fed is finished hiking rates, there will be some areas of the bond market - not just Treasuries - that will have a good outlook. Don't forget about a nice little piggie bank with some yield for a couple weeks.
Those DEALS via @BrianSozzi: Despite markets hovering near record highs, corporate chieftains are finding value (at least in their eyes). Barrick Gold (ATX) and Rangold Resources (GOLD) - Get Report said Monday they will combine in a $18.3 billion transaction. The deal, which comes following a year of underperformance for both natural resource stocks, will form the largest gold miner on the planet. Meanwhile, Sirius (SIRI) - Get Report said Monday it will buy streaming music service Pandora (P) . The deal values Pandora -- who has seen its stock surge 75% this year -- at $3.5 billion, a 13.8% premium to Pandora's 30-day trading average.