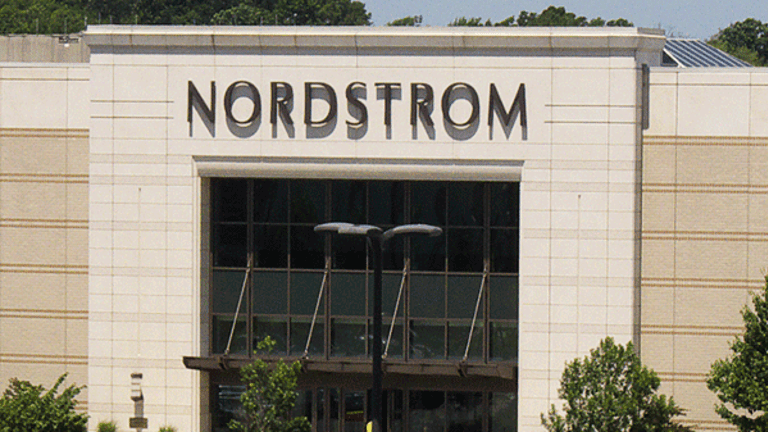 Why to Be Cautious on Nordstrom (Hint: It Isn't Because of Trump)
On Wednesday, the retailer's stock fell victim to the president's Twitter rage. But the company has far bigger concerns.
Shares of department store retailer Nordstrom (JWN)  tumbled Wednesday following a Twitter rant by Donald Trump, though they have risen since then.
But the iron fist of the country's new president is really the least of this company's worries, and investors should be concerned.
The brouhaha was the result of Nordstrom's decision to pull merchandise designed by Trump's daughter, Ivanka, from its shelves. Ivanka Trump has her own line of clothing and accessories that are available for sale from third-party retailers, as well as online shopping networks.
Consumers dissatisfied with the president have organized Grab Your Wallet, a grassroots online campaign to boycott companies that sell products branded with the Trump family name.
Apparently, the campaign is working. This week, Nordstrom became the latest retailer to drop Ivanka Trump's brand.
Prominent retailers Neiman Marcus and Shoes.com had already severed ties with the Trumps.
In November, Nordstrom said that it would remain politically neutral by continuing to sell the Ivanka Trump brand, despite consumer backlash.
But Nordstrom said its decision this week to drop the brand wasn't political and not directly caused by the Grab Your Wallet boycott but simply because the accessories and clothing weren't selling well.
"Each year we cut about 10% and refresh our assortment with about the same amount. In this case, based on the brand's performance, we've decided not to buy it for this season," according to Nordstrom.
Reportedly, Macy's, which has already discontinued selling other Trump merchandise, is close to phasing out its Ivanka Trump merchandise as well.
A furious president took to Twitter Wednesday morning, slamming Nordstrom's decision as "unfair."
Shares in the company immediately fell by about 0.5% in a flurry of investor activity before settling back by midday.
Nordstrom isn't the first company to experience temporary stock drops, thanks to the president's Twitter habit. In December, aerospace company Boeing's shares slipped 0.4% following his threat to cancel an Air Force One order.
And auto stocks such as Ford Motor and General Motors have taken similar short-term hits.
However, potential fallout from the president's rants shouldn't be a worry for Nordstrom. Instead, this department store chain has bigger issues, and investors should be wary of this brick-and-mortar dependent company.
The entire department store industry has suffered, thanks to the rise of ecommerce led by Amazon.
It was once thought that online retailers would never be able to beat traditional stores when it came to apparel sales. After all, customers can't try on items before purchase, and returns can be a pain in the neck.
However, Amazon has proven that false and is poised to overtake Macy's in terms of accessories and apparel sales this year.
It is yet to be seen how Nordstrom fared during the most recent holiday quarter, but in its third-quarter earnings report, the company missed analysts' revenue expectations. And given that other retailers are posting holiday-quarter nightmares, it is likely that Nordstrom will follow suit.
Year to date, Nordstrom's stock is down by more than 9.75%, a terrible performance for this retailer. With the whole brick-and-mortar retail industry facing significant headwinds as ecommerce continues to control the market, investors should remain wary of this stock.
---
However, Nordstrom isn't the only risky investment out there. A blistering financial storm is about to hit our shores. When it hits, weak companies and their investors will be washed away. You need to put yourself on solid ground. And that doesn't just mean changing your investment allocations or loading up on cash. I'll show you how to protect yourself and prosper when you click here.
The author is an independent contributor who at the time of publication owned none of the stocks mentioned.