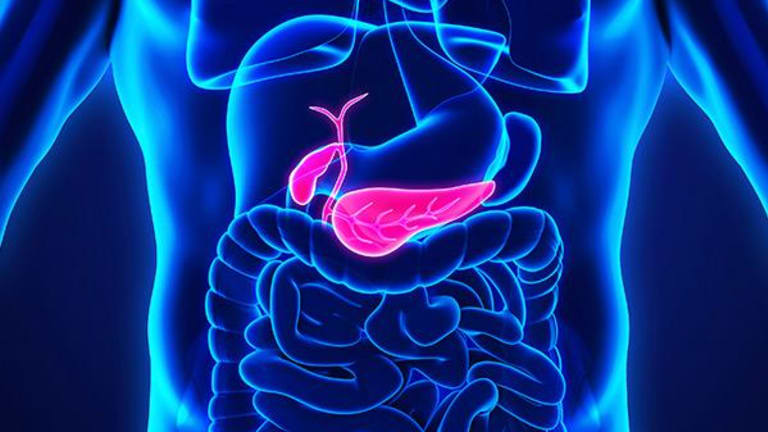 Why This Company Offers Hope for Treating a Deadly Form of Cancer
Pancreatic cancer is brutal because it is so difficult to detect early, but MabVax Therapeutics Holdings is working on a solution to that problem.
The location of the pancreas is what makes getting cancer there such a death sentence.  
Because it is located deep in the stomach right in front of the spine cancer can grow for months before it is discovered. As early detection is by far the single best way to beat cancer, pancreatic cancer patients have a huge hill to climb.
Early symptoms of the disease are very subtle or completely absent. When symptoms do appear it is usually because the tumor has grown large enough to press on other parts of the body.
The pancreatic tumor pressing on nerves causes pain, on the intestines affects appetite and on the bile ducts causes jaundice or yellowing of the skin.
For most people, waiting for one of these symptoms to appear is too long.
Just 6% to 8% of patients live five years after diagnosis of pancreatic cancer. For some perspective on how bad that is, consider that pancreatic cancer is the only one of the top 10 cancers with a survival rate in the single digits.
If caught early, the survival rate is much higher. About 15% to 20% percent of people are able to do that and catch it before it spreads beyond the pancreas.
This allows for surgical removal of the pancreas and five-year survival rates of 20%, which isn't ideal but certainly better.
If there isn't a breakthrough for detecting and treating pancreatic cancer, it is virtually certain that it will become the second deadliest form of cancer, surpassing both breast and colorectal.
MabVax Therapeutics Holdings (MBVX)  is a clinical-stage biotechnology company.
The company has discovered and is developing human antibody based products for the diagnosis and treatment of metastatic solid tumor cancers. It will have multiple applications, but it has the potential of being a game-changer for pancreatic cancer.
MabVax Therapeutics Holdings' lead antibody program under development is HuMab-5B1, which has commenced two clinical trials this year. These trials involve a therapeutic agent (MVT-5873) and separately a new generation PET imaging product (MVT-2163). 
HuMab-5B1 is an antibody that is fully human. It was obtained by vaccinating cancer patients with an antigen-specific vaccine at Memorial Sloan Kettering Cancer Center in New York.
This vaccination triggered an immune system response from those patients. That immune system response is the basis for the cancer fighting antibody.
The 5B1 antibody has demonstrated high specificity and affinity in pre-clinical research. It has also shown potent cancer cell killing capacity and efficacy in animal models.
The antibody targets an antigen that is expressed on more than 90% of pancreatic cancers, meaning that it has potential for most patients with this cancer. That is exciting news.
Having very good capabilities in targeting tumors and because it is internalized by pancreatic cancer cells has allowed MabVax Therapeutics Holdings to use the HuMab-5B1 antibody as the tumor-targeting platform on which it can attach multiple products.
The antibody by itself is in clinical trial as a therapeutic agent.
Additionally, this antibody when combined with a radio-label has potential as a new generation PET imaging agent. An imaging agent is designed to provide more information about internal organs, tumors and normal tissue.
They can be used to diagnose disease as well as monitor treatment effects. Remember, earlier diagnosis is critically important for pancreatic cancer.
The Phase I trial for HuMab-5B1 began in the first quarter to evaluate the safety, tolerability and pharmacokinetics as a single agent or in combination with a standard of care chemotherapy. The trial is under way in subjects with metastatic pancreatic cancer or other CA19-9 positive malignancies.
This is a company worth keeping an eye because it could hold a key to improving the prospects for this deadly disease.
This article is commentary by an independent contributor. At the time of publication, the author held no positions in the stocks mentioned.