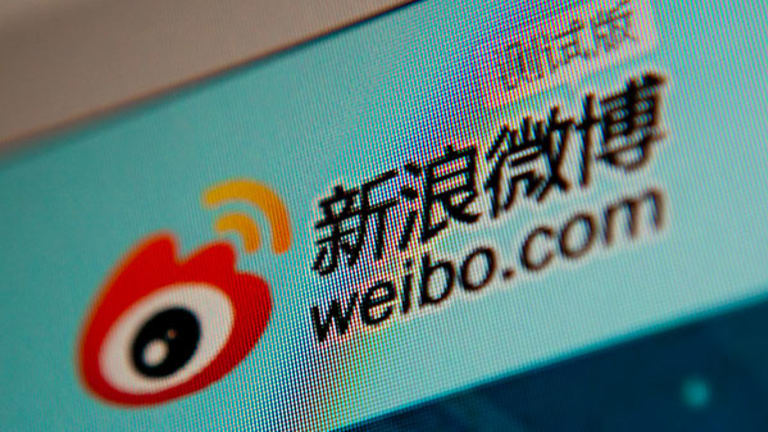 Why This Chinese Internet Giant Is Ready to Be the Next Big Thing
Investors who are seeking relatively safe growth opportunities in the online sector should look to China.
Investors who are seeking relatively safe growth opportunities in the online sector should look to China.
Despite the shadow of a sluggish Chinese economy and Alibaba's stock price plummet, online enterprise Sina (SINA) - Get Report has delivered yet another market-beating performance.
Sina's Weibo, which is like a hybrid between Facebook and Twitter, has delivered robust growth.
Although Alibaba and JD.com are purely ecommerce plays,and Baidu is often viewed as a Chinese Google, which is owned by Alphabet, there is a definite gap in the social-network area.
Facebook and Alphabet are holdings in Jim Cramer's Action Alerts PLUS Charitable Trust Portfolio. See how Cramer rates the stock here. Want to be alerted before Cramer buys or sells FB and GOOGL? Learn more now.
Sina with its valuable assets is fast replacing that missing link. The stock is poised to richly reward investors who get aboard now.
The Beijing-based company reported third-quarter net income of $146.5 million or $1.90 a share. Non-generally accepted accounting principles earnings came in at 56 cents a per share, compared with analysts' projection of 35 cents a share and 39 cents a share a year earlier.
Third-quarter revenue of $274.9 million was up 21% year over year and easily surpassed analysts' consensus estimates of $265 million.
Sina's majority stake in micro-blogging platform Weibo has delivered substantial rewards.
Quarterly advertising growth of 21% for Sina was driven by Weibo's strong advertising.
Weibo's monthly active users in September grew 34% to $297 million from a year earlier, within range of Twitter's $313 figure.
And yet, Weibo has a market value of $10.5 billion, compared with Twitter's $13 billion. As Weibo returns to center stage of the Chinese Internet segment, Sina should significantly benefit.
With liquidity of $2.2 billion, Sina is in a strong position to grow further. Besides Weibo, its digital media network of Sina.cn (mobile portal), Sina.com (portal) and Sina Mobile Apps helps the company offer distinct and targeted professional content on each of its region-specific websites.
Sina should rapidly progress, once the E-Housemerger is completed. That Chinese real estate services company can bring in ad money to Sina's already solid portfolio, as the company seeks synergies and works on complementary strengths.
With another relatively good quarter, market watchers thoughtthat Sina would update its guidance. The company projected full-year revenue of between $950 million and $1 billion or growth of 9% to 15% from 2015.
Wall Street expects Sina to deliver revenue of $1 billion this year and $1.24 billion next year, implying 24%-plus growth. Earnings-per-share growth estimates are also healthy for both this year and next.
Sina has effectively addressed the concerns around the impact of the soft macro conditions in China, having efficiently making its way through the labyrinth of online search restrictions as well as social-networking activities.
---
Like every American, you want to be in control of your own destiny. That means being able to predict in advance how much money your investment portfolio will generate. Think it can't be done? Our top analyst has a system that can ensure you will make a profit on more than 80% of your trades. To find out the secret, just click here.
The author is an independent contributor who at the time of publication owned none of the stocks mentioned.