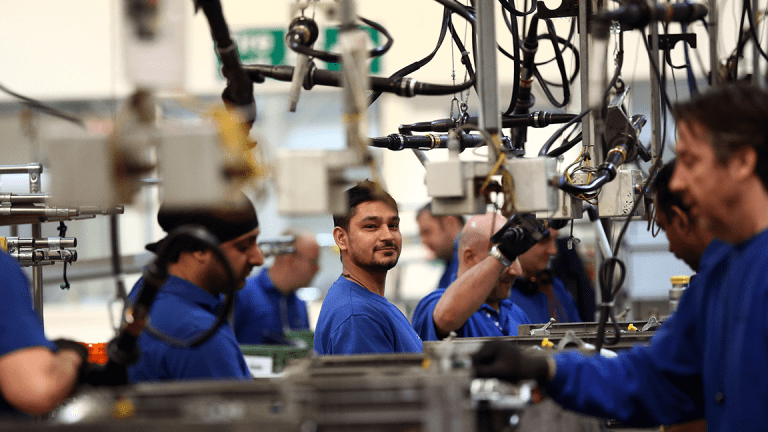 Why This $23 Billion Industrial Powerhouse Has Seen Its Stock Surge in 1 Month
Rockwell Automation is one of the hottest industrial stocks in the market you probably haven't heard about.
Caterpillar's (CAT) earnings beat on Monday was cute, but did you catch Rockwell Automation (ROK) ?
Propelled by 4% plus GDP growth in the second quarter, Rockwell Automation delivered impressive profit margin expansion in both its key business segments. Sales and adjusted earnings rose 6.2% and 52%, respectively. The company lifted its full year adjusted earnings outlook to $7.70 to $8.00 a share from $7.90 to $8.10 a share.
Rockwell Automation's stock has soared 10% over the last month. 
TheStreet takes a quick look back at its chat with Rockwell Automation CEO Blake Moret in mid-June. He sure telegraphed the performance...
Rewind: Rockwell Automation's Pitch
On Rockwell's Big Software Play
Rockwell is fresh off taking a $1 billion stake in software player PTC. The deal will help speed up Rockwell's push into connected factories.
"As information technology and operational technology converge, it was a natural fit for PTC -- which is a software company with innovative offerings -- to work with a company like Rockwell -- which has lived on the plant floor for a long time," Moret explains, adding that the combo should assist manufacturers in using data to unlock productivity.
Wall Street is generally upbeat on Rockwell's play.
"While sell-side has held their nose on the price paid for such an investment, Moret maintains its a cost effective way to strengthen a technology collaboration and acquire technology capability without a huge step up in internal organic growth investment through R&D," says Stifel analyst Robert McCarthy, who talked with Moret at the conference.
On the U.S. Economy
While talk is picking up on Wall Street of a possible late 2018 U.S. recession, Moret hasn't seen anything in his diversified manufacturing business that hints trouble is brewing.
Says Moret, "Industrial production numbers are showing strong growth ahead, we are seeing that in conversations with our customers. We are confident that we are in the early stages of a period of manufacturing expansion."
Rockwell Is Bullish on Electric Cars
The strong electric car push by U.S. automakers like Ford (F)  and General Motors (GM)  could help Rockwell in 2019, which has had to contend with slowing auto production in 2018. Moret says Rockwell is now working with 80 electric vehicle startups globally.
He is optimistic on electric car demand jump-starting the U.S. auto market next year.
Watch TheStreet's full interview below.