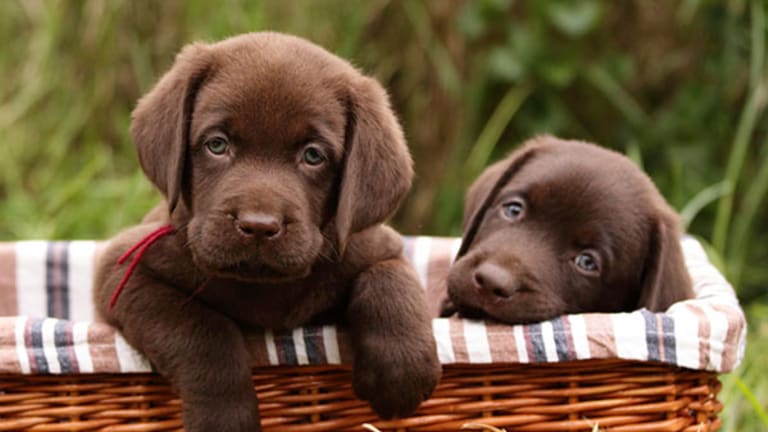 Why the Puppy Bowl Might Be Even More Important Than the Big Game
This adorable event and its advertisements might carry more weight for investors than the Super Bowl itself.
This adorable event and its advertisements might carry more weight for investors than the Super Bowl itself.
This Sunday we have two big games.
The Super Bowl showcases a collection of large men crashing into one another as they move up and down a field. Shown on CBS, it will attract plenty of fans and more importantly, lots of advertising dollars estimated to run at $5 million per 30 seconds.
Then there is the Puppy Bowl, which showcases a collection of little adorable dogs, including three special-needs pups, that bump around together as they move up and down a field. The show also has birds running social media, bunnies as cheerleaders and a half-time show featuring kittens.
Believe it or not, this animal extravaganza provides a great growth opportunity for investors.
The Puppy Bowl is on the Animal Planet network, which is part of Discovery Networks. And though ad dollars might be lower than for commercials for that other televised bowl game, there is a reason that some of the stars of the Puppy Bowl rang the opening bell Tuesday on the Nasdaq Stock Market.
The market for dogs, cats and other pets in the U.S. market alone is huge and becoming even bigger.
With a population estimate of some 80 million dogs in the U.S. and perhaps as many as 96 million cats, these companions represent a population larger than all the children in the nation.
Moreover, the dollars spent on pets is estimated at more than a whopping $63 billion last year. 
That figure is rapidly increasing with the spending on pet health and well-being advancing faster than human health care spending so far this decade.
So, though Super Bowl ads for Bud Light, Fabreeze, Mr. Clean and Skiddles might be entertaining, the ads shown during the Puppy Bowl might make an even bigger impact.
Ads for pet care products, food, services and toys will find captive and eager consumers. Even for Fuji Heavy Industries, which makes Subaru cars, the Puppy Bowl is bigger than the Super Bowl because dog and other pet owners make up a significant portion of its customer demographics.
Pet care companies are rapidly consolidating with privately held Mars, which is set to acquire VCA in a nearly $8 billion deal.
Mars owns Banfield Pet Hospital, which has 1,000 locations mostly inside PetSmart retail stores. It is grabbing VCA with its 750 independently managed care centers to be the leading single operator of pet health care.
But that still leaves some 80% of the veterinarian market still locally owned.
Other deals could follow, which could be profitable for investors who get in front of the trend.
The first could be PetMed Express, an online pet pharmacy that competes directly with vets for continuing treatment products and other medications. The company has ample operating profits and a dividend of 3.62% that rivals pharmaceutical companies that make products for people,
The market leaders in pet retail stores are the ubiquitous Petco and PetSmart companies.
Unfortunately, they have already been scooped up by private-equity investment firms CVC Capital Partners and BC Partners respectively. The PE firms' enthusiasm just confirms that the smarter money is going to the dogs.
And while Mars controls the largest share of food including its acquisition of Royal Canin, there are plenty of competitors.
Nestle, thanks to its Purina unit based in St. Louis, is the second-largest purveyor of pet food.
The next two leading pet food and goods producers are also consumer and human food conglomerates.
JM Smucker has its eponymous jams and jellies but also the No. 3 pet food company, Big Heart Pet.
And Colgate-Palmolive is fourth, with its acclaimed Hills Science Diet cat and dog products.
The bottom line is that pet care and products is a massive and expanding market that is garnering the attention of PE firms, and investors should not only enjoy their dogs or cats but also the companies behind their care.
---
As I've just explained, the pet care industry is soaring with several bargain investment bets now. But, if you're looking for other growth opportunities, we've found a genius trader who turned $50,000 into $5 million by using his proprietary trading method. For a limited time, he's guaranteeing you $67,548 per year in profitable trades if you follow his simple step-by-step process. Click here now for details.
This article is commentary by an independent contributor. At the time of publication, the author held no positions in the stocks mentioned.