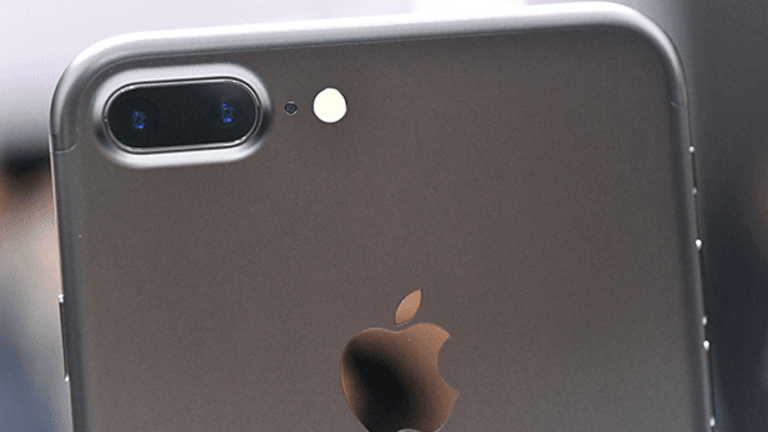 Publish date:
Why the iPhone 8 Stands a Good Chance of Silencing Apple's Critics
The tech giant is well-positioned to offer powerful augmented reality features in its tenth anniversary iPhone that's expected to be announced later this year.
The tech giant is well-positioned to offer powerful augmented reality features in its tenth anniversary iPhone that's expected to be announced later this year.
Editors' pick: Originally published Feb. 13.
Apple's (AAPL) - Get Reportnext iPhone may finally silence the critics and lap its competitors. 
The iPhone 7 wasn't the upgrade that many investors were looking for, but the next model, rumored to be named the iPhone X or iPhone 8, is expected to pack several new features in honor of the flagship smartphone's 10th anniversary. 
Analysts have gotten more and more excited about the possibility of Apple integrating augmented reality (AR) technology into the iPhone 8. AR meshes computer-generated graphics, sounds and data with a user's real-world environment, such as Nintendo's  (NTDOY) popular Pokemon Go app, as opposed to virtual reality, which generates an immersive, completely simulated reality experience. 
Shares of Apple were advancing 0.9% to $133.43 on Monday afternoon, inching closer toward its intraday trading high of $134.54, which the stock hit in April 2015. Apple's stock is up 15% since the beginning of the year.
There are several signs that show an AR function may actually come to fruition. Recent comments from CEO Tim Cook are the most obvious indicator. 
Cook toldThe Independent on Friday that he's excited about AR technology and that he believes it can enhance the way we communicate with others, unlike virtual reality technology, which tends to cut off real, face-to-face interactions. The comments provided a rare, relatively candid glimpse into Cook's view on a type of technology that he said could one day be as disruptive as the smartphone. 
"The smartphone is for everyone, we don't have to think the iPhone is about a certain demographic, or country or vertical market: it's for everyone," Cook said in the interview. "I think AR is that big, it's huge." 
Apple is a holding in Jim Cramer'sAction Alerts PLUS Charitable Trust Portfolio. Want to be alerted before Cramer buys or sells AAPL? Learn more now.
Cook added that for AR technology to become universally adopted, it must be proven to have relevance in users' everyday lives. 
That's part of the reason why Apple will likely pull ahead in the race to make AR consumer-friendly, said Loup Ventures analyst Gene Munster, formerly a tech analyst at Piper Jaffray. 
Alphabet's  (GOOGL) - Get ReportGoogle unit actually beat Apple to the punch when it released Tango, an Android-compatible AR platform, in 2014. The platform was made available to third-party developers and has been incorporated into Lenovo's Phab 2 Pro smartphone, which was released last November.
The Phab 2 Pro was regarded as the first smartphone to include 3D sensing technology, which allows the phone's camera to scan and detect physical objects in a user's environment, but so far Tango has seen slow adoption from consumers and has faced some scale issues, Munster said.  
"Even if these other players want to have the same [AR] component, they're not going to get the units even close to what Apple can produce to get the price down low enough," Munster explained. "If Asus is going to build a comparable piece of hardware, it would probably be priced around $1,000 or more, while Apple would be able to sell theirs around $800."
Apple is usually late to the game when it comes to developing technologies, Munster noted, as evidenced by the release of the original iPod. Both Sony (SNE) - Get Report and Intel (INTC) - Get Report  had introduced portable media players before the Cupertino, CA-based tech giant did, but the iPod ultimately won because of its consumer-centric approach. 
"I think it's a similar example to how they can make [AR] more useful, but I think it'll be up to developers to do that," Munster said. 
Apple will probably release the hardware and the software capable of running AR technology, but app developers can then take it a step further by creating real-life use cases by incorporating it into applications such as social gaming, maps or photography. The trend will likely accelerate revenue in Apple's fast-growing Services segment, which includes the App Store, iTunes and Apple Pay, Munster wrote in a recent post.
Rosenblatt Securities analyst Jun Zhang said in a recent note that he expects Apple to incorporate 3D sensing technology into the front-facing cameras of the 4.7-inch, 5.1-inch and 5.5-inch iPhone 8 models, and that the features will take off among smartphone makers in the coming years. 
"We expect 3D sensing to become the next innovative feature in smartphones and to grow 100% year-over-year over the next few years," Zhang noted, adding that the AR market will really ramp up in 2020.  
Apple may also end up gaining market share because AR technology will be integrated into their own device (i.e. the iPhone 8), spurring existing users to upgrade from their current iPhone. In recent quarters, Apple has seen fewer customers upgrading to their latest iPhone model. 
"We estimate that Apple's installed base entering the iPhone 8 product cycle will be more than double its installed base entering the iPhone 6 product cycle three years ago...," said Goldman Sachs analyst Simona Jankowski, who raised her price target on Apple to $150 from $133 on Monday. She has a Buy rating on Apple shares. 
Jankowski now expects Apple to sell 230 million and 235 million iPhones in 2017 and 2018, respectively, above her previous estimates for about 227 million and 231 million.
Drexel Hamilton analyst Brian White said in a Monday note that he expects Apple sales to be down 23% month-over-month in January because of the early Chinese New Year, but that revenue will pick up again in 2017 and 2018, boosted higher by the new iPhone 8 model. 
Analysts have identified several companies that could potentially produce AR technology used in the iPhone 8, such as optical laser manufacturer Lumentum Holdings (LITE) - Get Report, optical infrared filter developer Viavi Solutions (VIAV) - Get Report and 3D sensing module manufacturer AMS. 
Lumentum, in particular, noted in its latest earnings call that the company "shipped our first revenue into what we believe could be a high-volume mobile device application." CEO Alan Lowe added that he expects 3D sensing will be a "significant growth opportunity" in the next few years. 
Representatives from Lumentum declined to comment on whether the company is working with Apple.
Other optical laser manufacturers including II-VI (IIVI) and Finisar (FNSR) - Get Report are developing similar technologies that could be tapped for use in smartphones, Jankowski said.