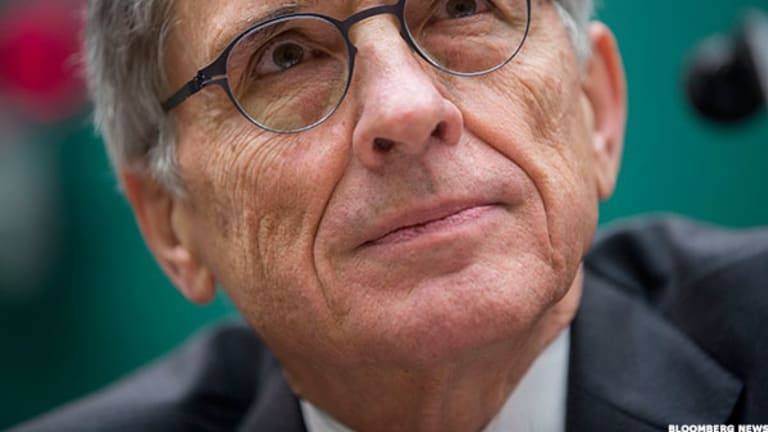 Why the FCC Chairman's Decision to Step Down Should Be Music to the Ears of AT&T, Comcast and Verizon
With Tom Wheeler set to resign, net neutrality might soon disappear. But ISPs may respond via behind-the-scenes deals with firms like Netflix and Alphabet, rather than moves that anger consumers.
AT&T (T) - Get Report, Comcast (CMCSA) - Get Reportand Verizon (VZ) - Get Report execs might be lighting victory cigars in response to news that FCC chairman Tom Wheeler plans to step down on January 20, the day Donald Trump is set to be inaugurated. Online video giants such as Netflix (NFLX) - Get Reportand Alphabet/Google's  (GOOGL) - Get Report YouTube are doubtlessly less thrilled, but they probably don't need to panic until we learn more about how just how much ISPs and/or regulators are willing to risk a consumer backlash.
On Thursday, Wheeler, appointed by outgoing President Barack Obama in 2013, ended months of speculation about whether he would serve out his current term (it ends in 2018) by announcing that he'll resign on inauguration day. His departure will leave Republicans holding a 2-1 FCC majority, given the pending departure of fellow Democrat Jessica Rosenworcel.
With Trump having voiced his opposition to net neutrality, it's widely expected that a Republican-controlled FCC will undo the sweeping neutrality rules that Wheeler's commission unveiled in early 2015. These rules prevent ISPs from blocking lawful content or non-harmful devices, "throttling" the speed at which specific apps or services function and creating "fast lanes" that allow ISPs to charge content providers extra for giving their content preferred treatment.
An FCC leadership change should also pave the way for ISPs to engage in "zero-rating," which allows services provided by an ISP to be exempt from data caps. Last month, the FCC said AT&T may be violating net neutrality by zero-rating DirecTV's video streams on its mobile network, but hasn't made a ruling yet.
Alphabet is a holding in Jim Cramer's Action Alerts PLUS Charitable Trust Portfolio. Want to be alerted before Cramer buys or sells GOOGL? Learn more now.
The shakeup will also likely end the FCC's attempts to open up the pay-TV set-top market, though it's worth noting that the commission had already backed off an initial plan to create open hardware platforms in favor of requiring pay-TV providers (not exactly a group known for its software chops) to develop apps that would run on third-party streaming devices. And it could result in the reversal of a recent FCC ruling requiring ISPs to get explicit permission from consumers to use their browsing, app usage and location data for things such as ad targeting.
All of this has to be music to the ears of cable companies and telcos. AT&T appears to view zero-rated content as a key synergy for both the DirecTV acquisition and its pending deal to buy Time Warner (TWX) . It has also talked up the potential to use its customer data to run targeted ads against Time Warner content.
Verizon, likewise, has sought to zero-rate its own video content. And the telco has wanted to pair its customer data with AOL and -- assuming the acquisition still happens -- Yahoo's (YHOO) content and ad tech assets to create a digital ad giant. Comcast is also exploring ways to show its customers more relevant ads.
On such matters, it's a safe bet a post-Wheeler FCC will let cable and telecom giants have their way. But how about when it comes to their treatment of popular online video services? On one hand, there's little doubt that ISPs would love to collect revenue from the likes of Netflix and Amazon (AMZN) - Get Report for the bandwidth consumed by their services.
On the other, even with the state of broadband competition being as weak as it is in much of the country, ISPs don't want their customers to be in up in arms because their favorite services aren't available or only watchable via low-quality streams.
That will probably make them hesitant to throttle (never mind block) a service like Netflix even if they're legally allowed to do so. Such a move could make the massive complaints pay-TV providers get when a popular TV network is taken off the air due to an affiliate fee dispute pale by comparison.
Moreover, politicians would inevitably take notice of the backlash, and the fact that companies like Netflix, Amazon and Google are far more popular with consumers than cable and telecom giants wouldn't bode well for the latter group in any PR war.
But while throttling or blocking would spark a large backlash, fast lanes might not. If AT&T or Verizon promised to give priority to Netflix or YouTube's traffic -- while treating non-prioritized traffic equally -- in return for a fee, the companies might bite the bullet, given how obsessed they are with optimizing the user experience. Likewise, video providers could be convinced to pay to sidestep mobile data caps.
Such agreements would anger neutrality supporters, but might be met with a shrug by the general public. As long as consumers are still getting the same content they get before -- or better yet, getting what looks like cheaper access to it on mobile -- the odds of a giant uproar are low.
But behind the scenes, ISPs and mobile carriers would have an opportunity to create large new revenue streams via deals with streaming giants. Whether such deals amount to "paid priority" or an indirect tax on streaming would be very much a matter of perspective.