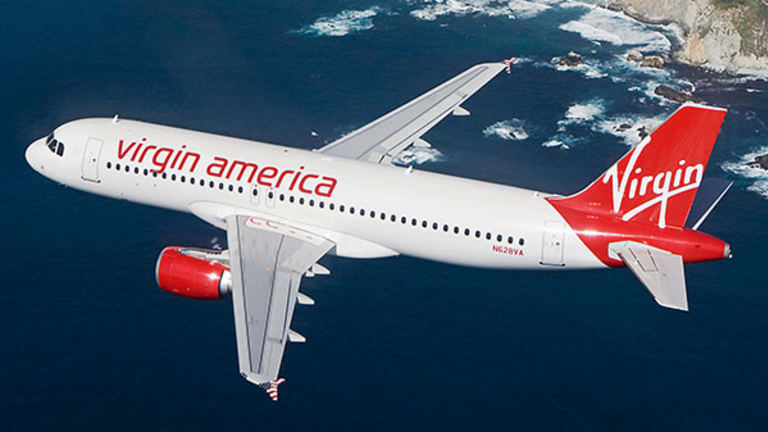 Why the American Merger Deal Could Make Virgin America a Big Winner
Virgin America wants to use gates at Dallas Love Field to serve LaGuardia and National, maximizing the value of divestitures in the merger between American and US Airways.
DALLAS (TheStreet) -- Six-year-old Virgin America saw a big opportunity when the Justice Department required divestitures from American (AAL) - Get Report and US Airways in return for allowing them to merge.
Virgin America already has won the right to operate six daily round trips at New York's LaGuardia Airport and four at Washington Reagan National, using slots that American and US Airways were required to divest.
On Wednesday, the San Francisco-based carrier said it will seek two gates at Dallas Love Field that American was required to divest. Delta (DAL) - Get Report and Southwest (LUV) - Get Report are also seeking the two Love Field gates. Southwest already occupies 16 of the 20 Love Field gates.
Read: Why Your Dad Is Mourning Radio Shack
Virgin America said that if it is awarded the gates, it would begin new service from Dallas to LaGuardia and National. Arguably, that represents a convincing case to the Justice Department that consumers would derive maximum benefit from the merger.
In particular, Love Field-National service by a new low-fare entrant would provide an alternative to American service on what became hub-to-hub flying in the merger, when Dallas Fort Worth International Airport and Washington National became hubs for the same airline. Hub-to-hub flying is typically an area where ticket prices are high.
Like LaGuardia and National, Love Field is a desirable and constricted close-in airport. It is just six miles from downtown Dallas. In October, flight restrictions imposed in 1979 will be lifted. Southwest has already said it would add flights to LaGuardia and National. Delta has said it will add LaGuardia and LAX if it gets the two gates.
Read:  Overstock CEO Expects Bitcoin Derivatives
Some observers questioned whether the Justice Department got all it could when it challenged the American/US Airways merger in August. The settlement was announced in November, two weeks before the parties were scheduled to go to trial.
Launched in 2007, Virgin America has built a niche as a hip, technologically advanced West Coast carrier. After moving last year to slow growth, it has started to show profits: In the third quarter, it produced net income of $37.5 million and an operating margin of 11.5%. It is said to be preparing for a public offering.
Virgin said Wednesday that if it wins the gates it would serve Chicago, Los Angeles and San Francisco as well as LaGuardia and National. It already serves Los Angeles and San Francisco from Dallas Fort Worth International Airport, but that service would end in October and Virgin would limit its Dallas operations to Love Field.
In a press release that seemed to summarize the case it will make to the Justice Department, Virgin America said it "would be the only carrier at Love Field to offer guests three classes of service, Wi-Fi, in-seat power outlets and touch-screen seatback entertainment (including live TV) on every flight." It said it "operates a new fleet of Airbus A320-Family aircraft, which are significantly quieter than the commercial aircraft currently in use at Love Field."
Also, Virgin said it "would provide vigorous competition in a market where at present one carrier controls 80% of the gates."
Read: What Do Cracker Barrel and Maxim Have in Common?
As part of the press release, Virgin CEO David Cush declared: "As the last major airline launched in the U.S., we've seen firsthand what happens when new entrant airlines have a chance to come into markets where a few big airlines dominate -- service improves and fares drop.
"The opening of access to these slot-constrained and gate-constrained airports is an infrequent occurrence at best, and we hope to have the opportunity to expand our network and continue doing what we do best: deliver the best product in the domestic skies, and inject sorely needed fare competition in business markets where it is currently lacking," Cush said.
When Virgin America entered the San Francisco-Chicago market in 2011 and the San Francisco-Dallas market in 2010, fares dropped in each market at the time by more than 30%, the carrier said. After Virgin America entered Newark Liberty International Airport in April 2013, fares to San Francisco and Los Angeles dropped by more than a third, the carrier said. Newark, San Francisco and Los Angeles are all United (UAL) - Get Report hubs.
Written by Ted Reed in Charlotte, N.C.
To contact this writer, click here.