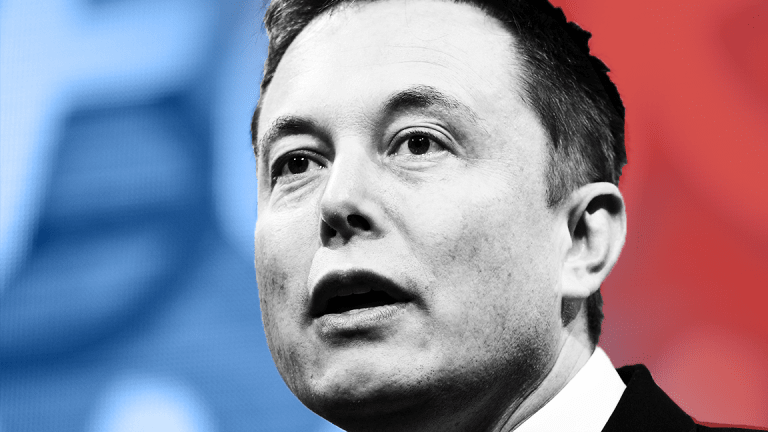 3 Potential Reasons Tesla's Stock Is Rallying in December
After underperforming for much of this fall, Tesla's stock has begun moving higher. Both Model 3 and Semi truck news could be playing roles.
After underperforming for much of this fall, Tesla's stock has begun moving higher. Both Model 3 and Semi truck news could be playing roles.
Tesla Inc. (TSLA) - Get Report shares have done a bit of a U-turn recently. 
After dropping over 20% from mid-September to early November and going sideways for about a month afterwards, Tesla has risen over 10% since Dec. 5. Over the same time, Nasdaq has risen a little over 1%.
What's driving the rebound? A few factors seem to be at work.
1. Model 3 production might be improving.
Tesla is five weeks removed from pushing out a goal of producing 5,000 units of its Model 3 sedan per week from the end of Q4 to "late Q1," as well as failing to reiterate a target of hitting a 10,000-unit weekly production rate by late 2018. At the time, Elon Musk blamed battery module assembly issues that in turn he partly blamed on a subcontractor.
It's still far from clear whether Tesla, which delivered just 220 Model 3 units in the third quarter, will reach its Q1 production target. But observers have recently spotted large Model 3 batches at Tesla's Los Angeles and Fremont, Calif. delivery centers, raising hopes that output is growing.
Also: Higher VINs (vehicle registration numbers) have been reported for Model 3 units seen at delivery centers, with one visitor reporting a VIN number of 2556. A scatterplot of reported VIN numbers indicates none above 1,200 were seen prior to December. Though Tesla cautions VINs aren't issued by the NHTSA in the order that a car rolls off a production line, the spotting of a number more than twice as high as any seen before December is an encouraging sign.
Tesla still has a very long ways to go before it can fill a Model 3 net reservation backlog that stood at 455,000 as of late July, and has continued to grow since. But since Model 3 production worries were the biggest reason Tesla's shares were pressured for much of this fall, any positive news on this front will naturally be well-received.
2. Tesla's Semi truck is being well-received.
Tesla shared some impressive range and performance figures for its Semi truck at its Nov. 17 event, and a week later disclosed pricing -- $150,000 for a 300-mile version and $180,000 for a 500-mile version -- that was reasonably competitive with diesel trucks given the Semi's fuel/maintenance savings and Autopilot system.
And over the last week or so, three more noteworthy orders have been disclosed for the Semi: PepsiCo (PEP) - Get Report is buying 100 of them, Anheuser Busch (BUD) - Get Report  is buying 40 and food wholesaler Sysco (SYY) - Get Report  is buying 50. These follow orders from Walmart (WMT) - Get Report  (15 trucks), transportation firm J.B. Hunt (JBHT) - Get Report (40) and grocery chain Meijer (4) that were disclosed around the time of the Nov. 17 event.
It's worth noting the orders aren't that large in the context of how many trucks the aforementioned firms use overall. For example, Pepsi has a 10,000-truck fleet and Sysco a 7,500-truck fleet. But that's to be expected given that these firms have never deployed electric trucks before. The initial orders do suggest there's a fair amount of industry enthusiasm for at least trying the Tesla Semi out, with an eye towards making larger orders if the truck lives up to Tesla's promises (or at least comes close).
3. Hopes for strong year-end Model S and X sales.
In early October, Tesla reported better-than-expected Q3 deliveries for its Model S sedan and Model X crossover, and effectively hiked its second-half guidance for the cars. Whereas the company previously only forecast that second-half Model S/X deliveries would be above a first-half level of 47,000, it now expects 100,000 full-year deliveries, implying  53,000 second-half deliveries. And in its Nov. 2 shareholder letter, Tesla disclosed that it saw record combined net orders for the Model S and X in North America, Europe and Asia in the third quarter.
Since then, there haven't been any major signs pointing to weak Model S or X demand. And a couple of factors could drive a flurry of year-end purchases. Specifically, Tesla is set to end a referral program offer through which new Model S and X buyers are promised free unlimited access to its Supercharger network, and the House is mulling a tax bill that could feature the removal of a $7,500 electric car tax credit at year's end. It's still hardly a given that the credit will be ended, but worries that it might happen could spur consumers that are on the fence about placing an order to act.
For now, analysts polled by FactSet only expect Model S and X deliveries to be flat in the fourth quarter relative to a third-quarter level of 26,000. Some investors might be betting on a stronger number when Tesla announces its quarterly deliveries in early January.
PepsiCois a holding in Jim Cramer'sAction Alerts PLUS Charitable Trust Portfolio. Want to be alerted before Cramer buys or sells PEP? Learn more now.
More of What's Trending on TheStreet: