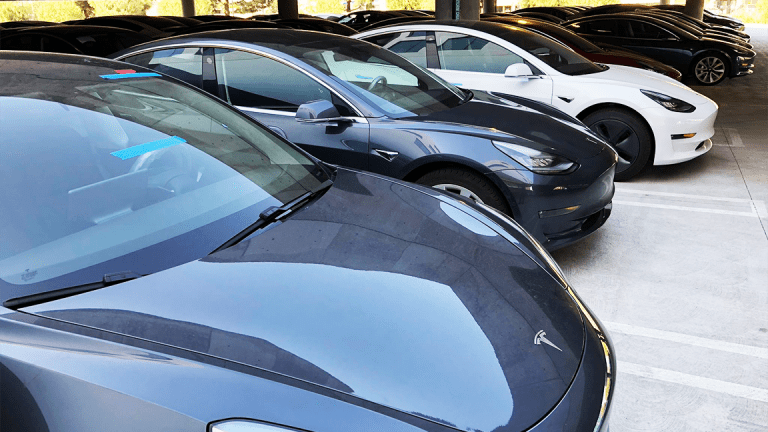 Tesla Is Rallying as Reviewers and Store Visitors Get Their Hands on the Model 3
In-depth reviews of Tesla's mass-market sedan praise its performance, handling and lack of noise, while in-store reactions have been similarly enthusiastic.
After dipping slightly in early January due to disappointing Model 3 delivery figures and commentary, Tesla (TSLA) - Get Tesla Inc Reportshares have risen about 11% since the Jan. 4 close, easily outpacing the Nasdaq's 3% gain over that time.
The rally seems to have much to do with the fact that more reviewers have finally been able to take the Model 3 for a spin, and that some consumers have finally been able to step inside of one at a Tesla showroom. Both groups seem to like what they see.
While a few columns describing initial Model 3 impressions came out shortly after the sedan's July 28 launch event -- Motor Trend had one, for example -- a slew of additional reviews have arrived this month. Road & Track, Autoweek and USA Today are among the publications with new reviews. And while the car's uber-minimalist interior -- everything that one would normally see via an instrument cluster is shown on the Model 3's 15-inch touchscreen -- yielded mixed reactions, the reviews were quite positive, if not glowing, in most other respects.
"The Model 3 feels like it hails from a decade in the future," wrote Road & Track's Bob Sorokanich after a full day of testing the extended-range version of the sedan on back roads and highways. "Road and tire noise seeped into our Model S, while the Model 3 whooshed along in dampened silence; the studious minimalism of the 3's interior made the S's dash and door panels seem overadorned."
Sorokanich was also a big fan of the Model 3's driving experience. "Out on the road, the Model 3 feels special...Steering, acceleration and chassis are nearly perfectly balanced, no one trait overpowering the others. Outward vision is expansive, the low dash, tall windshield, and minimized A-pillars making it easy to place the car in corners."
Autoweek's Mark Vaughn was also impressed by how quiet the Model 3 was, and spoke highly of other features, such as its cargo space and in-dash ventilation system (the vents can be controlled through the touchscreen). And USA Today's Marco della Cava praised the car's "regenerative" braking system, writing that "in most instances, simply lifting off the throttle results in the Model 3 immediately slowing down, often to the point where you never need to step on the brake pedal." He also appreciated its steering system, which he said "offers the sort of feel normally reserved for cars closer to Model S prices."
One other detail praised by some reviewers: The Model 3 appears to be faster than Tesla -- perhaps worried about the car cannibalizing Model S sales -- claimed it would be. Whereas Tesla gave a 5.6-second 0-60 mph time for the $35,000 base model, and a 5.1-second time for the $44,000 extended-range model, DragTimes and Road & Track  recorded 4.6 and 4.9-second times, respectively, for the extended-range model.
Meanwhile, consumers in L.A. and the Bay Area have finally been able to check out the car at local showrooms. Videos of Model 3 cars being mobbed at Tesla stores in Century City and Palo Alto, CA aren't hard to find.
All of this consumer and media buzz seems to be putting to rest worries that Tesla's ongoing Model 3 production challenges will lead to major order cancellations. It might also be fueling hopes that Tesla's Model 3 net reservation backlog, which stood at 455,000 as of late July and was said by Elon Musk to be even higher as of early November, will rise further still.
On Jan. 3, Tesla, though reporting better-than-expected Model S and X deliveries, said it delivered only 1,550 Model 3 units in Q4, well below a consensus of 4,100. The company also pushed back its timetable for reaching a Model 3 production rate of 5,000 units per week for a second time. Specifically, after having said in November it would reach this milestone by "late Q1," Tesla now says it will "likely" end Q1 producing 2,500 units per week, and is aiming to get to 5,000 by the end of Q2.
As it is, the fact that the cost of a Model 3 reservation ($1,000) is equal to less than 3% of the base model's price served as an incentive for reservation-holders to avoid cancelling, even if a holder's place in line means his or her order is unlikely to be fulfilled before 2019. And so did the fact (as noted by some analysts) that no other automaker has an electric car ready for mass-production that can match what the Model 3 delivers for (depending on the selected options) $35,000 to $50,000.
In areas such as looks, performance, handling and (should the $5,000 Enhanced Autopilot option be purchased) semi-autonomous driving features, there's a night-and-day difference between the Model 3 and rivals such as the Nissan (NSANY) Leaf and GM's (GM) - Get General Motors Company (GM) Report Chevy Bolt. The latest reviews make this crystal clear.
Now if only Tesla could start making the car in larger volumes.
More of What's Trending on TheStreet: