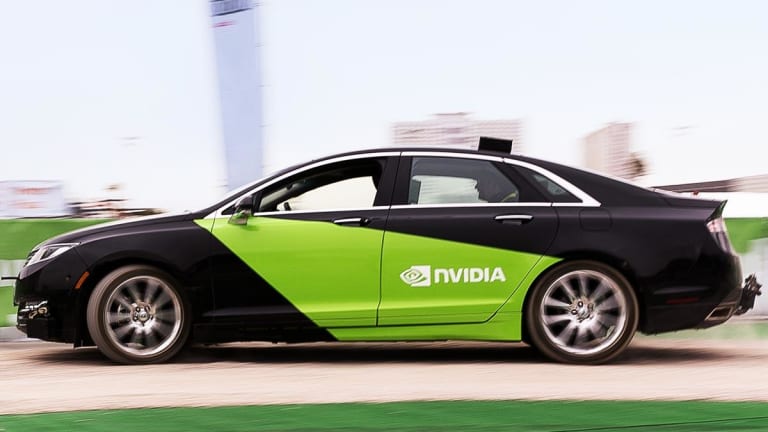 Why Tesla's Robotaxi Plan Could Be a Huge Win for Nvidia
Nvidia could be a big winner in the autonomous driving movement, particularly if Tesla's robotaxi ambitions force the auto industry to play catchup.
Earlier this week, Tesla (TSLA) - Get Report hosted its Autonomy Investor Day. CEO Elon Musk took the stage with the automaker's top autonomous driving team members to show its investors and the world how far the automaker has come. 
During the lengthy presentation -- which came just two days before Tesla's earnings miss -- management showed off the new chip it has been working on for three years. Tesla also said it's building current cars with the necessary hardware for full self-driving capabilities and believes those capabilities will be rolled out by the end of 2019 once the software improves.
Bit perhaps the most notable commentary came around Tesla's plans for its robotaxi network. Essentially, Musk predicts that Tesla will have a robotaxi network operational in 2020, pending regulatory approval.
What does all this mean for the autonomous driving industry and how exactly is Nvidia (NVDA) - Get Report  a winner as a result?
First, Tesla's ambitions are aggressive, to say the least. To go from semi-autonomous to fully autonomous by year's end is unrealistic to most observers in the autonomous driving industry. Beyond that though, rolling out a ride-sharing robotaxi platform -- assuming Tesla's full self-driving (FSD) function is in fact operation and regulators are on board -- will be no easy feat.
Nvidia is a holding in Jim Cramer's Action Alerts PLUS member club. Want to be alerted before Jim Cramer buys or sells NVDA? Learn more now.
During the Autonomy Investor Day presentation, Tesla showed off its new FSD computer that boasts 144 trillion operations per second (TOPS). While complimenting Nvidia's powerful chips, Tesla also noted that the chipmaker's DRIVE Xavier computer is only capable of 21 TOPs.
Nvidia took the high road, but let the world know some facts. "Tesla erroneously stated that it delivers 21 TOPS," Rob Csongor, vice president of investor relations, wrote the day after Tesla's event. In fact, Xavier can deliver 30 TOPS, but that's really besides the point, because Xavier is not intended for fully automated driving processes. Instead, the DRIVE AGX Pegasus computer is, and it can churn out 320 TOPS when two are paired together.
But Nvidia isn't about to get into a nitpicking quarrel with Tesla on who has the most TOPS. Instead, Csongor pointed out what really matters:
"Tesla, however, has the most important issue fully right: Self-driving cars -- which are key to new levels of safety, efficiency, and convenience -- are the future of the industry...Indeed Tesla sees this approach as so important to the industry's future that it's building its future around it. This is the way forward. Every other automaker will need to deliver this level of performance.

There are only two places where you can get that AI computing horsepower: Nvidia and Tesla. And only one of these is an open platform that's available for the industry to build on."
Tesla's FSD computer is an impressive piece of hardware, but it's all dependent on the company making serious progress on fully autonomous driving between now and the end of the year. That's going to force nearly every other automaker into the same race. Because Tesla won't be selling the chips it's using to get ahead of its competition to its competitors -- and rightfully so -- that leaves Nvidia as the one to scoop up the sales. 
So is Nvidia the big winner from Tesla's ambitious robotaxi plans, as it potentially pushes more sales into its automotive segment? One could certainly see that as the takeaway. The fact that it has its Pegasus and now Constellation available to customers should mean big things for the industry and Nvidia's automotive unit, but only time will tell. 
This article is commentary by an independent contributor. At the time of publication, the author had no positions in the stocks mentioned.