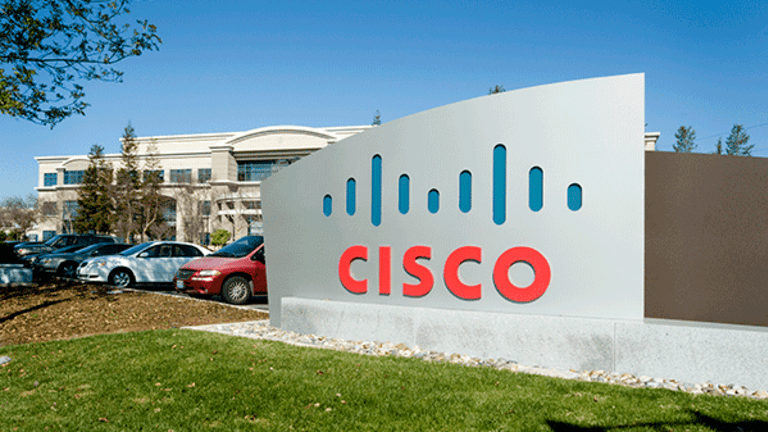 Why Telecom Equipment Giants Are Struggling, but Their Suppliers Are Thriving
An optical component boom reveals the changing nature of telecom and IT spending.
Optical component makers are enjoying the best business conditions they've arguably seen since the halcyon days of the dot-com bubble. But the same clearly can't be said for many of the companies that have traditionally been their biggest clients.
The split has a lot to do with how much the nature of service provider capital spending has been changing. And there could be some implications for other areas as well.
Optical component supplier Oclaro (OCLR) - Get Free Reportrose over 16% on Thursday after hiking its December quarter guidance. The company now expects revenue of $153.5 million to $154 million (up 63% annually at the midpoint) and adjusted operating income of $36 million. Prior guidance was for revenue of $146 million to $154 million and adjusted operating income of $22 million to $26 million.
Much like prior upbeat sales announcements from Oclaro and various peers, the company said strong demand for 100-gigabit (100G) components is fueling its growth. Shares of fellow component makers Finisar (FNSR) - Get Free Report, Fabrinet (FN) - Get Free Report(a contract manufacturer that counts Oclaro as a major client), Lumentum (LITE) - Get Free Report and Acacia Communications (ACIA) - Get Free Report have also rallied following the pre-announcement. Applied Optoelectronics (AAOI) - Get Free Report, which blasted off last week following a guidance hike, is down moderately.
All of the continued good news from component makers contrasts greatly with the sales and guidance that has been provided by the major U.S. and European telecom equipment that collectively account for a large portion of global optical component purchases. Cisco Systems (CSCO) - Get Free Report, for example, issued soft guidance in November that as mostly the result of a 12% annual drop in service provider product orders. On its earnings call, the company mentioned it saw some carriers" "just fundamentally freeze capex."
Cisco is a holding in Jim Cramer's Action Alerts PLUS Charitable Trust Portfolio. Want to be alerted before Cramer buys or sells CSCO? Learn more now.
Cisco is far from alone in facing such challenges. Top mobile infrastructure provider Ericsson (ERIC) - Get Free Report reported a 19% Q3 equipment revenue drop, and reported seeing soft mobile capex in North America, Europe and certain emerging markets. Rival Nokia (NOK) - Get Free Report reported a 12% sales drop for its core Networks (telecom equipment) division. Optical networking hardware maker Infinera (INFN) - Get Free Report has also been having a rough time; rival Ciena (CIEN) - Get Free Report has been doing a little better, but with the company's sales forecast to grow 8% in fiscal 2017, its growth rates are still far below those of many component makers.
What accounts for the divergence? The giant data center build-outs being done by large web/cloud service providers, along with their appetite for faster connections within their data centers, has a lot to do with it. Cloud giants, who appear to have picked up their spending pace in recent months after a slow start to 2016, have been aggressively deploying 100G links to shuffle traffic to and from their servers, as well as to move traffic between data centers. While some of these 100G components go into switches from suppliers such as Cisco and Arista Networks (ANET) - Get Free Report, some also go into internally-developed hardware produced by contract manufacturers (ODMs), such as Facebook's Wedge 100 switch.
China has also been a key growth driver. Carriers have been investing in 100G connections to aggregate traffic from their massive broadband and mobile networks, and major cloud data centers such as Alibaba and Baidu have also reportedly been embracing 100G. But only a fraction of this spending has gone to Western equipment suppliers; much of it has involved local firms such as Huawei and ZTE. And as in the U.S., ODMs have grabbed some of the cloud spending.
This dynamic, where the sales of component suppliers easily outperform those of many traditional clients, is also something we're seeing in areas other than optical, as cloud providers and China claim a greater portion of total IT spending. Intel (INTC) - Get Free Report, for example, has seen its server CPU division sales outperform the server sales of big clients such as IBM, Dell and HP Enterprise, thanks partly to strong cloud demand.
Likewise, server connectivity hardware provider Mellanox (MLNX) - Get Free Report has benefited from cloud orders for its high-speed adapters and switches. Nvidia (NVDA) - Get Free Report has gotten a boost from cloud providers using its server GPUs to run deep learning workloads. And while hard drive giants Seagate (STX) - Get Free Reportand Western Digital (WDC) - Get Free Reportare pressured by solid-state drive adoption and soft demand for traditional enterprise storage systems, orders from cloud providers for high-capacity drives has buffered them to an extent.
The divergence between publicly-traded equipment and component suppliers is likely to remain stark in many cases, even as the former group scrambles to grow its cloud exposure. Investors can't always assume anymore that the numbers posted by companies belonging to one of these groups will have major implications for firms belonging to the other.