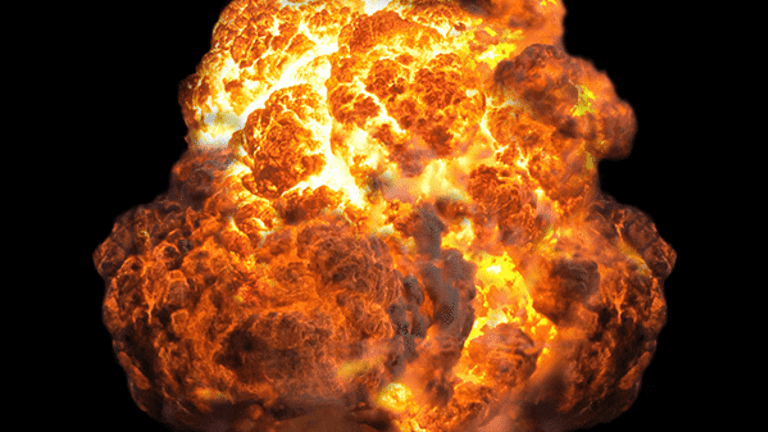 Why Telecom and Media Deals Could Soon Explode
AT&T, Comcast, Dish, Verizon, Softbank and others will soon have more freedom to pursue targets.
As a complex government auction for wireless spectrum licenses draws to a close, a diverse group of TV station owners, pay-TV companies such as Comcast (CMCSA) - Get Free Report and Dish Network (DISH) - Get Free Report and wireless carriers AT&T (T) - Get Free Report , T-Mobile USA (TMUS) - Get Free Report and Verizon (VZ) - Get Free Report will soon be able to start talking M&A.
Rules meant to prevent companies participating in the auction from colluding on their bids block strategic discussions between the parties. Because the current auction is the first to allow TV stations to sell their broadcast spectrum to wireless carriers and other bidders, the group of companies under the gag order is broader than usual.
The auction entered its final phase in January, and Macquarie Bank analyst Amy Yong suggests that the anti-collusion period could end in early March. Combined with a new administration with a potentially more lenient view toward consolidation, the lifting of the restrictions could spark deal talks.
T-Mobile USA, which declined to comment, could attract interest from multiple parties.
At the top of list would likely be Sprint (S) - Get Free Report, which has backing from Softbank (SFTBY) and has pursued the company previously.
"Softbank is probably in the driver's seat here on the Sprint-T-Mobile combination," Yong said.
Softbank invested $21.6 billion in Sprint with the intent of combining the telecom with T-Mobile USA. The Obama administration pushed back against the deal, however, and Sprint dropped its pursuit.
Comcast is a holding in Jim Cramer'sAction Alerts PLUS Charitable Trust Portfolio. Want to be alerted before Cramer buys or sells CMCSA? Learn more now.
Following Donald Trump's presidential victory, Softbank chairman and CEO (and Sprint chairman) Masayoshi Son got to work. The Sprint boss met with the President-elect in December and pledged to invest $50 billion in the U.S. and create 50,000 jobs. Sprint declined to say whether it would renew talks with T-Mobile USA. If it does, however, Son has a relationship with Trump.
Even though Comcast and Charter already have deals to resell the wireless service of Verizon's mobile network, the cable companies could bid for T-Mobile USA. Comcast and declined to comment, and Charter did not respond to a query.
Charter backer John Malone suggested at a Lions Gate (LGF) investor presentation in January that "maybe the three major cable companies get together and buy T-Mobile."
"It really is going to depend on how much they feel that they need to own a wireless network and how motivated they are to step ahead of Softbank [in pursuit of T-Mobile USA]," Yong said of the cable companies.
Macquarie surveyed investors about what Comcast's bidding in the spectrum auction could indicate about its broader strategy. If Comcast spends less than $5 billion, respondents said, it could be saving resources to bid for a carrier.
The venture with Verizon gives Comcast a low-risk presence in the wireless business. However, the company could think it needs a stronger presence.
"The question is, does technology force them to address mobile -- are things converging that quickly?" Yong asked.
For its part, Verizon could strike a spectrum deal with Dish. The satellite network has acquired wireless licenses, though it does not yet provide a service. Dish could sell its licenses or fold them into a partnership, or even pursue T-Mobile USA. Verizon and Dish declined to comment.
TV station owners have also been locked out of talks, and could combine. Some operators may have more cash from selling spectrum licenses.
"I do think we are going to see heightened M&A activity," Michael Kupinski of Noble Capital Markets said regarding the station owners.
Entravision Communications (EVC) - Get Free Report and E.W. Scripps (SSP) - Get Free Report are among likely buyers, Kupinski suggested. Entravision could get cash from the auction to bid on stations, he said, and Scripps has a strong balance sheet. Entravision and Scripps declined to comment.
Like telecoms, TV station owners are waiting to see how the Trump administration views consolidation. Once the incentive auction ends, they'll likely find out.