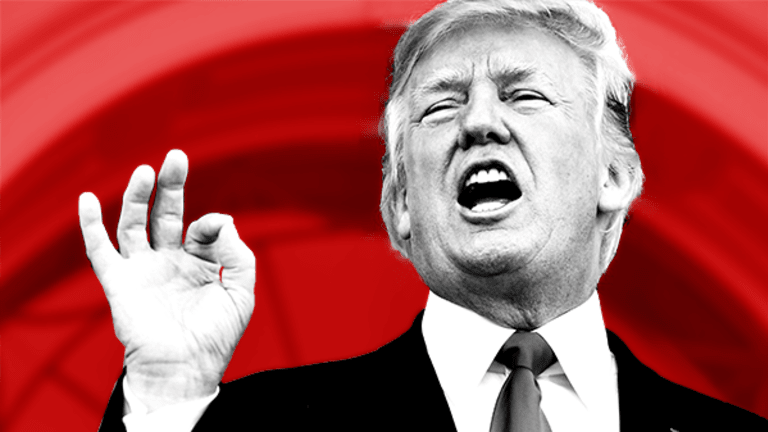 This Is Why Tech Stocks Are Heading Into the Weekend With a Nasty Hangover
Infosys, CenturyLink, Cisco and other tech names were struggling Friday alongside troubling news from Washington and terror attacks in Spain.
Tech stocks were limping into the weekend on Friday morning, as White House turmoil and terror attacks in Spain coincided with woes from companies such as Infosys Ltd. (INFY) , CenturyLink Inc. (CTL) , NetApp Inc. (NTAP) , Automatic Data Processing Inc. (ADP) and Cisco Systems Inc. (CSCO) .
The sector is recovering from Thursday's brutal trading. The Nasdaq composite index, Dow Jones industrial average and S&P 500 index dropped 1.9%, 1.2% and 1.5%, respectively.
Infosys shares tumbled 7.9% to $14.68 on Friday morning, as CEO Vishal Sikka unexpectedly resigned amid internal struggles over the company's direction.
Landline telecom and broadband provider CenturyLink continued its decline Friday morning, falling 3.2% to $18.77. The telecom was the biggest loser on the S&P 500 on Thursday, dropping 7.2% on concerns that its merger with Level 3 Communications Inc. (LVLT) could encounter delays. Level 3 shares dropped 1.7% to $52.08 on Friday morning.
NetApp found support at $39.66 on Friday, up 0.3%. The storage company dropped 6.7% on Thursday even though it topped earnings forecasts, as analysts raised concerns about its outlook.
ADP largely stabilized at $104.03 on Friday, down 0.6%, after tumbling 5.78% Thursday as Pershing Square Capital Management LP's Bill Ackman held an investor call to make a case for installing dissident directors on the payroll outsourcer's board.
Cisco continued its decline Friday. The networking giant's stock was off 1.6% Friday to $30.55, after a 4% drop Thursday. The company's fiscal fourth-quarter results met forecasts, but sales continue to decline as a plan to shift emphasis from hardware to software is progressing slowly.
Fiat Chrysler Still Looks Cheap Despite M&A Buzz
Meanwhile, the building controversy over Trump's tepid response to the racist violence in Charlottesville, Va., last weekend has raised questions about whether the administration will be able to move forward on tax cuts or other priorities. Speculation arose that National Economic Council Director Gary Cohn might leave his post also raised concerns, though a White House official denied the reports.
European markets have lagged after terror attacks in Barcelona killed 13 on Thursday evening and police in nearby Cambrils killed five men after a second attack.
Chipmaker Applied Materials Inc. (AMAT) was a bright spot Friday morning, gaining 1.4% to $43.70 after topping earnings expectations after Thursday's close. 
More of What's Trending on TheStreet:
Apple Should Be Terrified by How Much Samsung Is Spending on Its Future