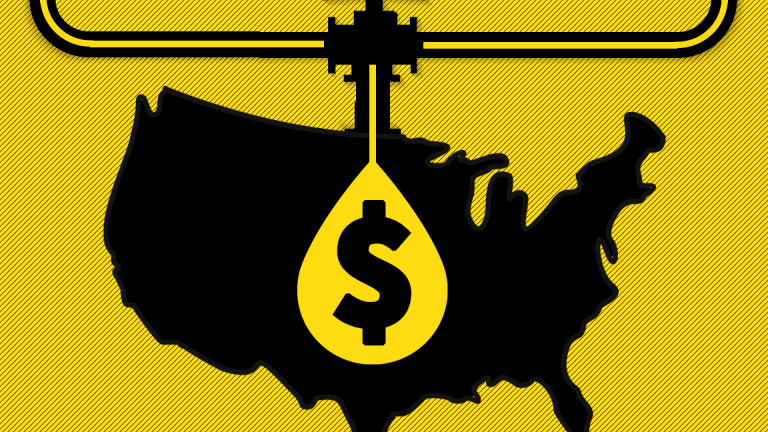 Surging Oil Prices Are Doing Nothing for Stocks in 2018
Oil prices are up big since January and may continue to rise thanks to a June 22 decision from OPEC, but energy stocks are still suffering, which isn't helping the broader market.
Oil prices rose on Wednesday as falling U.S. inventories and supply disruptions in Libya and Canada pushed the commodity higher just as global crude customers were being pressured by President Donald Trump to stop buying oil from Iran. 
West Texas Intermediate crude contracts for August delivery were trading up more than 3% to $72.75 per barrel around 1 p.m. Wednesday, while global benchmark Brent crude futures climbed almost 2% to $77.79.
At 10:30 a.m., the U.S. Energy Information Administration confirmed a significant decline in U.S. crude inventories reported earlier this week by the American Petroleum Institute. The EIA said U.S. oil stockpiles declined by 9.9 million barrels during the week ended June 22 to 416.6 million barrels. The API said Tuesday inventories fell by 9.2 million barrels. 
The stock market has responded well to oil's rally. After tumbling Monday on tariff-sparked trade war concerns, the Dow and S&P 500 both ended Tuesday in the green and continued that momentum early Wednesday with WTI crude surging around 3% both days. 
Still, shares of companies directly linked to the commodity have lagged the surge in crude over the first six months of 2018. 
Since the start of the year, West Texas Intermediate crude oil is up about 15% and global benchmark Brent crude is up almost 13%, but the S&P 500 is down about 0.7% and the Energy Select Sector SPDR Fund (XLE) , which tracks a mixture of oil and gas stocks, is down 0.5%, according to FactSet. 
Many issues are playing into the market's poor performance this year, including Trump's threats of tariffs on imported steel, aluminum and other products from Europe and China, as well as rising interest rates and concerns over inflation. 
But a surge in oil prices that would typically send energy stocks higher and help prop up a struggling market is not having the typical effect. The reason is that a majority of firms operating in the Permian basin, the most active U.S. shale oil play where dozens of publicly traded companies make their business, are not feeling the benefits of higher oil prices. 
Many Permian names are in the red on the year through close of trading June 26, or at best underperforming oil, led by the likes of Halcon Resources Corp. (HK) (down 42%), Cimarex Energy Co. (XEC) (down 19%) and Concho Resources Inc. (CXO) (down 12%).
The weight Permian names can have on the market can be measured by how significant the resource play is on a domestic and global scale. At 3.3 million barrels of oil per day, the Permian Basin produces about 46% of all the oil recovered from the 48 continental United States, according to the EIA. The west Texas play also produces more than twice as much oil as the Gulf of Mexico and the North Sea, which both produced about 1.6 million barrels of oil a day as recently as March.
Permian producers have been in high gear since early 2017 and are now producing more oil than the U.S. midstream is currently capable of bringing to market. A lack of pipeline capacity, coupled with an inability to efficiently ship crude over rail or roadways, means Permian producers can't get the oil they're producing to the Gulf of Mexico region, where it is exported to other countries, in a cost effective or timely manner. 
According to the EIA, moving crude oil from Cushing, Oklahoma, to the U.S. Gulf Coast typically costs $3.50 per barrel, but it has become more expensive as pipeline transportation constraints have developed. 
As a result, the differential between oil priced in Midland, Texas, and Cushing has widened. The spread, at about $8.14 for the month of June, is expected to widen through October to more than $14 per barrel and remain wider than the current gap through June 2019. 
With the differential dilemma manifesting in late March, producers began scrambling to find solutions, including pipeline agreements and basis hedges, which are contracts that lock in higher rates over the short-term in exchange for providing crude at lower rates over a longer horizon. And some have even shifted capital out of the Permian temporarily to slow production. These moves have soured investors' expectations over near-term earnings potential, especially for those companies who continue to grow production. 
Because the faster production grows, the less crude producers have dedicated takeaway capacity for, meaning the risk they are forced to sell it at lower prices out of Midland is higher. 
"In a worst-case scenario, we could potentially see E&P growth plans/guidance reduced if producers are unable to find a reliable outlet for crude via trucks/rail and/or potentially higher [lease operating expenses] costs if they are forced to rely more heavily on those outlets," Stephens Inc. analysts wrote in a recent research note. 
This is why quarter-to-date, Permian-levered names are up just 4%, versus non-Permian names climbing 19% in the same period, according to Seaport Global Securities LLC analysts. 
In the Permian, there are more players that don't have the majority of their production secured with long-term takeaway contracts than there are companies that do, which is why these producers on average are getting beat up, Williams Capital Group LP analyst Gabriele Sorbara said Wednesday. 
It's also largely why a 15% surge in the price of oil has not translated on paper to stronger oil company stocks broadly. And investors are not confident the space will turnaround in the next year, with Seaport fielding questions over whether it was the right time to "hold your nose and buy" the Permian names "despite an undeniably tough 12+ month road ahead."
Investors are kicking the tires on returning to the Permian group, according to Seaport, but want specifics from companies on how they will be affected by the differential issue. 
"Similar to us, we think the majority of E&P investors still think this is a premature move given the high level of operational unknowns looming across the basin as we're yet to actually hit the point of physical pipeline constraints."