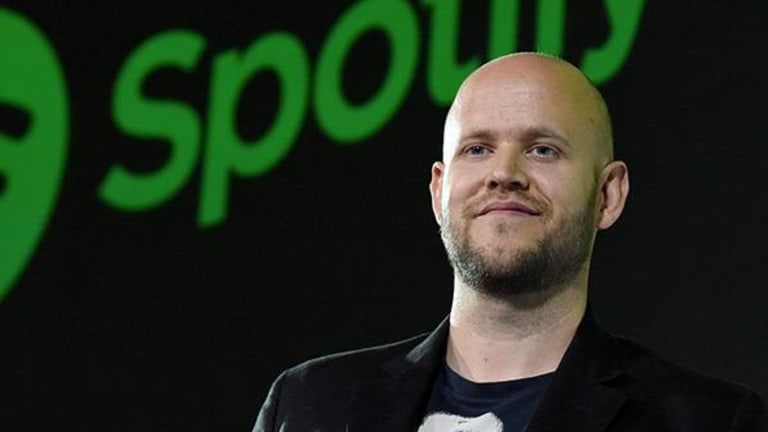 Why Spotify Might Need to Steal a Page From Netflix's Blockbuster Script
Is Spotify due for a remix? The streaming music giant is under pressure to cut licensing deals with the music labels, hold an initial public offering and become profitable.
As Spotify grows older, it will need to decide if needs to follow Netflix (NFLX) - Get Netflix, Inc. Report 's path, or whether it can successfully go its own way. 
In Netflix's early days, CEO Reed Hastings convinced television and film companies to license their libraries and older films. DVDs arrived in red envelopes, and Time Warner (TWX) , CBS (CBS) - Get CBS Corporation Class B Report , Disney (DIS) - Get Walt Disney Company Report and others were more than happy to get cash for content that was otherwise sitting in a vault.
Over time, Netflix became the ultimate film and TV aggregator, and the world's largest subscription-based video service. Hastings also built a user interface that was strikingly un-cable-like. It really worked, and best of all, subscriptions were far cheaper than pay-TV.
So as Netflix grew its global subscriber base to 40 million, then 60 million and mostly recently to 93 million at the end of 2016, it made more of its own content. This year, it expects to spend more than $5 billion on original programming. Nowadays, Netflix subscribers are as likely to use the platform to watch the previous season of Breaking Bad from AMC Networks (AMCX) - Get AMC Networks Inc. Class A Report as they are to see the latest episode of The Crown or Master of None. Whether the rest of the media industry likes it or not, Netflix has become a frenemy to which it must negotiate.
Sweden-based Spotify could be on a similar course.
Despite an industry leading 50 million subscribers paying $9.99 per month, Spotify is unprofitable after 11 years in business. That's because it pays out around 70% of its more than $2 billion in annual revenue to music labels and songwriters. Spotify is currently in talks with Universal Music, a unit of VivendiVIVHY, Sony Music, a unit of SonySNE and Warner Music, controlled by the Ukraine-born businessman Leonard Blavatnik, about lowering that revenue split.
Yet if Spotify can't lower those rates, it may be forced to diversify its revenue stream. That could mean acquiring or building a concert ticket service comparable to Pandora's (P) TicketFly, or acquiring more original video content along the lines of the Drawn & Recorded series of music-focused documentaries it launched in November.
So far, though, Spotify has given no indication that its would actually get directly into the music label business. A Spotify spokesman declined to comment for this story outside of saying the company remains focused on growing its user base. Spotify, which is domiciled in London, lost 173 million euros ($186 million) in 2015. 
"Up until this point, Spotify has been able to grow and turn a blind eye to the underlying economics of the business," Mark Mulligan of MIDiA Research, a media and technology consultancy, said in a phone interview from London. "But if Spotify can't get its rates down, it has to find other ways to drive profitability, and that's where Spotify may need to do a Netflix and start to acquire its own content and behave more like a record label."
Of course, behaving more like a record label would put Spotify into direct competition with the industry it purports to love and respect. Arguably, Spotify's success in reaching 50 million subscribers is owed in part to Ek's willingness to work with the labels. Each of the three largest labels along with EMI and Merlin holds a small equity stake in the company. Universal leads the group with a 5.8% share. But that shouldn't preclude head-to-head competition, Mulligan argues.
"All they're doing at the moment is distributing, and adding a service label to that distribution," he said. "If you look at the overall cost of rights at Spotify compared to Netflix, they're in the same ballpark. But Spotify is losing a lot of money while Netflix generates a profit. Owning music rights would change that."
For its part, Netflix has the advantage of being able to negotiate licensing contracts that are more favorable than the royalty payments that music labels demand for rights to their songs. For Netflix's clients, the streaming service is an add-on, since they all make the bulk of their money from pay-TV operators. As a result, Netflix has more leverage than Spotify to set deal terms depending on the popularity of a particular TV show or film.
When asked about his relationship with major media conglomerates, Netflix CEO Reed Hastings often says that competition is good for the industry. And CBS (CBS) - Get CBS Corporation Class B Report CEO Leslie Moonves often agrees, proclaiming that his network can profitably compete and license to Netflix at the same time.
Yet while Spotify may want to reach profitability, it first has to reach a position of strength relative to its largest rivals, argues Santosh Rao, who heads up research at Manhattan Venture Partners, the venture capital firm. For the moment, getting bigger is just as important as being profitable, he said, given that Apple (AAPL) Music, Alphabet's (GOOGL) YouTube and Google Play Music, and Amazon (AMZN) Music Unlimited are owned by companies for which music streaming is a fraction of their overall revenues. 
"Spotify could be profitable even now, even with this structure, but they are spending a lot on marketing and other services to try to expand their offerings," Rao said in an interview. "Fifty million users is a big number. If they're going to compete with the big guys, they have to keep growing."
Even Netflix runs a business that generates small yet consistent profits. The video streaming company's profit margin has been under 3% for the past eight quarters. 
For the moment, Spotify is focused on talks that might lead to lower rates. Rao says that even if the company can't get its revenue share down to a 65-35 split from the current 70-30 division, Spotify's growth trajectory combined with new revenue sharing agreements and increased advertising should put the company into the black sometime in 2018. At present, advertising accounts for just 10% of Spotify's revenue, Rao added.
That way, it wouldn't need to act like Netflix.
"At this point, they don't want to rock the boat," Rao said. "I don't think they want to compete with the labels. They might find things to do on the fringes without upsetting them but they aren't likely to go all-in like Netflix."