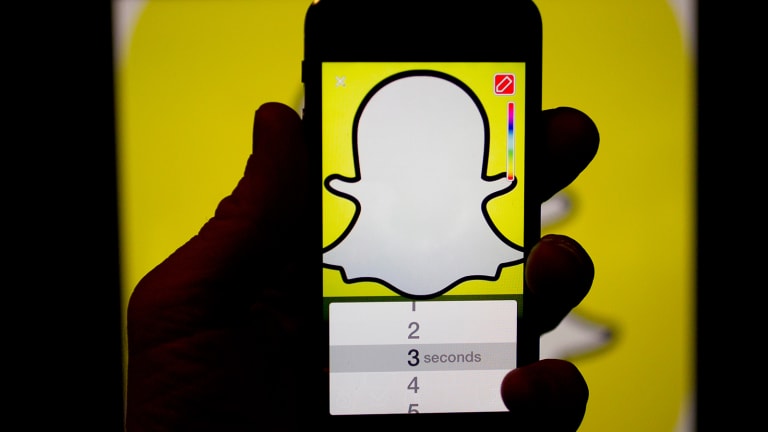 Snapchat Addresses 'Difficult to Understand' Criticisms With Latest App Redesign
In a major reversal for the struggling social media company, Snap is adding an algorithmic feed to its core Snapchat app.
Snap Inc. (SNAP) - Get Report has completely overhauled the Snapchat app in the hopes that it will answer one of Wall Street's biggest concerns. 
On Wednesday, the struggling social media company unveiled a major redesign of its popular disappearing message app, Snapchat, that introduces an algorithmic feed to the platform -- a feature that Snap has long resisted, despite it being a staple of rivals Facebook (FB) - Get Report , Instagram and Twitter (TWTR) - Get Report . 
Shares of Snap were sliding 0.1% to $13.58 on Wednesday morning. The company's stock has been battered ever since Snap's IPO in March, however, with shares falling 29.2% so far this year vs. the S&P 500's gain of 13.6%. 
As part of the redesign, Snapchat will now be split into three windows: An algorithmic Discover feed on the right, a camera in the center and all communication with contacts will appear on the left, in the Friends feed. While the Discover page uses an algorithm to serve up personalized content, the company cautioned that human editors will still review and approve content, in an effort to stifle the spread of fake news on the platform. The new design will roll out to all users in the coming weeks, Snap said.
Snap emphasized that the new design "separates the social from the media," so that it doesn't sacrifice the personal, intimate conversations that the app has become known for, in favor of mixing professional content in with updates from your friends. CEO Evan Spiegel, who detailed the redesign in an Axios op-ed, noted that the changes will let publishers better distribute and monetize their Stories, while preserving personal communication between friends. 
"Until now, social media has always mixed photos and videos from your friends with content from publishers and creators," the company said in a statement. "While blurring the lines between professional content creators and your friends has been an interesting Internet experiment, it has also produced some strange side-effects (like fake news) and made us feel like we have to perform for our friends rather than just express ourselves."
It's likely the biggest overhaul to Snapchat's design since the app was first released in 2011. 
Snap is hoping that the changes will help to reinvigorate its otherwise sluggish user growth. CEO Evan Spiegel first teased the redesign in the company's fiscal third quarter earnings report (during which it missed expectations on nearly every metric) earlier this month. In the announcement, Snap said it had started to hear that Snapchat was too "difficult to understand" for some users. He also cautioned that the changes could be "disruptive" to Snap's business in the near term -- a concern that's likely weighing on Wall Street's mind. 
Wall Street, too, has complained that the app's confusing interface could cause Snapchat to alienate users outside of the millennial demographic, further slowing its ability to attract new users. Analysts have also criticized Snap's management for failing to explain the Snapchat product completely.  
Snap has fell short of Wall Street's expectations for user growth ever since it went public in March. In the most recent quarter, Snap added 178 million new users, which was fewer than the 181.8 million analysts were looking for. 
The company has also floundered from its bristling competition with Facebook. The social media giant endlessly ripped off some of Snap's most important features, including Stories, geofilters and augmented reality lenses, which began to make a noticeable dent in Snap's user growth and advertising business.  
In the op ed, Spiegel explained that other social networks have created "mindless scrambles for friends or unworthy distractions." The best way to solve this problem is to separate professional content from personal content, Spiegel contended.
"We believe that the best path forward is disentangling the two by providing a personalized content feed based on what you want to watch, not what your friends post," Spiegel added.
More of What's Trending on TheStreet: