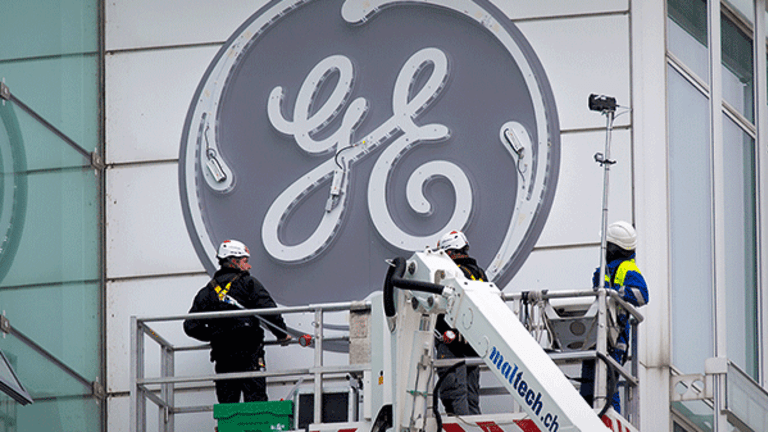 Why Shire, Great Plains, GE Are Waving Red Flags
The charts of these and two other big stocks are flashing warning signs at investors.
It's Inauguration Day for Donald Trump. But while lots of attention is focused on Washington, D.C. this afternoon, there could be trouble lurking in your portfolio. That's because following an abnormally sharp broad market rally in recent months -- the so-called "Trump Bump" -- some of the biggest stocks on the market are beginning to look fatigued.
For the last couple of years, the performance gaps between the leaders and the laggards has been huge. That's a salient reminder that stock picking still matters in this market -- and simply avoiding the worst-performing stocks could boost your returns far more than picking the very best ones in the year ahead.
So, to figure out which stocks you should be avoiding as we close out the year, we're turning to the charts for a technical look at five that could be about to turn "toxic."
For the unfamiliar, technical analysis is a way for investors to quantify qualitative factors, such as investor psychology, based on a stock's price action and trends. Once the domain of cloistered trading teams on Wall Street, technicals can help top traders make consistently profitable trades and can aid fundamental investors in better entry and exit points.
Just so we're clear, the companies I'm talking about today are hardly junk.
By that, I mean their fundamentals aren't in question here -- many of them have very strong businesses. But that's frankly irrelevant to what happens to their stocks; from a technical analysis standpoint, sellers are shoving around these toxic stocks right now. For that reason, fundamental investors need to decide how long they're willing to take the pain if they want to hold onto these firms in the weeks and months ahead. And for investors looking to buy one of these positions, it makes sense to wait for more favorable technical conditions (and a lower share price) before piling in.
So, without further ado, let's take a look at five "toxic stocks" to sell and when to sell them.
Shire 
Up first on our list of potentially toxic trades is biotech giant Shire (SHPG) - Get Free Report. Shire has mostly churned sideways over the course of the last year, shedding about 7.6% of its market value since January 2016. But Shire could have much further to fall from here thanks to a textbook example of a descending triangle pattern that's testing support this week. Here's how to trade it...
Shire's descending triangle setup is formed by horizontal support down below shares at $162.50, and downtrending resistance to the top side. Basically, as Shire bounces in between those two technically significant price levels, shares of this stock have been getting squeezed closer and closer to a breakdown through support at $162.50. If and when that breakdown happens, we've got a sell signal.
An additional red flag that's showing up on Shire's chart right now is relative strength. Relative strength measures this stock's performance versus the rest of the market - the downtrend in this indicator signals the fact that Shire continues to be a laggard as we head into 2017. As long as that downtrend remains intact, Shire remains predisposed to underperform the rest of the market.
Great Plains Energy
We're seeing the exact same setup in shares of $5.8 billion public utility Great Plains Energy  (GXP) . Great Plains has been under selling pressure since shares peaked back in April, and this stock has lost almost 20% of its market value in the months since. The problem for investors now is that a descending triangle could trigger another downward move in GXP.
For GXP, the big breakdown level to watch is support down at $26.
What makes that $26 level in particular so significant for GXP? It all comes down to buyers and sellers. Price patterns, like this descending triangle, are a good quick way to identify what's going on in the price action, but they're not the actual reason it can be traded. Instead, the "why" comes down to basic supply and demand for shares of the stock itself.
The $26 support level in Great Plains is a place where there has been an excess of demand for shares since September; in other words, it's a spot where buyers have been more eager to step in and buy shares than sellers have been to take gains. That's what makes a breakdown below $26 so significant - the move means that sellers are finally strong enough to absorb all of the excess demand at that price level. So, if Great Plains' share price violates $26, you don't want to own it anymore.
General Electric
General Electric (GE) - Get Free Report, meanwhile, has been a strong performer in recent months, buoyed by hopes that President Trump will be a boon to U.S.-based industrials. But after rallying almost 11% from its November lows, GE is starting to look a little "toppy" in the short-term. Shares are getting close to breakdown territory today.
GE has been forming a rounding top, a bearish reversal setup that looks just like it sounds. The rounding top signals exhaustion among buyers, and it triggers a sell signal if shares violate the support line that defines the bottom of the pattern. For GE, the breakdown level to keep an eye on is $31, a level that's in the danger zone as I write.
General Electric is a holding in Jim Cramer'sAction Alerts PLUS Charitable Trust Portfolio. Want to be alerted before Cramer buys or sells GE? Learn more now.
Price momentum, measured by 14-day RSI in GE's chart above, is an extra red flag to pay attention to in this price setup. That's because our momentum gauge rolled over in November, making lower highs as the rounding top pattern progressed. Momentum is a leading indicator to price, and the lower peaks create bearish confirmation that suggests buying pressure is waning here. If $31 gets violated, look out below.
This is a short-term price setup with equally short-term trading implications if the breakdown does happen. That means GE bulls should look at a breakdown below $31 as a correction, not a crash. Still, don't buy this stock until GE can re-establish support at some lower level...
Life Storage 
Like the rounding top in shares of GE, what you see is what you get with shares of Life Storage  (LSI) - Get Free Report right now. This mid-cap self-storage real estate investment trust has been trending lower for the better part of the last year, selling off in an orderly chart pattern that's about as basic as they get. With Life Storage's downtrend still in play here, it makes sense to "sell the rips" in this stock.
Life Storage's downtrend is formed by a pair of parallel trend lines that have pushed shares of LSI lower on every attempt to break free of them so far. That means, as shares come off their fourth test of trendline resistance this January, it makes sense to be a seller in LSI. That latest bounce lower is the sell signal investors need to heed.
Waiting for that bounce lower before clicking "sell" is a critical part of risk management for two big reasons: it's the spot where prices are the highest within the channel, and alternatively it's the spot where you'll get the first indication that the downtrend is ending. Remember, all trend lines do eventually break, but by actually waiting for the bounce to happen first, you're confirming that sellers are still in control before you unload shares of LSI.
Mitsubishi UFJ Financial Group
Last on our list of potentially toxic trades is big-cap Japanese bank Mitsubishi UFJ Financial Group undefined. Mitsubishi UFJ Financial has actually been a strong performer lately, rallying almost 30% in the last six months. But as this recent rally begins to show some cracks, investors might want to think about taking some of those recently-won gains off the table.
Mitsubishi UFJ Financial has spent the last two months forming a head and shoulders top, a price pattern that signals exhaustion among buyers. The pattern is identified by two swing highs that top out at approximately the same level (the shoulders), separated by a higher high (the head). The sell signal triggers when MTU's neckline gets materially violated -- that happens at the $6.10 price level.
MTU is another stock where price momentum adds some credence to the red flag on the price chart. 14-day RSI made a series of lower highs during Mitsubishi UFJ Financial's swing highs as the head and shoulders pattern was being formed, an indication that momentum is weakening near this stock's recent high water mark. If shares fail to hold above $6.10 support, MTU is a sell.
At the time of publication, author had no positions in the stocks mentioned.